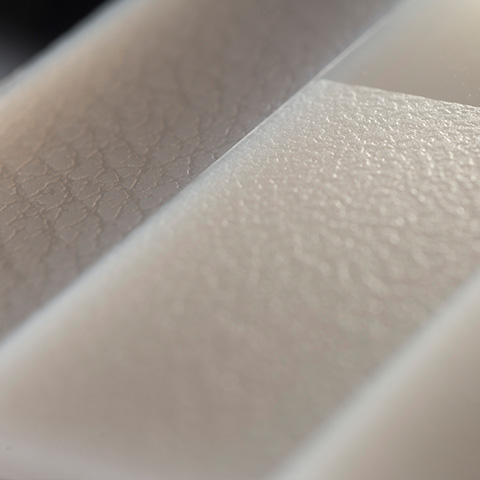 Thermoplastic Polyurethane
Desmopan® copolymers: Flexible, durable and versatile
Desmopan® thermoplastic block copolymer has high wear resistance, flexibility over a wide range of temperatures, and high elasticity over the entire hardness range. It also has excellent resistance to oils, greases and solvents as well as good resistance to weathering and high-energy radiation.
A thermoplastic block copolymer characterized by a wide range of properties, Desmopan® has linear polymeric chains that consist of alternating flexible, elastic segments with a low glass transition temperature, as well as rigid crystalline segments with a high melting point. The modification of these phases creates different properties such as hardness, strength, rigidity, elasticity and cold-flexibility.
Featured Products
injection molding grade; with high mechanical strength for articles subject to wear; Application; Shift lever balls; Roller tires; Coupling elements; Shoe heels

Extrusion- and injection molding grade; high mechanical strength; Application; Films; Hoses, non-reinforced; Screenpacks; Technical parts; hard - soft systems

injection molding grade; with special UV stabilizers; good hydrolysis and microbial resistance; Application; Ear-tags
Key Benefits
Durable: High wear resistance and resistant to oils and some solvents.
Flexible: Functions over a high range of temperatures.
Versatile: Alter hardness, strength, rigidity, elasticity and cold-flexibility.
Brochures & Downloads
Joining Techniques Design Guide.pdf

Part and Mold Design Brochure.pdf

Desmopan Product Range.pdf

Desmopan Typenuebersicht.pdf

Tips for defect free extrusion.pdf

Tips for defect free Injection Molding.pdf

TPU Processing by extrusion and special processes.pdf

Processing of TPU by Injection Molding.pdf