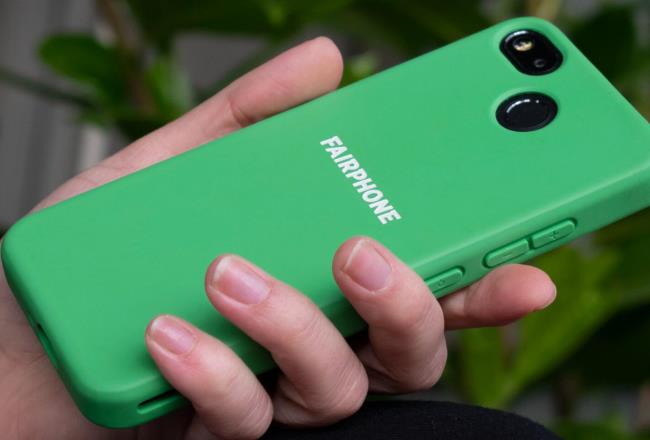 Case study
Fairphone 3: protective case of Desmopan® 100% recycled TPU
The Fairphone brand is aiming to create a fairer, more sustainable smartphone industry. When selecting a material for the Fairphone 3 protective casing, they went for Desmopan® TPU with 100% recycled plastic, reducing waste while lowering the carbon footprint of a tough, colored phone case.
The Fairphone
brand is provoking a rethink in the cellphone industry, moving to more fair, sustainable and circular practices in mobile phone production. This more sustainable phone company uses fairly-sourced and recycled materials in their devices, which are specifically designed to be long-lasting by enabling repairs and upgrades through modularity. While reducing plastic waste and impact on the environment, their Fairphone 3 model doesn't sacrifice on specs or performance.
In designing the protective case for the Fairphone 3, the manufacturer turned to us for a more sustainable material solution that could marry the functional advantages of TPU (thermoplastic polyurethane), including resistance to abrasion and to discoloring from UV light, with more environmentally friendly feedstock of recycled material.
The handling of plastic waste is a global problem. The use of recycled materials is rising, as more and more brands and designers try to close material loops and integrate circular planning into their products. Recycling and alternative raw materials are two pillars in our own long-term circular economy vision.

However, TPU is a specialty elastomer that was not previously part of any open mechanical plastic recycling program, so there were no safe recycled grades available on the market that we could use for the Fairphone 3 protective cover.

The challenge was to leverage our contacts in the industrial value chain to create a new, transparent material stream to recycle TPU, and to couple this with our own expertise in plastic compounding technology in service of a more sustainable phone cover material.

Using 100% recycled Desmopan® 3095AU RC100 resin enabled us to create a more sustainable phone cover for the Fairphone 3; one that contributes to a more environmentally friendly electronics industry. Both the manufacturing process and the product itself are certified for Recycled Claim Standard (RCS).
From our wide network of industrial partners, we identified multiple streams of PIR (post-industrial recycled) plastics as feedstock for a new range of Desmopan® recycled TPU grades, featuring a share between 30% and 100% of recycled material. The Fairphone 3 cover uses the Desmopan® CQ 80D-RC99 grade made with entirely recycled content. Both recycled grades are translucent and use waste streams that are carefully selected for PIR material that is clean and sorted for molding into desired colors, offering an appearance similar to virgin plastics.

These Desmopan® recycled grades inherit the properties of conventional TPU, but are more friendly to the environment. They are soft yet tough, resistant to oil and chemicals, and bond to many hard plastics without adhesives. The recycled materials are optimized for the abrasion resistance and color stability against UV exposure that Fairphone required.

Processing becomes easier because recycled TPU melts at lower temperatures and has better flow than virgin grades. The entire manufacturing process is certified RCS (Recycled Claim Standard), which ensures the transparency of the recycled feedstock, its origins and its processing steps. Compared to virgin grades, 30-100% recycled TPU lowers the carbon footprint, and using recycled feedstock reduces the amount of plastic waste in the environment, easing the transition towards a more circular economy.


TPU is specialty elastomer which was not included in any open recycling programs. Working with the industrial value chain, we were able to establish a specific TPU recycling ecosystem, from waste stream management to recycled manufacturing, supporting the transition to a more circular economy.


Key benefits:
Sustainable: Using recycled feedstock reduces the amount of plastic waste created in the industry.
Low carbon: 30-100% recycled feedstock lowers the carbon footprint compared to virgin TPU.
RCS certified: The manufacturing process is certified for transparency of the waste stream.
Processable: Recycled TPU melts at lower temperatures and flows better than virgin grades.
Tough: Desmopan® recycled grades deliver abrasion resistance and UV color stability.