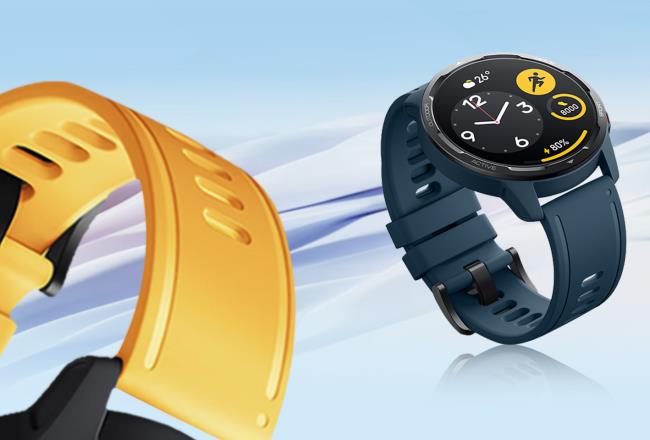 Case study
Robust and biocompatible: high-performance TPU in wearables
Straps are an important component of wearable devices and watches. They must be robust, withstand the elements and also be comfortable, even if they are in contact with the skin for prolonged periods. That is why Xiaomi chose Desmopan® as the preferred material for their smart watch straps.
Covestro asks: can't they? Straps and bands on wearable devices and smart watches are major components that have to be tough both indoors and outdoors. They need to withstand the elements, extreme temperature fluctuations and humidity conditions, UV radiation, everyday chemicals such as sunscreens and lotions, disinfectants, saline or chlorinated water, sweat, skin secretions, and a wide range of other challenging conditions.
Above all, the strap material also needs to be soft, comfortable and biocompatible for prolonged wear.
Covestro's high-performance TPU grade developed by its material experts immediately made Desmopan® the ideal choice for
Xiaomi
's wearable devices and smart watches.
Smart watches continue to gain popularity, especially among fitness and sports enthusiasts. Apart from telling time, smart watches include features for tracking fitness performance and monitoring health-related data. No smart watch would be able to perform its function without a durable band to hold it on the wearer's wrist.
Covestro's thermoplastic polyurethane Desmopan® offers high wear resistance, flexibility across a wide range of temperatures, and high elasticity over the entire hardness range. It also possesses excellent resistance to oils, greases and solvents as well as good resistance to weathering and UV radiation.
The selected Desmopan® TPU grade for Xiaomi smart watches fulfills the biocompatibility and cytotoxicity requirements for long-term skin contact. Moreover, the material is molded such that it possesses a pleasant surface texture to ensure wear comfort over a long period.
It therefore comes as no surprise that Desmopan®'s robustness, outstanding physical properties, processability, versatility and skin-contact biocompatibility make it a top-choice material for smart watches and numerous other industrial applications involving wearable devices.
Fitness experts or not, people wear smart watches when they choose to. There are no restrictions on the location, the occasion, the weather or the time of day (or night). Furthermore, the expectations of consumers on design and esthetics also pose additional challenges in terms of molding technology and material properties. Wristbands of high-quality smart watches must meet these demands.
Superior esthetics, UV resistance, color fastness, comfort, no skin irritation, and excellent durability to prevent breaking and cracking – this is what straps and wristbands must deliver.
Is it possible to find the right fusion between esthetics, comfort, biocompatibility, molding technology and material properties? Desmopan® shows it can be done.
Covestro's expertise and track record in TPUs, high-performance materials and sustainable production processes were able to convince Xiaomi that also immediately identified Desmopan® as the right product for its high-quality smart watches and wearable devices.
Desmopan® TPU is a durable elastomer which is resistant to many challenges that smart watch wristbands are exposed to, for instance UV radiation, chemicals present in soaps, disinfectants and sunscreens, fatty acids in sweat, saline water and chlorinated water in swimming pools, to name but a few.
Desmopan® TPU also has a great feel and soft texture. Most importantly, it is biocompatible and comfortable in wearable components that are in close contact with the skin over a prolonged period.
Without compromising on quality or performance, Desmopan® TPU products offer numerous benefits such as a high degree of elasticity over the entire hardness range in addition to wear resistance and flexibility across a wide range of temperatures.
Apart from its excellent oil, grease and solvent resiliency, and its resistance to abrasions, weathering and high-energy radiation, the Desmopan® range allows product experts and developers from across various industries tremendous scope in terms of versatility and design freedom.
The selected Desmopan® TPU grade for Xiaomi offers precisely these solutions – durability, design freedom, style and biocompatibility for Xiaomi smart watch straps and wristbands.
Key Benefits
Durable: Resistant to chemicals and weathering, excellent durability against cracking.
Any place, any time: Night or day, dry or wet, hot or cold – Desmopan® is up for it.
UV-resistant: Colorfast and UV-resistant – Desmopan® is ideal for wearables.
Stylish and smart: Excellent esthetics and colorability allow us to put the smart in a smart watch.
Comfortable: Desmopan® is molded with a soft, pleasant surface texture for wear comfort.
Biocompatible: No discomfort, no skin irritation, even when worn for long periods.