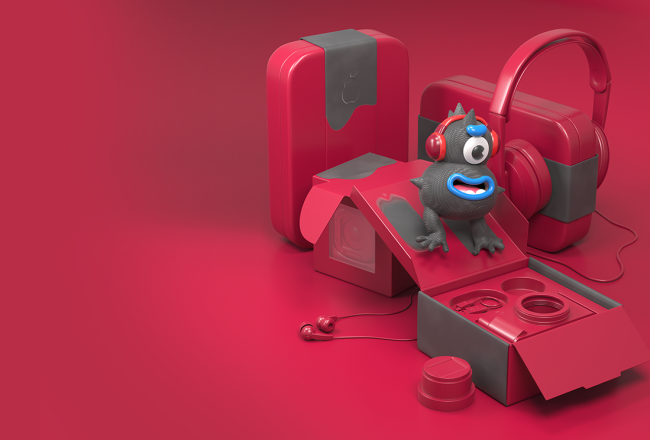 Story
Meet Skins® Rubbert
Rubbert: "These days, electronics can look quite similar. With my help, designers can make their products stand out with a cool touch of rubber here and there. Best of all, I'm easy to apply!"
Skins® Rubbert gives a new twist to print or packaging. His soft-touch rubbery feel not only feels amazing, it helps with grip and enhances the ergonomics of designs. It's a great way to improve interaction with products by giving them a more comfortable experience.

His transparency and matte look make text and graphics stand out so they're more visible on the shelf, especially on dark colors and black. Skins® Rubbert gives an amazingly luxurious and sophisticated effect that is becoming more and more popular.
Skins® Rubbert Expertise
Skins® Rubbert's cool, industrial, non-slip feel is suitable for all packaging for hi-tech stuff.
Skins® Rubbert gives headphones, laptops, tablets and a host of other electronic gadgets a new twist.
"I'll help you differentiate your product packaging with the cool touch of rubber. And I'll fit right in with your current print set-up too!"
Easy to start, consistent, high quality, Rubbert feel
Transforming packaging with such a soft touch rubber coating isn't difficult. You simply replace your current overprint varnish with Skins® Rubbert industrial non-slip coating.

This Skin has a proven track record. He's easy to use with standard equipment, whether you use a flexo, gravure or offset printing press. He can be applied in thin layers and high-speed processing is possible.
Print performance
Thanks to his high transparency and low reflectivity, color depth, text and image visibility are all enhanced. Colors can be given different gloss levels by overprinting.

Skins® Rubbert loves being printed on multiple substrates, like PE, BOPP, Aluminum and PET. But it's on paper where Skins® Rubbert performs best.

This rubber feel is available as a waterborne skin, making it FDA/FCC/Swiss Ordinance compliant and potentially recyclable. It can be used for all markets; food and non-food.
Formulation
This rubbery varnish is easy to apply, stable and can be applied using conventional flexo or gravure systems. The formulation accommodates a broad range of printing techniques as well as 100% UV and non-UV jobs.
Technical specifications