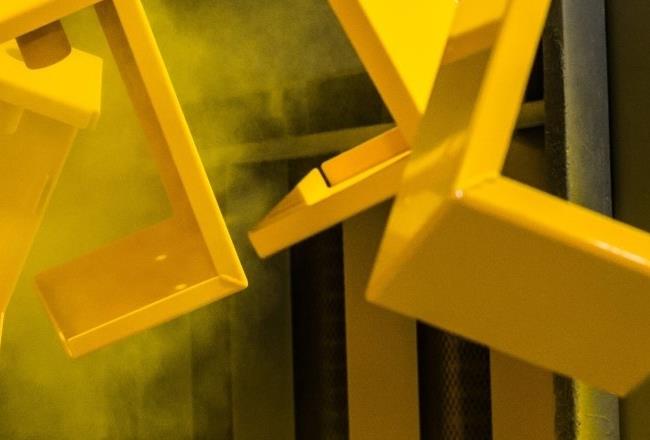 Story
Isocyanate crosslinkers: A great match for PU powder-coating resins
To create high-performance powder coatings, you need more than just the right resin: this resin also needs to be combined with the right crosslinker. Our Crelan® isocyanate crosslinkers are specially designed for polyurethane powder-coating systems – find out more about how they work below:
Our Crelan® portfolio consists of high-performance, solid polymeric isocyanate-based crosslinkers. As isocyanates, they work especially well with polyurethane powder-coating systems.

Crelan® crosslinkers are specially designed to enable a good appearance and excellent coating properties. In particular, coatings formulated using Crelan® crosslinkers have great UV and chemical resistance, and excellent appearance, flow, and gloss.

And, as well as caprolactam-blocked crosslinkers, our Crelan® portfolio also includes a blocking-free crosslinker, to help you comply with any relevant regulations.
Get to know our Crelan® portfolio
Crelan® UI
Great outdoor durability
With its linear structure, Crelan® UI offers very good flexibility, and excellent flow and outdoor durability – and can also be used as a co-crosslinker in TGIC or hybrid systems.
Crelan® VPLS 2256
Easy processability
An industry-standard isocyanate crosslinker, Crelan® VPLS 2256 offers very good leveling and processability, and is also suitable for clear coatings
Crelan® NI-2
Great corrosion resistance
With a higher Tg and nitrogen, carbon, and oxygen content, Crelan® NI-2 delivers excellent flow properties and improved corrosion resistance.
Crelan® NW-5
Delivering durability
Thanks to its lower deblocking temperature, Crelan® NW-5 is highly reactive. It also has great flexibility and is suitable for super- and hyper-durable powder coatings.
Crelan® EF 403
Blocking-free benefits
This blocking-free crosslinker offers a great flow, and is particularly suitable for matte systems – for instance, for heat-transfer coatings. Because it's formulated without a blocking agent, it can help you comply with safety and sustainability regulations.
Key Benefits
Chemical-resistant: Excellent chemical resistance, particularly outdoors
Mark-resistant: Enable durable coatings that withstand marks and graffiti
Excellent appearance: Delivers attractive, appealing coatings, including one-shot matte coatings