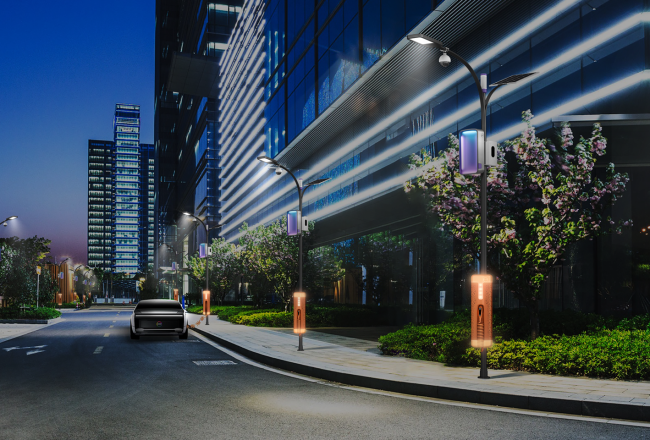 Story
Diversified Smart Pole Material Solutions for Smart Cities Sustainable Development
Rapid urbanization and the rise of 5G communication have accelerated the construction of smart cities around the world. Smart poles integrating lighting, wireless connectivity, charging points, security monitoring, environmental monitoring and other functions are becoming an important entry point for smart cities. According to ReportLinker, the global smart pole market will grow rapidly at a consolidated annual rate of 18.6% between 2021 and 2027.
Our innovative material solutions leverage the experience working across telecommunication, photovoltaic, and charging equipment industries to ensure the stable performance of a range of smart pole devices in complex and harsh outdoor environments, while still meeting the aesthetic requirements of modern city design and sustainable development trends.
One pole with multi-functions opens up new possibilities for smart cities
As an entry point for smart cities, the new generation of smart poles will include more infrastructural and functional modules. 5G small cells and Wi-Fi hotspots can provide wireless and mobile network access and realize high-density network deployment; EV charging points are integrated at the base of the pole for easy EV charging in cities; to use energy from the sun photovoltaic inverters ensure all electrical needs are met sustainably, reducing energy consumption and pollution. The security cameras, environmental sensors, LED lighting, and other equipment can ensure the stable operation of urban security, traffic and more.
A smart pole's multi-functional nature increases requirements on its performance and appearance. On the one hand, smart poles must meet the challenges of harsh outdoor environments, which requires durability, weather resistance, and impact resistance for the housing material of the devices on smart poles. At the same time, different functional devices also have their own unique materials requirements. For example, the housing material of a 5G small cell must be efficient in signal transmission to ensure a more stable network coverage, while the EV charging pile must be flame retardant and resistant to heat and weather to ensure safety. On the other hand, as part of the landscape of the modern city, the design of the smart pole must also fit in with the architectural and cultural context of the city in which it is installed. Lastly, sustainability is one of the most important trends for global urbanization and smart city development, and sustainability must also be fully reflected in the overall design and manufacture of smart poles.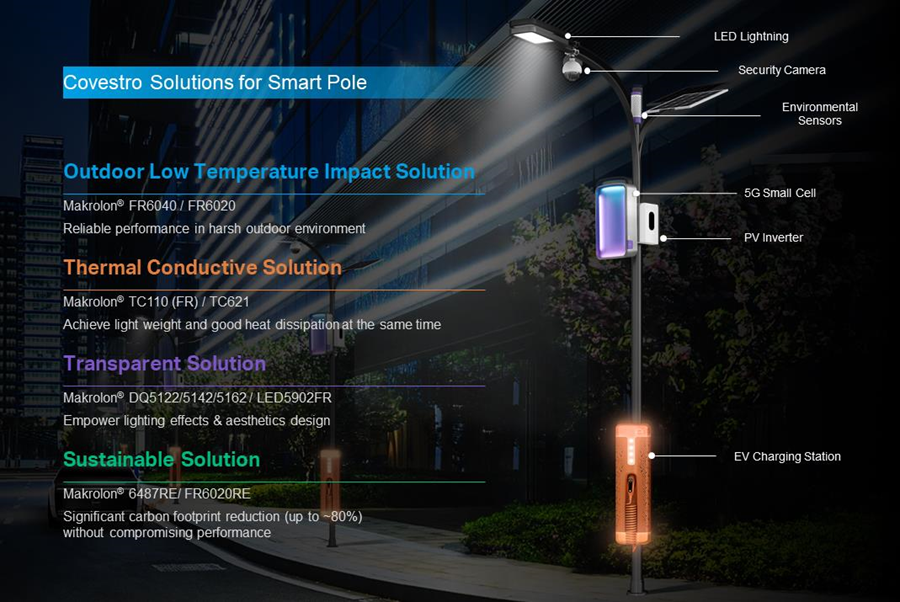 "With a full range of innovative material solutions, we look forward to working with value chain partners to create the new generation of reliable, attractive, and more environmentally friendly Smart Poles, helping support the sustainable development of Smart Cites."
Innovative total solutions to meet the various requirements of a Smart Pole
To ensure that all of the functions of a smart pole can be operated reliably in harsh outdoor environments, we offers Makrolon® polycarbonate resins and Bayblend® polycarbonate blends for device housing, which are light weight and offer good UV resistance, flame-retardancy, and a range of other mechanical properties.
In particular, the outdoor low-temperature impact resistance solutions Makrolon® FR6020 and FR6040 are reliable, durable, offer excellent heat resistance and excellent impact-resistance even at low temperature conditions, ensuring that they are suitable for a diverse range of outdoor infrastructure use cases.
The thermal conductive solutions Makrolon® TC621 and TC110 (FR) offer good heat dissipation performance and good processability while also reducing RF signal interference, making them suitable for both inner components and device housing.
These material solutions are provided in a number of texture, color, gloss, and other surface effects, offering a full range of design possibilities to ensure that any Smart Pole can fit into any modern city environment.
These solutions are also offered in a variety of more sustainable low-carbon options. we are offering low-carbon RE polycarbonates with an attributed share of up to 72% bio-circular feedstock via mass balance, which can achieve up to 80% carbon reduction as compared to a fossil-based polycarbonate, while still maintaining the same high-quality performance as virgin materials. The Makrolon®RE portfolio includes grades that are suitable for harsh outdoor applications as well as supporting the sustainable development of smart cities.
Key Benefits
A full range of solutions Innovative total solutions to meet the diverse needs of the multi-functional devices on Smart Poles
Reliable & durable performance Excellent material performance, enabling the various devices on Smart Poles to perform durably and reliably in harsh outdoor environments
Outstanding aesthetic performance Broad material options in terms of color and surface effects, provides the full possibilities of design freedom
Low carbon footprint Providing material solutions with significant carbon reduction to support the sustainable development of smart cities