Story
Introducing a new portfolio of medical glass-filled polycarbonates
Glass-filled Makrolon® delivers superior and long-lasting strength for critical medical devices demanding reliable performance. Glass-filled polycarbonates including sterilization options feature properties which are suitable for use in parts that are exposed to high static loads over long periods in high temperature conditions.
Glass-filled polycarbonate (PC) is playing an increasingly important role in the areas of manufacturing and design for medical devices and surgical equipment.
These high-tech resins offer processability and flexibility for aesthetic enhancement from hand-held surgical instruments over diagnostic devices to medical pens or wearable devices. Glass-filled polycarbonate can be used to replace metal parts or to downgauge existing plastic parts.
The addition of glass reinforcement boosts material properties in terms of stiffness and strength.
Thinner and light-weight parts in medical devices
Glass-filled Makrolon® can be used to design equipment housings or other parts of surgical instruments and therefore replace metal parts. With glass-filled Makrolon®, polycarbonate parts can be made smaller and thinner, resulting in an overall reduction in weight, which can improve the ease of use of handheld devices and portable equipment.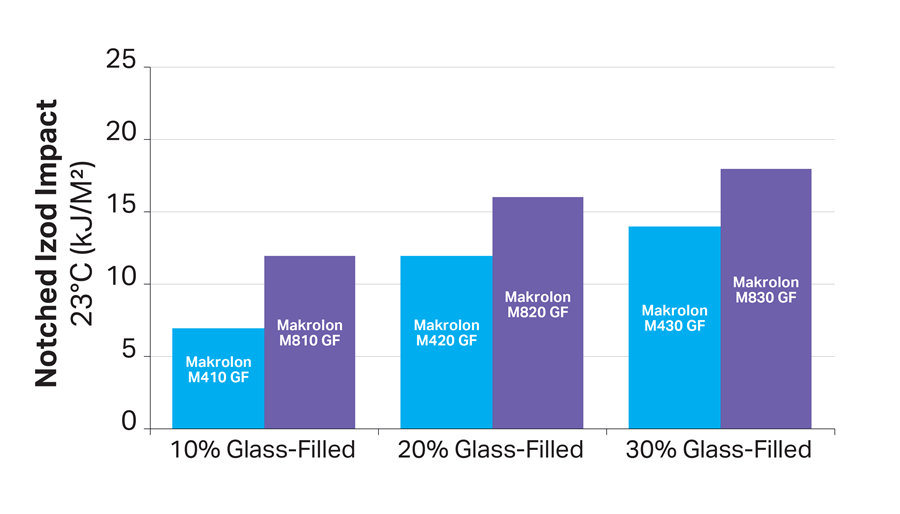 Achieving high gloss through Rapid Heat Cycle Molding
A plastic component's surface quality plays a vital role in the functionality and aesthetics of medical devices and equipment. Glass-filled Makrolon® can also achieve a high gloss surface with rapid heat cycle molding (RHCM).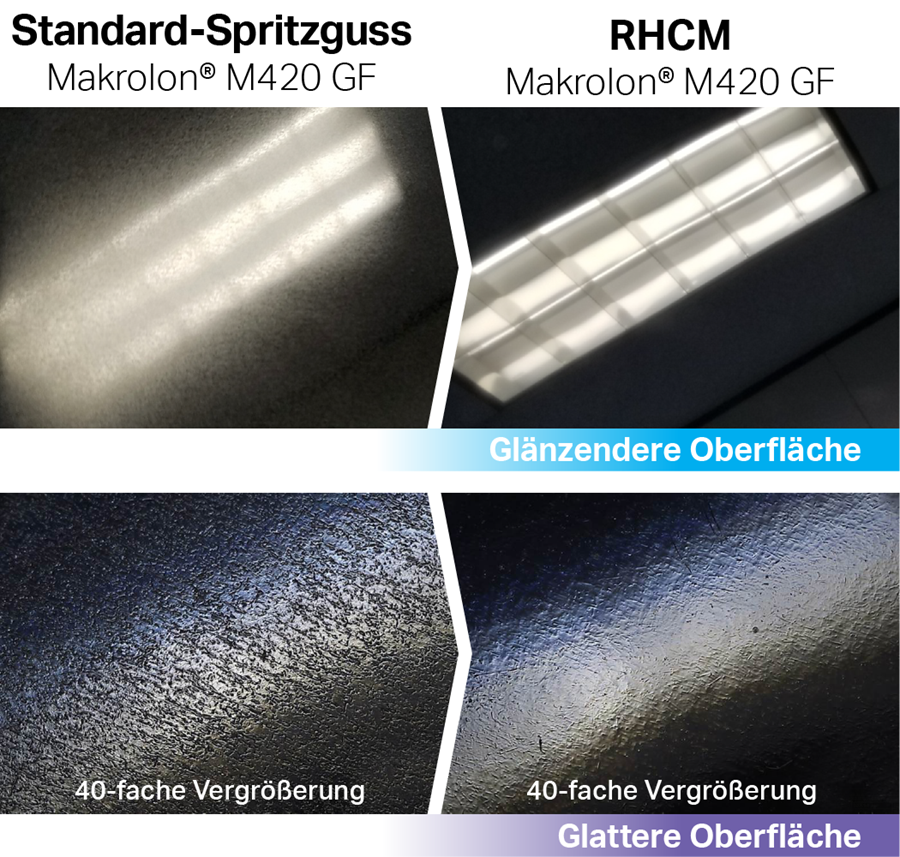 FIGURE 1: The reflection of overhead lighting on flat parts and in microscope images illustrates the difference in surface finish between traditional injection molding (left) and rapid heat cycle molding (right). Source: own data.
Covestro has developed a multi-texture demonstration tool to highlight the benefits of RHCM as shown in Figure 1. This illustrates how the RHCM technology enhances surface replication to eliminate cosmetic defects such as weld lines, gate blush and rib read-through, as well as achieve high and low gloss on the same part.
In contrast to conventional molding, which uses a fixed mold temperature, rapid heat cycle molding (RHCM) involves superheating the mold surface just before the plastic is injected, and then quickly reducing the mold temperature during the packing and cooling phases, allowing the part to be ejected as normal, without significantly increasing cycle time. The increased mold temperature helps create a glossy, resin-rich surface.
Our expanded materials offering gives healthcare OEMs access to a wide range of glass-filled polycarbonate products that deliver performance tailored to fit their applications.
Superior strength: Glass-filled Makrolon® portfolio offers the required balance of strength and stiffness for surgical instruments, internal and external components of medical devices. Use them to replace over-engineered parts or to replace metal structures in your device.
Biocompatibility: Glass-filled Makrolon® fulfills ISO 10993 regulation standards.
Lightweight: Glass-filled Makrolon® offers a high strength-to-weight ratio, making it the perfect replacement to metal parts in your surgical instruments or medical devices, while maintaining their strength and dimensional stability.