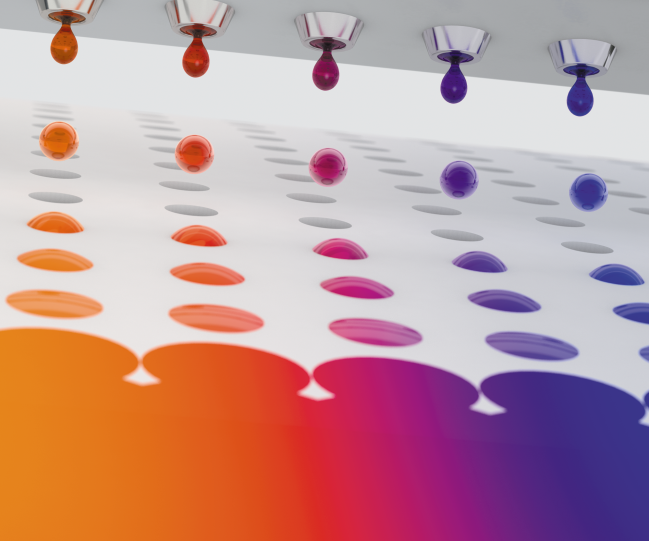 Story
Our fresh digital printing approach
Coating resins for digital printing
Make every drop count
In today's competitive world, brand owners are looking for innovative ways to engage with customers – such as personalized print & packaging products. What's more, to address rapid, unpredictable demand fluctuations and to drive sustainability, there is a growing need for small-lot production to reduce waste. All this means printers and packaging converters must produce more quickly, flexibly, and efficiently, they must also keep up with evolving regulatory compliance and sustainability requirements.
As this demand for personalization and efficiency increases, so has the popularity of digital printing. By enabling cost-effective, short print runs, quicker turnaround, and greater design variation, this technology continues to be leveraged more and more widely. The right resin solutions can play a crucial role in unlocking the potential of digital printing, and can deliver more value to parties throughout the value chain.
Enabling quality inkjet printing solutions
Inkjet printing is a particularly fast-growing method of digital printing – with technology developments enabling safer, more sustainable options. In particular, inkjet inks can be formulated from low-volatile organic compound (VOC) technologies, such as aqueous and 100%-radiation-curable technologies– and can meet ever-higher safety and sustainability requirements, especially for food packaging.
Of course, these advantages cannot be achieved without high-quality inkjet resin solutions. When it comes to digital printing ink, the resin is what makes every drop count. That is why we have leveraged our extensive expertise in inkjet printing technology to build a comprehensive portfolio of digital printing resin solutions for waterborne and energy-cured systems.
Our portfolio of digital printing resins delivers all the must-have functional performance properties: enabling reliable printing, strong substrate adhesion, and good, physical resistance against blocking and abrasion. What is more, these resins have proven their performance across the relevant substrates, and include products designed to comply with increasingly strict food contact compliance and textile regulations.
So, if you are looking for a fresh digital printing approach, we have got the solution for you.
Choose the technology that meets your needs
The choice of resin technology can greatly affect press reliability and final print quality, and the functional requirements of the printed image vary from application to application. For instance, high line speeds and food contact compliance potential make waterborne resins ideal for food packaging. Ultraviolet (UV), light emitting diode (LED), electron beam (EB), or energy-cured inkjet resins, on the other hand, offer faster curing and are particularly suited to label and wide-format scanning applications.
We know how important it is to make the right choice of inkjet resin technology – and that you might need access to different chemistries for different applications. For this reason, our digital printing portfolio includes both waterborne and energy-cured technology – and some of our solventborne products can even be used in digital inkjet printing systems. From the food contact compliance potential of waterborne to fast energy-curing, we have you covered.
A 'total system' approach for waterborne inkjet
To deliver strong results, waterborne systems need more than just the inkjet ink. Specifically, for drop fixation, resistance properties, and substrate adhesion, they typically require a primer. On top of this, they may also need a coating for protection and extra resistance. That's why we take a 'total system' approach to our waterborne inkjet portfolio, offering resins for primers, inkjet inks, and overprint varnishes (OPVs).
Energy-curable portfolio
We offer fast curing, print reliable, highly durable, energy-curable (UV, LED, and EB) inkjet inks for applications on both absorbent and non-absorbent substrates.
In particular, energy-curing technology offers an optimal balance between print reliability and durability in the cured film – an advantage over most waterborne systems. The film thickness of energy-curable inkjet inks is also higher than that of water-based or solvent-based inkjet inks.
Because several factors affect performance in energy-curing systems, resin materials must be selected carefully. Specifically, they must ensure very low viscosity in the inkjet ink and good cure speeds. Mono-functional and difunctional monomers are key ink components with low viscosity, while pigment dispersing resins, oligomers, adhesion promoters, and cure speed enhancers provide additional performance benefits. Our portfolio offers them all – enabling the high-performance properties you need. Many of these resins can also be used as OPVs.
The Covestro inkjet portfolio also offers waterborne, energy-curable PUD technology tailored for inkjet. This technology provides a higher molecular weight before cure compared to 100% curable systems, which results in a reduced risk of migration after cure. The low migration potential combined with the lower final coat weight is a real advantage over 100% curable systems for packaging applications.