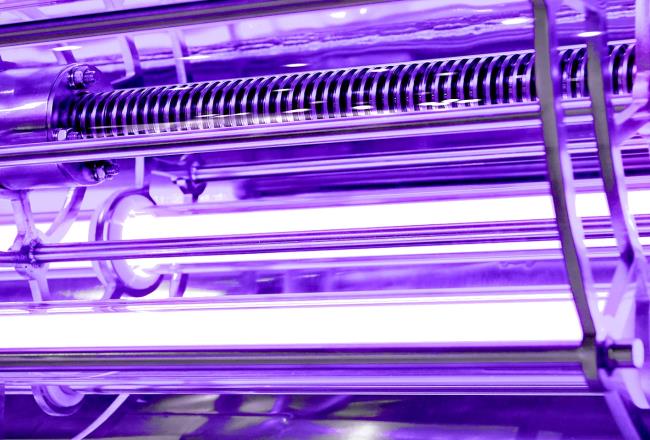 Technology
Energy-curable resins reduce environmental impact and production times.
Energy-curing technology (UV, EB, LED, or Excimer) enables applicators to generate high-performance cured systems with shorter production times and lower energy consumption. This is especially relevant for industrially applied flooring and furniture coatings, as well as printing and packaging inks.
At Covestro, we believe that energy-curable materials have the potential to revolutionize the coatings industry. Their instant crosslinking abilities allow applicators to save time and energy – while still achieving excellent results. And our growing energy-curing technology toolbox enables you to unlock all the exciting possibilities of 'on-demand' curing, even on larger surfaces.

From diluting acrylates to urethane acrylates, Covestro's extensive range includes numerous water-based (WB) UV & 100%-solids materials to help you ensure efficient and high-quality results.

Our energy-curable resins and diluents also have low-to-zero VOC content, while delivering additional benefits across a range of markets and applications. These include boosting adhesion in labels and foils, and giving flooring and furniture a range of appealing finishes – from deep matte to high gloss.

All of Covestro's 100%-solids and WB UV materials are rigorously tested to the highest industry standards by our technical teams to optimize cost and production efficiency. We also offer our customers tailored support to find the ideal formulation – helping you to reduce the environmental footprint of manufacturing processes and support your business goals.
Featured Brands
A versatile portfolio of materials for energy-curing systems

Versatile PU dispersions for eco-friendlier, low VOC coatings and adhesives

Waterborne acrylic resins for a variety of applications.

A versatile resin portfolio for energy curing, from 100% solids to water-based
Energy-curable materials are a fast-growing segment within the coatings and printing industries. Energy curing relies on the split-second polymerization of coatings or inks, which is triggered by energy from UV light or an electron beam. This efficient curing technology has the power to increase productivity in industrial applications, combining high-quality, low-migration results with cost-reduction and environmental benefits.

Covestro's energy-curing solutions also help you comply with safety regulations, removing the need for melamine and formaldehyde in the manufacturing process.
A more sustainable approach to industrial coatings and printing
Energy-curing technology allows manufacturers to reduce the environmental impact of industrial coatings and printing. Its lower-energy instant-cure process minimizes both emissions and costs, especially when using more efficient technologies such as LEDs.

Covestro is also committed to increasing our use of environmentally optimized raw materials, including bio-based and recycled feedstocks – further reducing the environmental impact of our solutions.
Key Benefits
More responsible: Reduce the solvent and VOC content of coatings and inks.
Efficient: Fast curing times for increased throughput and reduced energy consumption.
High-performance: Offers excellent adhesion, as well as mechanical and chemical resistance.
Versatile: Compatible with many technologies and applications; waterborne hybrids available.
Designed for compatibility and versatility
Covestro's versatile toolbox of capabilities gives you the freedom to tailor our solutions to your needs. Within each technology category, formulators have a high degree of freedom to mix and blend. This allows you to achieve your desired performance properties – along with the right cost balance.

So, whether your customers want deep matte, highly durable floor coatings, sprayable high-gloss systems for non-flat materials, or solutions for printing on non-standard surfaces, we can provide an energy-curable solution to meet your needs.
More responsible formulations
"Covestro's proven portfolio of energy-curable solutions is great for helping clients meet future market needs. For instance, our teams developed a solution to help manufacturers in China phase out the use of traditional mercury lamps in UV-curing applications. The UV-curable resins we developed exhibit excellent performance properties when cured with modern LED lamps – reducing the cost and environmental impact of the curing process!"

Emilio Martin, Application Manager, UVR
Our energy-curable portfolio
Curious about our products? Download our brochure to find out which energy-curable resins we offer for inks and coatings.