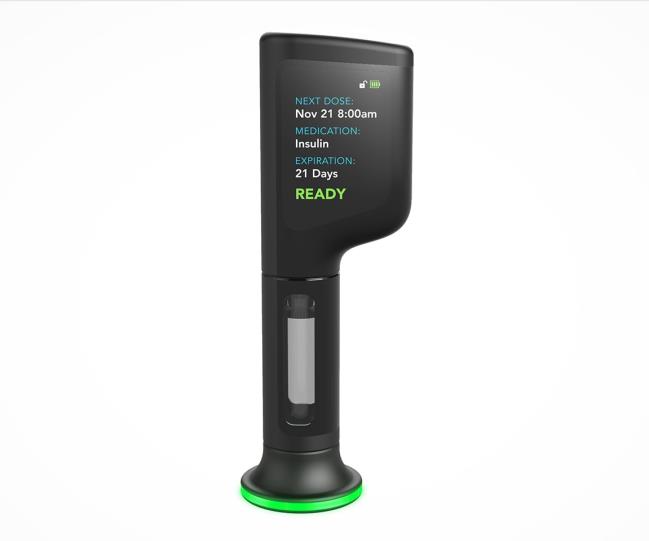 Story
The future of drug delivery is now
The world is evolving, and healthcare must change with it. At Covestro, we're pushing boundaries with our drug delivery concept that delivers needed comfort, dose accuracy, patient adherence and reliability.
Gone are the days where medical treatments are only administered by a medical professional in the hospital. This data-rich new world will provide real-time actionable insights to patients and caregivers, allowing patients the option to network with doctors, nurses, pharmacies or medical providers. Importantly, this will also improve compliance with the prescribed medication regimen and enable early intervention before a condition worsens. Simply put, the device not only delivers medication, but also is a personal health monitor, as well.
The future of medical care requires more intelligent, networked and convenient devices for drug delivery. We want to use this concept to show what the future could look like for manufacturers and patients – and how special grades of our Makrolon® polycarbonate can help make this possible.
The power of polycarbonates
Drug delivery devices rely on materials that offer durability, processability, safety and design flexibility. Makrolon® medical-grade polycarbonate checks all of those boxes, making it a top choice for these devices. These grades can be used to create the exterior of the drug delivery device. With glass-like transparency, Makrolon® polycarbonates can help maximize design freedom and allow for the incorporation of a digital monitor for connectivity as well as indicators and light guides. The thin walls included in the concept create an overall smaller form factor reducing weight and size, creating a device that is so light and portable that it can fit in a purse or even a pocket!
With the increase in high volume and high viscosity biologics, medical grade glass-filled Makrolon® offers stiffness and dimensional stability required for interior components to inject pharmaceuticals. Additionally low-friction Makrolon® materials can be used for plastic-on-plastic sliding components offering consistent dimensions and biocompatibility.
Key benefits
Medical-grade Makrolon® polycarbonate is tough and durable.
Medical-grade Makrolon® polycarbonate is biocompatible according to ISO 10993-1 and USP Class VI standards.
Medical-grade Makrolon® polycarbonate can be sterilized using a variety of methods.
Medical-grade Makrolon® polycarbonate is dimensionally stable under different application environments.
DirectCoating offers increased design flexibility.