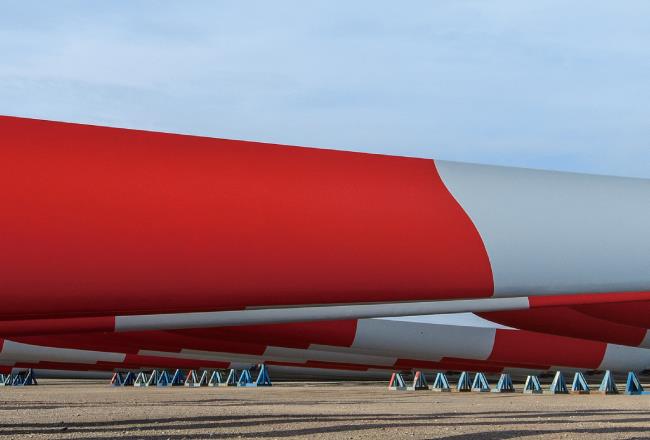 Case study
Covestro and TMT launch their 1000th polyurethane wind turbine blade
Covestro partnered with Zhuzhou Times New Material Technology (TMT), a leading manufacturer of wind turbine blades in China, to scale-up wind turbine blade production using polyurethane resin. The partnership has leveraged the excellent mechanical properties and efficient production of polyurethane resin to produce one thousand PU wind turbines in China, supporting the fast development of wind energy.
Under its current five-year plan, China aims to double its solar and wind power output by 2025 to achieve its 3060 double carbon goals. The drive for technological progress and innovation in the field of renewable energy power has never been stronger.
For the past two decades, wind turbine blades have been dominated by epoxy resins. Over years of development, Covestro has developed a game-changing innovation - polyurethane resin for wind turbine blades offering a quicker and more cost-effective production process than conventional fiberglass reinforced epoxy wind blades, opening a new chapter in the wind energy industry. In 2014, polyurethane resin was applied to the spar cap and the shear web for a 58 meters wind blade. In 2018, the very first polyurethane wind turbine blade, which Is 59.5 meters long, has already been installed in northeast China. Afterwards, the largest ever PU application in Covestro's history was made which is the wind turbine blade with 94 meters in length, capable of producing 8MW of energy. In 2019, the first commercial order for polyurethane wind turbine blades was successfully delivered. In 2021, through second round of small-scale continuous production of PU wind blades, Covestro and TMT further carried out the verification work to prepare for the large-scale mass production as the next task on the agenda.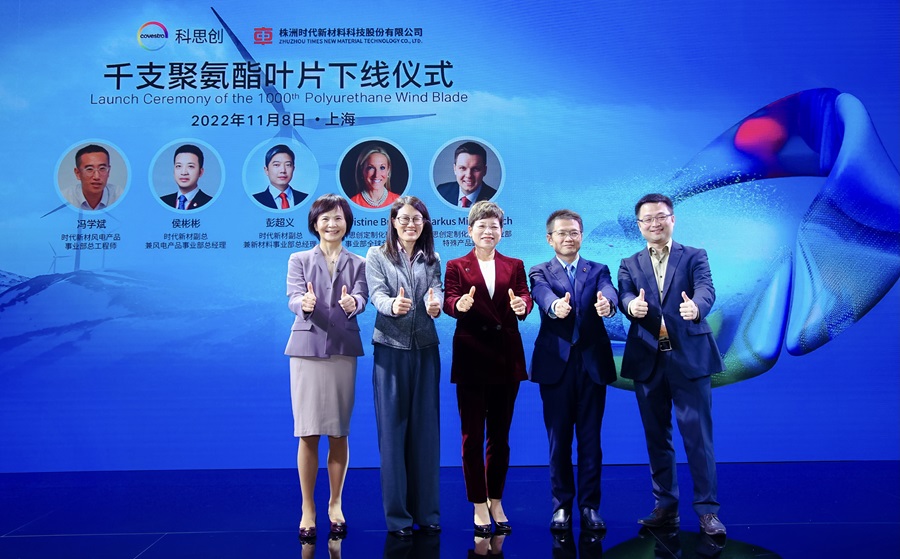 Epoxy resin has long been the material of choice for wind turbine blades. Polyurethane resin, invented by Covestro over 80 years ago, is a new manufacturing solution for wind turbine blades that faced challenges in mass production in the initial stage. To bridge the gap between old and new technology and offer a worthwhile option to blade manufacturers, the wind team in Asia Pacific at the Tailored Urethanes Business Entity worked tirelessly to develop a total cost-saving solution. The team faced technical challenges not only in developing the polyurethane chemistry solution but also in shortening the cycle time to improve productivity. Mass production required successful execution in many areas, including increased manufacturing complexity across different factories with varying environmental statuses and wind blade designs, as well as investments and regulatory compliance considerations.
Polyurethane resin excels in wind turbine blade production with superior mechanical properties, better fatigue resistance and better interface with fiberglass, which enables the lighter and longer blade design possible. Due to low viscosity, polyurethane is infused much faster than epoxy infusion resin when producing wind turbine blades. The fast curing behavior of the polyurethane resin offers additional advantages in production efficiency.
In 2022, Covestro and TMT celebrated the production of their 1000th polyurethane wind turbine blade, following their memorandum of cooperation signed in 2021 as an effort to achieve commercialization results. This strong partnership has the shared goal of producing wind turbine blades in a more cost-effective way and the shared value in innovation as the driving force for the sustainable development. In 2023, Covestro was granted the "Best Quality Supplier Award" by TMT.
TMT produces polyurethane wind turbine blades ranging from 59.5 meters to 94 meters in length with varying designs and layup structures, meeting the demand for larger wind blades. The longer blades increase the rotor's swept area, allowing for a larger amount of air to be pushed through the turbine which captures more wind kinetic energy. It means they can generate more electricity with fewer turbines. Multiple TMT factories manufacture these blades under different temperature, humidity, and altitude conditions. To prove the wide applicability of polyurethane resins in the manufacturing process, Covestro's technical team provided hands-on production process support, with the technical experts working at TMT's factories for months to support blade production. Efficient measures are taken to shorten the resin drying and curing time. As a result, polyurethane wind turbines are now being installed in commercial wind parks throughout China, delivering renewable wind power to thousands of households.
This transformative innovation is now being delivered with the support of Covestro's wind teams around the globe. By continuously innovating new technologies, Covestro is developing more cost effective and sustainable solutions to enable the production of even longer and lighter wind turbine blades. Developing renewable energy technology, represented by wind energy, is an important pillar for Covestro to achieve circular economy.. By continuously innovating new technologies, Covestro is developing more cost effective & sustainable solutions around the globe to enable the production of even longer & lighter wind turbine blades. At Covestro, our global strategy is to achieve the circular economy and climate natural goal, and developing renewable energy, represented by wind energy, is an important pillar.
"Polyurethane wind blades cater to the growing demand for longer wind blade designs. We overcame many technical challenges to accelerate the production process of large polyurethane wind turbine blades and achieve mass production."
Key Benefits
Superior resin performance Better mechanical properties, fatigue resistance and, interface with glass fabric
Efficient production process Shorter curing time and a faster infusion speed
Enable lighter, longer and , stronger blades
Cost-competitive solution Safe production process and competitive material costs