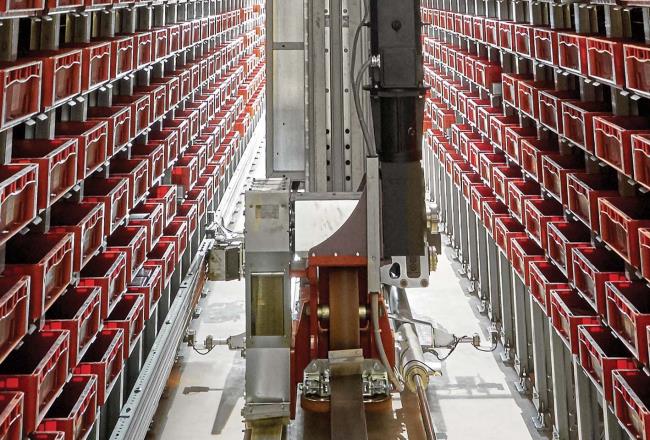 Case study
Vulkollan® elastomer wheels put logistics on the right track
Working with RÄDER-VOGEL, a certified processor of our Vulkollan® elastomers, we shaped a stacker crane wheel for WITRON automated storage systems. The new wheel resists heat build-up and emphasizes excellent dynamic load bearing while minimizing maintenance, which helps avoid warehouse downtime.
In the logistics sector, downtime in the warehouse is a business liability. Increasingly, lean manufacturing supply chains are demanding dynamic 24/7 operations, especially for warehouse storage and load system applications.
Stacker cranes are both workhorses and racehorses, handling the automated storage and retrieval of small or large loads and pallets at high speed, working in narrow aisles with significant heights in high-bay warehouses. Logistics performance levels rest on the smooth, continuous around-the-clock operation of these vehicles and their wheels.
We partnered with
RÄDER-VOGEL
, a licensed processor of our Vulkollan® elastomers and a producer of high-performance running wheels and pallet rollers, in order to develop a fail-safe polyurethane elastomer wheel solution for
WITRON
, an expert in automated storage and order picking and handling systems.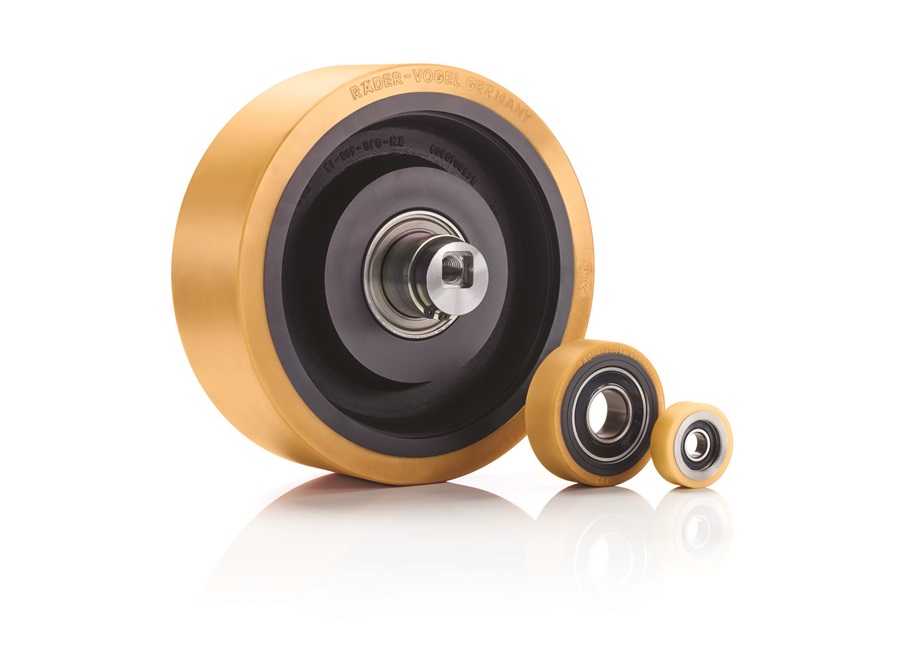 For warehouse logistics systems provider WITRON, a client of our own customer RÄDER-VOGEL, the challenge was to shape a wheel material that can cope with all of the extreme operational demands placed on warehouse stacker cranes, day in and day out. Their wheels must be able to run dynamically 24/7 and deal effortlessly with repeated acceleration and deceleration phases, without wear and tear or part failure due to overheating.
While offering resistance to heat build-up, the wheels must also provide exceptional hardness stability and long wear, offering efficient vehicle transit along the compact aisles of high-bay warehouses that store vital components.
Finally, the material solution must also minimize the maintenance time needed and extend the service intervals of the wheels. The ultimate goal: avoid warehouse downtime.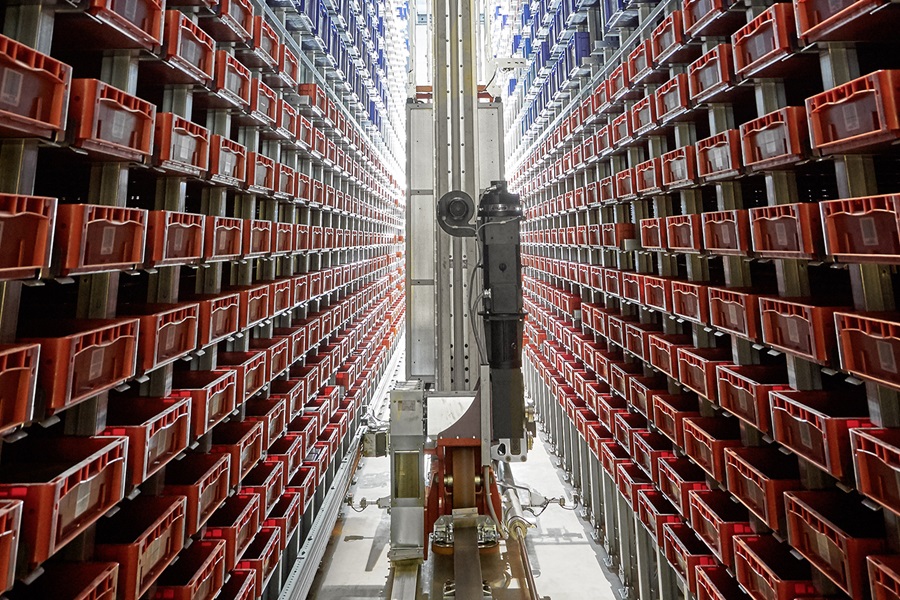 Over the years, our wheels made of Vulkollan® have demonstrated the highest performance levels in highly demanding applications. So it is now our material of choice for stacker cranes systems with unique mechanical and dynamic properties while offering a cost-effective solution to our customers.
Our Vulkollan® elastomers make an optimal material solution for stacker crane wheels that unite excellent mechanical and dynamic load-bearing performance with heat build-up resistance and low maintenance.
The Vulkollan® stacker crane wheels that RÄDER-VOGEL produced for WITRON are engineered for sustained operation at peak usage, with high tensile strength and low compression, combined with low heat-build up during acceleration and deceleration. In addition, they provide good resistance to greases and oils.
Solid Vulkollan® is produced through chemical reactions between Vulkollan® polyols, Desmodur® 15 and glycols. It covers a hardness range from approx. 65 Shore A up to 60 Shore D.
Even under tough warehouse operating conditions, Vulkollan® elastomer wheels develop excellent resistance to wear, and offer wheel maintenance intervals that are longer compared to other technologies. (A Vulkollan® one-pager with details can be downloaded
here
.) Our ultra-high-performance Vulkollan® wheels deliver a solution that avoids downtime and keeps supply chain logistics moving smoothly.
With wheels from RÄDER-VOGEL made of Vulkollan®, we are on the safe side in developing ever higher performing storage systems for the most demanding working conditions; particularly for peak use situations. With wheels made of Vulkollan®, we can continue to design the reliable logistics of the future.

Key Benefits
Extremely robust: Vulkollan® elastomers offer high tensile strength and low compression set.
High-performance: Vulkollan® stacker crane wheels are engineered for operation at peak use.
Stable: Vulkollan® enables excellent wheel load and speed behavior.
Low heat build-up: Vulkollan® wheels have low heat build-up during acceleration and deceleration.
Low-maintenance: Wheels made of Vulkollan® can help to reduce maintenance to once per year.