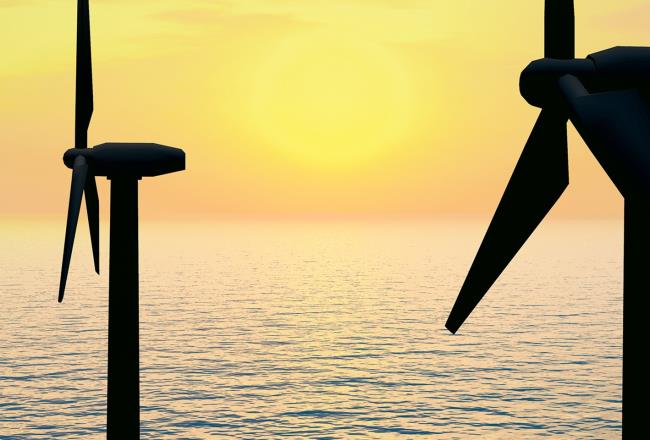 Story
Off-shore windfarm cable protection: Materials that withstand time and tide
Subsea energy cables used on windfarms are sensitive and expensive. This requires that they be well-protected, particularly where there is strong wave and tidal action. The off-shore renewable energy industry relies on cable protection solutions such as bend stiffeners, bend restrictors, and split-pipe made with polyurethane elastomers to get the job done.
The installation and maintenance of subsea cables involves significant costs. Not least because the task typically requires the intervention of professional divers and, once installed, cables are continuously exposed to strong currents and tidal action. Such conditions have a direct impact on cable lifetime and cost of operation. For this reason, the preferred option is materials that last as long as possible, such as our polyurethane elastomer systems.
Specialized protection requires unique materials

We meet the demand for durable cable protection materials with our specially developed PU elastomer systems - Desmodur B9M10 and Desmodur MTX6076 – which have been specially adapted to manage harsh off-shore conditions. Cable protection solutions created with these materials include the following parts:
Bend stiffeners: Where any cable connects to a wind turbine, continuous movement can cause failure of the cable at the termination point. Bend stiffeners are conical shaped devices that increases the overall stiffness of the cable in order to prevent over bending at the termination point.
Bend restrictor: Any flexible cable connected to a structure is subject to multiple failures. Bend restrictors are used to protect cables and prevent any damage to them that might result from over bending. The system comprises a number of interlocking elements that articulate when subjected to external loads. And these elements mechanically lock to form a semi-rigid curved structure that does not allow the cable to bend beyond a pre-determined radius designed into the restrictor.
The perfect systems for the job

Our cast polyurethane Desmodur® based systems offer significant advantages over other plastic resins in terms of physical properties, including impact and hydrolysis resistance. Most importantly, the systems make it possible to produce robust elastomers capable of withstanding extreme off-shore environmental conditions. And the material lasts extremely well too. Components made with Desmodur® boast a long service life and low maintenance costs – powerful attributes for an industry heavily focused on reliability, efficiency and cost management.
A sustainable fit with renewable energy

The off-shore windfarm market represents a significant opportunity that is predicted to continue growing significantly for the forseeable future. This will be driven by the ever increasing demand for renewable energy, generally, and more specifically by the fact that off-shore windfarms are likely to see major expansion because they don't take up valuable land and can be positioned at remote, out of the way locations. This can only result in a parallel increase in demand for sustainable off-shore cable protection products made with durable and cost-effective solutions that require minimal maintenance.
Key benefits
The elastomeric properties of our materials provide impact- and hydrolysis-resistance that can withstand harsh off-shore conditions
A straightforward casting process ensures parts are easy to produce
Long-lasting solutions reduce the need for expensive off-shore maintenance
Our systems are more sustainable then most other materials