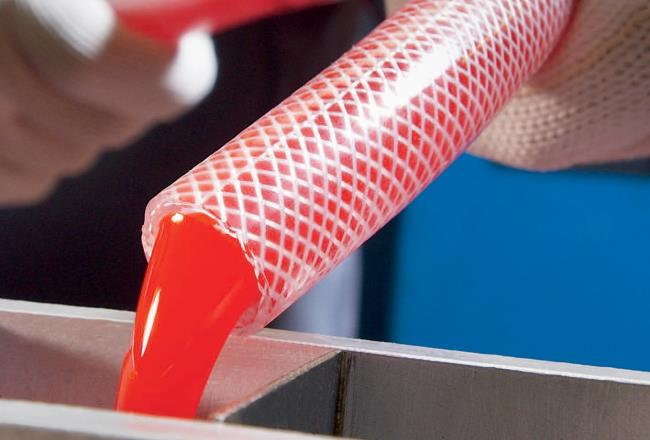 Story
New MOCA-free solutions for more sustainable elastomers
Polyurethane elastomer formulations are getting a makeover as forward-looking processors prepare for the phaseout of MOCA, a leading PU curative. Two new MOCA-free systems from Covestro are ready to take its place – while offering the same or even better performance, more versatile properties and easier processing.
The road to a sustainable MOCA-free alternative
Polyurethane elastomers are created by reacting a prepolymer and a crosslinker. To achieve the best results, these two elements need to be compatible. For decades, MOCA was used as a crosslinker for toluene diisocyanate (TDI) prepolymers. But simply replacing MOCA with a different curative for TDI prepolymers does not yield the same results. Processing is more difficult, as is achieving consistent quality. So instead of simply searching for a new curative, Covestro's chemists decided to develop an entirely new system based on methylenediphenyl diisocyanate (MDI) instead of TDI prepolymers.

More than just a functional equivalent, Covestro's push for MDI systems aligns with its core values. Conventional curatives for MDI are generally less toxic, and therefore less demanding with regards to health and safety precautions. Moreover, MDI-based prepolymers have a low vapor tension, making them easier to handle with fewer restrictions compared to TDI-based systems.
As Thomas Braig, President and CEO of Covestro Elastomers, explains: "Sustainability drives innovation at Covestro. We focus on expanding our portfolio to include a greater number of sustainable systems. Furthermore, the continuous development to make safe handling of products even easier is one of the cornerstones of our corporate social responsibility policy." The new solution is not only less hazardous to employee health and bound to fewer production restrictions, but also an extremely flexible solution that outperforms current alternatives on the market.
Desmodur® MOCA-free solution from Covestro
Covestro's MDI-based alternative relies on its proven Desmodur® prepolymers which are backed by nearly eight decades of experience across a wide range of industries. The new solution consists of a flexible toolbox of Desmodur® MTX6076 and Desmodur® MT99xx. Each of these prepolymers can be combined in a specific ratio with a crosslinker to produce an elastomer with specific properties, especially in terms of hardness. Molders can easily switch from TDI-MOCA to one of the two Desmodur® systems while maintaining their current performance and processing parameters. In fact, molders who make the switch only stand to gain from the new prepolymer systems. One major benefit is the inherent compatibility of the Desmodur®-based systems with additives such as catalysts for a targeted acceleration of reactions. The ability to adjust pot life and tune production processes gives polyurethane processors more options for creating a high-precision production environment and potentially boosting their production efficiency.

Another major benefit is the increased versatility of the Desmodur® prepolymers, which enable a far wider range of hardnesses than conventional prepolymers used in MOCA-based systems. This means that PU molders have more room for variation and customization of their elastomer components. Taken together, both new solutions from Covestro offer easy, safe and sustainable processing. Individually, they offer useful advantages for specific applications such as the molding of large parts, extra tensile strength or components subject to dynamic loads.
Desmodur® MTX6076: Extra tough properties and easy processing of large parts

Desmodur® MTX6076 systems offer qualities such as an adjustable pot life, low processing temperatures and short demolding times. These characteristics make Desmodur® MTX systems suitable both for hand casting and machine casting of large parts. When produced at the same hardness as conventional TDI-MOCA systems (95 ShA), Desmodur® MTX systems can achieve the same tensile strength and resilience while outperforming the conventional MOCA-cured systems in terms of tear strength and compression set. Furthermore, Desmodur® MTX provides significant gains in parameters such as abrasion resistance, hydrolysis resistance and elongation at break.
Made for high dynamics: Desmodur® MT99xx
Thanks to their performance and especially their highly dynamic properties, Desmodur® MT99xx systems also represent a solid alternative to TDI-MOCA systems. With an excellent range of properties, they are perfectly suited to applications requiring high dynamics such as wheels. Compared to the performance of conventional TDI-MOCA systems in hydropulsor tests, the Desmodur® MT99xx systems demonstrate high dynamic properties including better heat dissipation (about 15% more) and reduced deformation (about 30% less). The extendable pot life of Desmodur® MT systems also enables easy processing thanks to the slow increase in viscosity during pouring for casting of large parts.
Future-proof polyurethane production with Desmodur®
MOCA-free Desmodur® MTX/MT-based systems provide a full set of advantages for processing and performance. Most importantly, they enable greater sustainability in production by enhancing occupational health and safety. The two MOCA-free systems were developed to support processors in creating safer, less hazardous production environments. They will also mean fewer major investments down the road and result in higher-performing molded PU parts.
We support our customers at all steps of their MOCA-free journey. We are happy to provide dedicated advice on mixing ratios and catalysts for your applications. Get in touch today to discuss how we can tune our Desmodur® solutions for an optimal fit with your production environment.
Key benefits
MOCA-free
Enhanced health and safety
Variable pot-life
Lower processing temperature (below 50°C)
Low viscosity for easy mixing
Superior mechanical properties and dynamics
Variable hardness for greater flexibility
Restrictions against MOCA are mounting. Europe-wide REACH legislation categorizes it as a "substance of very high concern" which faces a potential ban in 2021. As more regions are likely to follow, one thing is certain: the use of MOCA will become increasingly costly, with ever higher compliance hurdles in the future. PU processors looking to be on the safe side – and avoid large investments in equipment, training and plant configuration – will start searching for alternatives now.

At Covestro, we have a long history of supporting our customers with the safe handling of MOCA, for example with our best-practice guidelines. But we also know that it is time for a change. That's why we decided to go back to the drawing board and rethink some basic elements of PU elastomer chemistry. The result is a new MOCA-free alternative that not only makes life safer and easier PU processors, but also opens up entirely new possibilities for production.