Case study
Covestro offers fast color recovering gamma sterilizable polycarbonate in oxygen free environment, enabling ever-greater dialyzer productivity
According to a recent study1, kidney damage has emerged as a challenge to the healthcare system in China in 2017, with more than 140 million chronic kidney disease patients and 700,000 patients in end stage kidney failure, requiring dialysis treatment to prevent fatal toxuria. With an expanded network of dialysis clinics in addition to the 3,637 dialysis centers in large public hospitals, demand for dialyzers increases substantially. Dialyzer OEMs are looking for material solutions to reduce production cycle times and meet market demand.
1According to a study from The Lancet: Global, regional, and national burden of chronic kidney disease, 1990–2017: a systematic analysis for the Global Burden of Disease Study 2017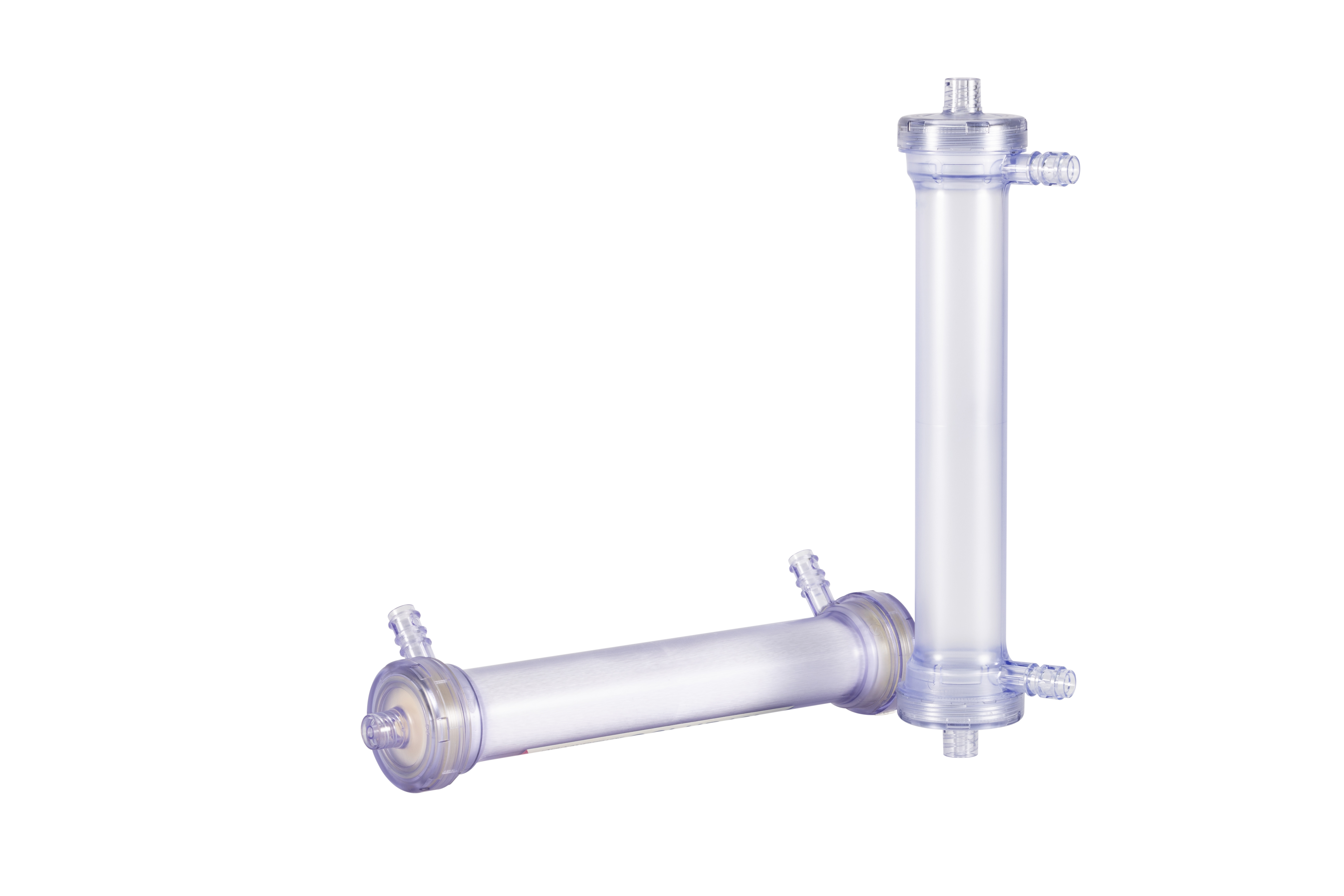 Dialyzers are essential to blood purification treatment. With the increasingly rapid demand of supply chains and just-in-time inventory, a mass-production system that shortens the time to market is urgently needed.
Chengdu OCI Medical Device Co., Ltd. (OCI), established in 2005, is a high-tech enterprise focused on developing and producing dialyzer-related medical equipment.
OCI's medical device designer has taken advantage of the high flowability and stiffness of polycarbonate to design a dialyzer with thinner walls to meet the need for ever-greater productivity.
Sterilization of devices is an indispensable process before delivering to hospitals. Dialyzer manufacturers who sterilize the devices by gamma radiation in oxygen-free environment usually need longer waiting periods for the device's color recovery. To maintain a high level of productivity without losing time to wait for color shift restoration, a special radiation-stabilized polycarbonate facilitating fast post-gamma color recovery is needed
"As a leading dialysis device provider, we are always seeking high-performance polymer materials with excellent biocompatibilityto enable excellent blood purification results. We are adopting a low oxygen environment to sterilize our product in order to minimize polymer degradation in dialyzers, ensuring the products' safety.

Makrolon® Rx2440 from Covestro quickly recovers from the yellowing color after this new low oxygen, high energy sterilization method, together with Covestro's mature dialyzer's technical knowledge & experience in China, we can shorten the production-to-delivery timeframe to gain ever-greater productivity."

Makrolon® Rx2440 is a medical-grade polycarbonate specifically for medical use. Customers who can sterilize their devices through high-energy radiation (gamma or e-beam). It allows for speedy color restoration from yellowing in a low-oxygen environment, in contrast to other competitive polycarbonate resins which take longer to achieve their final post-radiation color.
Makrolon® Rx2440 is also suitable for applications requiring biocompatibility2 meeting ISO 10993-1 and USP Class VI standards.
2meet certain biocompatibility test requirements of USP Plastics Class VI and ISO 10993-1 for the categories including:
(1) skin contact
(2) up to 24 hours contact with circulating blood, tissue, bone, and dentin (3) up to 30 days contact with mucosal membranes, compromised surfaces, and blood path, indirect.
" Covestro has been serving China's blood purification market for over 10 years. Polycarbonate is a globally well-established material for fulfilling dialyzer product design & production needs."
Why choose Makrolon® Rx2440 from Covestro?
Speedy color restoration in oxygen free environments When gamma or e-beam sterilized in an oxygen free environment, Makrolon® Rx2440 color is restored quicker than other radiation stabilized polycarbonate grades.
Color stability Lower final color shift after gamma sterilization
Medium-low viscosity Lower injection molding pressures when molding with thin walls due to the resin's medium-low viscosity