Case study
Anesthesia nasal mask ensures safe administration of gaseous medications
The central nervous system (CNS) anesthesia delivery system is essential for patient safety. Jiangsu Nhwa, a pharmaceutical manufacturer of CNS anesthesia, intends to manufacture nasal masks to ensure simple & safe administration of gaseous medications, providing a total product solution to hospitals.
The material used for anesthesia nasal masks should be transparent so that the patient's mouth and nose can be monitored. It requires resistance to weak acids in order to be compatible with anesthetic gas mixtures. It also requires sufficient stiffness and toughness to maintain the structural integrity of the design.
Moreover, its biocompatibility should fulfill both ISO 10993 and ISO 18562 : biocompatibility evaluation of breathing gas pathways in healthcare applications.
This standard covers the assessment of devices in terms of ISO 18562-2: tests for emissions of particulate matter, ISO 18562-3: tests for emissions of volatile organic compounds (VOCs) and ISO 18562-4: tests for leachables in condensate.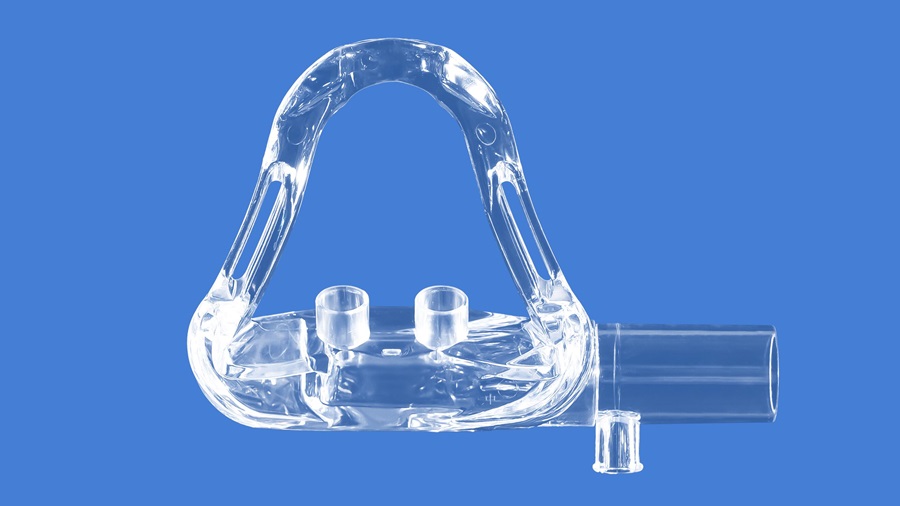 As polyester copolymers experience heat distortion at a temperature around 80 deg C , a long cooling time is required for molded parts prior to demolding to avoid distortion.
Makrolon® polycarbonate has a higher heat distortion tolerance up to 130 Deg C, so parts can be demolded at higher temperatures. This allows shorter cooling time, thereby increasing production efficiency.
Makrolon® Polycarbonate offers excellent toughness and stiffness for air-tight connections and head strap holders with a thinner design.
Covestro medical polycarbonate meets our high requirements for productivity and quality while complying with the latest regulatory standards ISO 18562, which will be an upcoming equivalent standard in China. Thanks Covestro China team for the onsite technical support as well as the complete material biocompatibility documents to support quick registration.
Covestro medical polycarbonate Makrolon® 2858 meets the demanding requirements by being EtO sterilizable, tough and rigid for thin wall component design and air-tight connections, and demonstrates sufficient chemical resistance to anesthetic gas mixtures. In addition its higher heat resistance compared to alternative polyester copolymer based materials enables higher production efficiency.
More importantly it also meets relevant industry standards, including the regulatory requirement of ISO 10993 on biological evaluation of medical devices & the more recent ISO 18562 on biocompatibility evaluation of breathing gas pathways in healthcare applications.
In addition, Covestro China Healthcare team provided onsite technical support and relevant biocompatibility data on Makrolon® to help complete customer's device registration.
By meeting the requirements of ISO 10993, ISO 18562-3 and 18562-4, Makrolon® 2858 and was found to meet the requirements and would be well suited for use as a material in the breathing gas pathways of respiratory devices. We are honored to join hands with Nhwa to enhance the safety and quality standards of respiratory medical equipment, and together create a brighter future for patients.
Key Benefits
High-quality Fulfills both ISO 10993 on general biocompatibility of medical device and the more recent ISO 18562 on specific biocompatibility of breathing gas pathways in healthcare applications, which is recognized by the U.S. Food and Drug Administration (FDA)
Tough and Rigid Tough and rigid for thin wall design freedom.
Transparent Glass-like transparency.
Chemical-resistant Chemically resistant to gas mixtures.