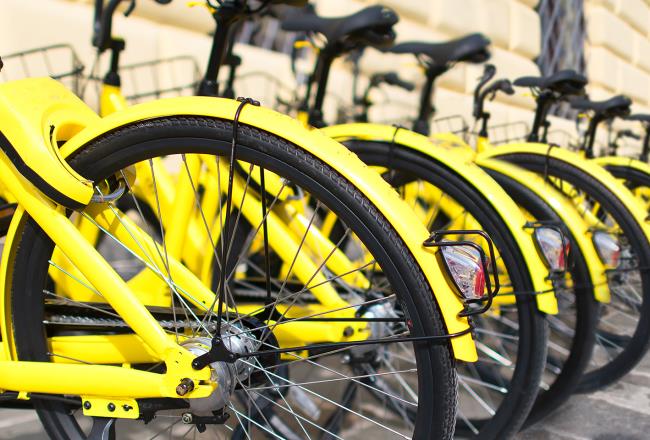 Case study
Covestro provides the ideal material solution for AirFom's innovative airless tire system
Covestro cooperated with AirFom to launch an airless bike tire insert solution. The lightweight eTPU polymer foam tire replaces the conventional rubber innertube, making the tires more puncture-proof as traditional tires while significantly reducing routine maintenance and offering a more reliable riding experience.
Rubber innertubes are a standard feature in bike tires due to their light weight and riding comfort. However, these innertubes require regular upkeep to maintain air pressure and they are prone to puncturing. The goal of this collaboration was to create a puncture-free tire that offers an improves level of riding comfort.
Bike tires with rubber innertubes are the norm in bike manufacturing. Despite their light weight and comfort, these innertubes require frequent maintenance and they are prone to puncturing. AirFom is pursuing its goal of replacing rubber innertubes with airless tire inserts that offer the same level of performance while providing improved comfort – all without the need for maintenance or puncture risk. As a partner to AirFom, Covestro selected and delivered a raw material that lives up to their specifications.
"The AirFom concept is to allow cyclists who use bikes every day to never have to worry about the threat of flat tires, pressure maintenance or vandalism. The use of Covestro TPU materials is key to realizing this concept. With Covestro's high-tech TPU materials, we can make an airless system that is affordable, fast rolling, lightweight, highly durable and more recyclable."
The airless bike tire system developed by AirFom is made from expanded TPU (eTPU), which is highly elastic, extremely resilient and flexible. The performance of the airless tire depends heavily on the quality of the TPU used to produce the eTPU.
At Covestro, we support our partners with technical advice throughout the development process. Our broad portfolio includes materials that offer higher resilience and high damping grades for tire inserts.
Covestro developed and modified the Desmopan® resin to accommodate the foaming process needed for creating eTPU. Low-density Desmopan® resin makes the finished tire insert light in weight, so it is easier to assemble than air-filled tires. The AirFom airless tire insert is also highly durable thanks to the elastic and resilient Desmopan TPU. For bike-sharing companies, the AirFom tire insert is an ideal choice, because Desmopan® TPU ensures a longer lifespan with less of an environmental impact.
What makes Desmopan® resin the ideal choice for AirFom airless tire inserts?
Light weight Easily expanded with a closed-cell foam structure and low-density material
Resilient Ensuring high damping grades for bike tires and more riding comfort
Durable High flexibility across a wide range of temperatures, and a low compression set
Recycable No cross-linked particle structure, making it easy to recycle