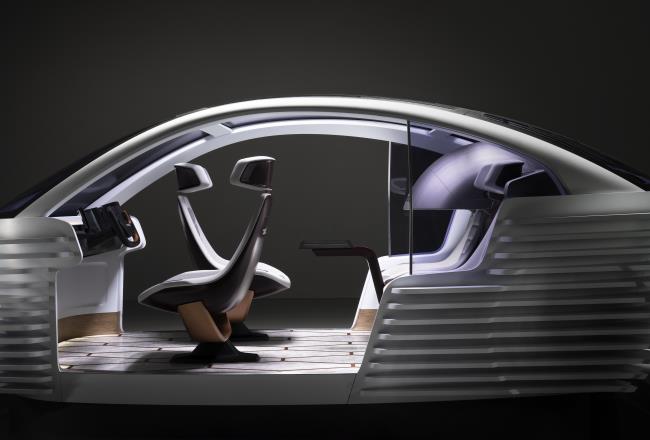 Application
Automotive interior: Superior materials that differentiate customer experiences
The interior design of vehicles has a significant impact on consumer purchasing decisions. Which is why designers choose our market-leading polycarbonates, PU-based soft-touch coatings, semi-rigid foams, advanced composites, films and low VOC adhesives as well as PU based coatings for synthetics to achieve a high degree of differentiation.
Featured Brands
Versatile toughness via blends of PC+ABS; PC+ASA; ABS+PC and PC+SAN

Baydur® – the versatile polyurethane that meets the needs of a variety of applications

Semi-rigid polyurethane molding foam for vehicle interiors

Polyurethane systems for soft, comfortable and versatile foam moldings.

Polyurethane elastic systems with high impact resistance and flexibility

Engineering thermoplastic and specialized photopolymer films

Versatile PU dispersions for eco-friendlier, low VOC coatings and adhesives

Polyisocyanate crosslinkers that enhance waterborne PU coatings

Polyurethanes for compression molding of composites

Polyisocyanates for a wide range of PU foams, coatings and adhesives

Dispersions for eco-friendly, waterborne adhesives

Isocyanate crosslinkers and additives for textile coatings

High performance waterborne polyurethane dispersions, without co-solvents

Thermoplastic polycarbonate films

High-performance polycarbonate for applications in diverse industries.
Key Benefits
Innovative: Advanced materials are key to distinctive vehicle interior designs.
Ultra-durable: Resistant to abrasion, UV, heat, and chemicals, our materials are made to last.
Comfortable: Supportive, flexible materials that are great to the touch.
Lightweight: Lighter vehicles are more energy efficient and reduce emissions.
Eco-friendly: Volatile organic compound emissions inside cars do not compromise air quality.
Automotive designers, engineers and manufacturers rely on our polycarbonates, polycarbonate blends, adhesives, coatings, PU foams and films for a broad range of interior applications, including trim, electronic components and instrument panels that require high-quality surfaces and dimensional stability as well as an attractive total quality perception. To meet consumer expectations, today's automotive interior designs increasingly feature improved component functionality while still maintaining an elegant, luxurious appearance. Our polycarbonate materials can also be used to integrate technology into an interior, resulting in an improved driving experience that truly sets a vehicle apart. Ask our consultants and materials experts to assist you in identifying distinctive materials for your vehicles.
Interior innovation: Polycarbonates for the latest vehicle trends
The interior is often about color, light, haptics, and surfaces. With our materials, you can bring these parameters to bear in an impressive way.
Our polycarbonate resins and blends offer the ideal combination of high mechanical performance, surface quality and durability at high temperatures needed to ensure innovations for interiors perform at their peak. Whether needed for structural components such as instrument panels, light guides, colorful, high/low-gloss or leather-like interior surfaces or decorative film based back injected parts – our polycarbonates help produce more appealing interiors. Together with polycarbonates, other translucent materials (including Dispercoll® U and INSQIN) using waterborne adhesives and textile coatings can enable fashionable backlighted trim components.
Instrument panels: Providing comfort and safety more productively 
Our Bayfill® semi-rigid polyurethane molding foam makes it possible to combine the instrument panel retainer with a decorative skin. The material is characterized by good flowability and short demolding times, which improves productivity. The process also allows integrated production of complex contours to save costs. In addition to optimizing comfort, Bayfill® also improves safety by absorbing impact energy in the event of a collision. Instrument panels made with Bayfill® further contribute to passenger experience by enhancing noise reduction and ensuring low VOC emissions in vehicle interiors.
Steering wheels: Comfortable, durable and safe
Bayflex® 20/30 polyurethane is a versatile integral skin foam with various interior applications. The solid outer skin and soft, flexible cellular core of this semi-rigid foam are particularly well-suited to the production of steering wheels because they are soft to the touch, wear-resistant and low on VOC emissions. In the event of accidents, the skin foam also absorbs impact energy and consequently reduces the risk of injury to passengers. The good mechanical properties, fast demolding time and excellent processability of Bayflex® contribute to improved productivity too.
Load floor, sun shade and headliners: Lighter, sound-absorbing and stiff
Our Baypreg® F sandwich composite offers excellent loading bearing capability, low weight and high flexural strength for load floors and sun shades. And it can be economically produced in a one-step pressing process with the Baypreg® F system. We also offer self-supporting, buckle and break-resistant Baynat®, a specialized open cell rigid foam in sheet form that can be compression molded into sandwiched headliners in combination with fibrous facings and decorative materials. This dimensionally stable, lightweight foam sheeting offers the additional advantage of being highly noise-absorbent.
Sound absorption foam: For quieter vehicles 
In response to more stringent noise legislation and growing demands of comfort from motorists, vehicles of all kinds are being fitted with sound-absorption foams – in the engine compartment and passenger area. Our Bayfit® SA flexible PU molded foam system is ideal for this purpose and can be used to produce foam-backed vehicle carpeting, foam-backed insulation between the engine compartment and passenger area and sound insulation of the entire engine compartment. Bayfit® systems satisfy the most demanding acoustic requirements in the case of both airborne and solid-borne noise.
Door trim panels: Lighter weight plus opportunities for more sustainable and economical production
Baypreg® NF is a special two-component polyurethane system for the production of fiber-reinforced automotive interior fittings through compression molding. It can be combined with natural fibers like flax and sisal to produce thin-section door trim paneling with a low unit area weight and improved sustainability. In addition, we offer Baydur® STR, perfect for use in door trim panels as reinforcing fins. The material also allows for the integration of attachment inserts and other reinforcing materials in a single operation making for more economical production.
Environmentally friendly adhesives: For healthier, more comfortable vehicle interiors
Stricter standards are being introduced to regulate air quality inside vehicles. To aid compliance with these regulations on VOC emissions, we offer a broad range of environmentally friendly water-based Dispercoll® U adhesive raw materials. Typically used for thermo-activated applications (e.g. vacuum deep-drawing lamination), our adhesive raw materials help address air quality requirements and create a better cabin environment as well as aesthetically appealing surfaces, for example in combination with backlighted trim elements In addition to satisfying compliance requirements, they meet high demands for reliability and durability (even under hot and humid climate conditions), as well as cost savings and sustainability.
Functional surfaces: Enhancing the look, feel and capabilities of interior surfaces
Current design trends favor films that help create a pleasant, personalized ambience in vehicle interiors by way of lighting, tactile effects and intelligent functions. Our Makrofol® and Bayfol® films assist in all these areas – and especially where there is a need for printed, three-dimensional components that are both decorative and functional in design. Typical applications for these films include speedometers and light management. The latter involves using films to diffuse, reflect or guide light in interior applications.
Sunroof blinds: TPU films for lightweight, space-saving flexible roller shades
Our Platilon® or Dureflex® TPU films can be used as textile laminates for sun protection in automotive sun roofs. They effectively block out sun and can be easily integrated in small spaces. Highly flexible, roll-up black out TPU films also make it possible to create large-surface sunshades for panoramic
roofs. These textile-laminated films are lightweight and flexible. They manage light, save weight and decrease volume. Covestro offers both flame-retardant and non-flame retardant TPU films suited for different production processes
Hybrid speedometer: Integrating analog and digital IC elements with high-performance films
Our Makrofol® light management films make it possible to combine analog and digital elements in one instrument cluster (IC) and bridge the gap between analog applications and digital, pioneering technologies. The films enable seamless 3D surface design as well as Black Panel Effect with light management capability for different grades of transmission. Makrofol® light management films can be used to differentiate interiors with fade effects, and color printing on front or backside of film. Tightly controlled light transmittance tolerance and various light transmittance rates are available for optimal display appearance and legibility.
A versatile toolbox: Hard to flexible waterborne dispersions for high-value automotive interior plastic coatings
Our toolbox consists of Bayhydrol® A acrylic dispersions and Bayhydrol® U/UH polyurethane dispersions, which enable the formulation of decorative interior coatings with outstanding resistance to chemicals and sunscreens – as well as soft-touch coatings with special haptic effects. Gloss, flexibility, haptics and adhesion profiles can be precisely adjusted according to automotive manufacturers' specifications through combinations of Bayhydrol® A and Bayhydrol® U/UH dispersions with polyisocyanates from the Bayhydur® and Desmodur® ranges and crosslinkable polyurethane dispersions.
PU coatings unite color and backlighting effects with leather-like haptics
INSQIN® technology uses water as a solvent for polyurethane textile coatings and microfiber dipping to create synthetic dashboard surfaces and seat fabrics with a high-quality, soft touch that rivals natural leather but at a lower price.

The fact there is no need to wash out any solvent after applying the coating reduces water consumption by up to 95% compared to wet-processed materials. As a vegan solution, with lower CO2 emissions and reduced energy consumption, INSQIN® can reduce the overall carbon footprint of synthetic material by up to 45%, while offering odor-free, indoor air quality.

Of particular interest for car manufacturers, vehicle designers and their tier suppliers, this lightweight material offers a broad palette of bright or muted solid colors as well as dynamic backlight effects ranging from transparent to translucent, opening up a wide range of design options for innovative automotive interior designers. We can work with tier suppliers to tune the application to meet your needs precisely.
Concept dashboard showcases how material technologies enable design freedom
INSQIN® waterborne polyurethane (PU) coatings in combination with Dispercoll® U 66 dispersion are two water-based, low-VOC solutions that have been developed specifically with future car interior needs in mind. Together they deliver translucent optical properties, coating adhesion, and deep coloring effects in dashboard covers and upholstery materials. Our DirectCoating polyurethane processing technology enables seamless trim components that integrate smart functions. Parts can be produced cost-effectively in a wide range of haptics, transparencies, and ambient lighting effects.
Instrument cluster and trim panels: Polycarbonate films for functional integration and seamless design
Makrofol® polycarbonate films are often utilized in interior automotive applications such as speedometer dials and instrument panels, where they are used to create printed 3D elements that are both decorative and functional. If a transparent or translucent film is used, components can be backlit for ambient interior lighting. Our Makrofol® light management films make it possible to control the transmission, diffusion, reflection and direction of light inside the vehicle. This opens up tremendous possibilities for designers made all the more achievable by the fact that the films are resistant to scratches, chemicals and weathering.
Soft-touch surfaces: Creating safer, more comfortable driving experiences
Pleasant, soft-touch surfaces for automotive interiors are made possible by our thermoplastic polyurethane Desmopan®. This versatile material keeps interiors safe and comfortable by providing durable, protective surfaces for interior applications like door handles, cup holders, gear knobs, instrument panels and extruded artificial leather. Key advantages include good scratch, wear and abrasion resistance, very low VOC emissions and low fogging (VDA 278). Desmopan® also passes odor tests (VDA 270), has a high resistance to oils and grease (e.g. sunscreen or hand lotion) and also offers very good adhesion to thermoplastics in a 2-component process. Not least, the UV-resistant material is lightfast and does not yellow.
Suppliers who prefer a spray application can also produce soft-touch surfaces with PU soft-touch lacquers. Gloss, flexibility, haptics and adhesion profiles can be precisely adjusted according to automotive manufacturers' specifications through combinations of Bayhydrol® A and Bayhydrol® U/UH dispersions with polyisocyanates from the Bayhydur® and Desmodur® ranges and crosslinkable polyurethane dispersions.