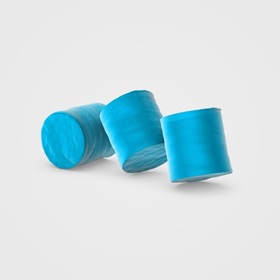 Plastics
Foams
Films
Coatings, paints & inks
Bayblend®: Advanced toughness meets flame retardancy
Bayblend® variants exhibit an excellent balance of properties, most notably high toughness – even at cold temperatures – as well as rigidity, dimensional stability, excellent creep resistance, low moisture absorption, heat resistance and high flame retardancy.
Our broad Bayblend® portfolio offers you the ideal properties for appliances, automotive and transportation, electrical, consumer products, medical, electronics, IT and communication applications. Bayblend® variants include general-purpose grades as well as flame-retardant, reinforced and non-reinforced grades. There are also specialized grades for specific applications, such as surface finishing by electroplating and metallization. Flame-retardant grades offer excellent flow properties suitable for thin-wall applications, which have to meet strict flammability standards and thermal requirements. In addition, Bayblend® flame-retardant grades usually pass the glow wire test IEC 60695-2, (some at 960ºC and 1.0 mm), and satisfy UL 94 as well as the highest grading "V-0".
Featured Products
(PC+ABS)-Blend; 15 % mineral filled; flame retardant; Vicat/B 120 temperature = 98 °C; high stiffness; tensile modulus = 4800 MPa;; UL recognition 94 V-0 at 1.5 mm; glow wire temperature (GWFI): 960 °C at 2.0 mm

Rubber modified PC blend; flame retardant; mineral filled ; Vicat/B 120 temperature = 99 °C; extrusion grade for European railway interiors requiring EN45545; the classifications according to the respective rail standards are communicated with email inquiry under plastics@covestro.com

ABS+PC-Blend; Vicat/B 120 temperature = 112 °C; for electroplating applications

(PC+ABS)-Blend; Vicat/B 120 temperature = 130 °C; improved flow compared with T85
Key Benefits
Tough: Experience high toughness even at low temperatures.
Heat-resistant: Rely on dimensional stability up to 142°C.
Flame-retardant: Discover a wide portfolio of excellent flame-retardant grades.
Brochures & Downloads
Bayblend Product range.pdf

Bayblend Typenuebersicht.pdf

Engineering Thermoplastics.pdf

Technische Thermoplaste.pdf

Polycarbonate blends for the electrical and electronics industries.pdf

Polycarbonate und Polycarbonat-Blends für die Elektro- und Elektronik-Industrie.pdf

Joining Techniques Design Guide.pdf

Part and Mold Design Brochure.pdf

Injection molding - Production equipment and machinery.pdf

Spritzgiessen Fertigungseinrichtungen.pdf

Snap-fit joints for plastic - A design guide.pdf