Application
Drug delivery: High-quality plastics for drug delivery devices
The continuous introduction of novel pharmaceuticals and drug delivery devices requires newer, better materials to ensure administration of pharmaceutical agents to the highest standards. Our specialized polycarbonates, PC+ABS blend resins and thermoplastics provide the desired levels of reliability and excellence for drug delivery devices.
Featured Brands
Versatile toughness via blends of PC+ABS; PC+ASA; ABS+PC and PC+SAN

Innovative polyurethane products for medical and wearable applications

Thermoplastic polyurethanes

Smart combinations of polycarbonate and polyester in ultra-tough materials

High-performance polycarbonate for applications in diverse industries.

Polyurethane film made from aromatic and aliphatic polyester or polyether.

Thermoplastic polyurethanes
Key Benefits
Biocompatible: Wide range of specialized, medical-grade materials in line with ISO 10993-1.
Expert assistance: Benefit from 50 years of experience in specialized medical materials.
Sterilizable: Select medical grades can be sterilized by ethylene oxide gas, gamma radiation or steam.
Easy processing: Most materials are well-suited to standard mass production methods.
Ultra-durable: High resistance to chemicals, abrasion and environmental conditions.
Our biocompatible materials for drug delivery applications include polycarbonates and PC+ABS blends for IV connectors and luers, portable devices and wearables as well as thermoplastics that optimize the portability and safety of auto-injector systems; various medical-grade polycarbonates used for transfer devices that improve healthcare worker safety as well as for on-body drug delivery devices, needle-free injections, and mobile medication metering units; a range of tailor-made polyurethane products for wearables such as smart skin patches; TPU elastomers for thin-walled flexible tubing, connectors, and films used in intravenous access devices.
Durable PC and PC+ABS blends: For safe, portable devices
Portable devices need to withstand everyday use and chemical interaction. This is why medical devices for drug delivery such as auto-injectors and mobile medical injector pumps often rely on Makrolon®, Bayblend® and Makroblend® polycarbonates and blends. Our Makrolon® medical grades are engineered to be tough and resistant to medications. You will also find our
Bayblend® M850 XF
and
M750
in drug delivery devices due to their biocompatibility, rigidity and color stability, while
Makroblend® M525
offers excellent chemical resistance against everyday products like lotions and creams.
Biocompatible PC resins: For intravenous access that makes administering medication easier
Our Makrolon® medical-grade polycarbonates are the ideal materials to craft the complex components of intravenous access and injection systems. This is because the materials provide an outstanding balance of properties including transparency, impact resistance, and positive flow support. In particular,
Makrolon® Rx1805
is resistant to lipid-based pharmaceuticals or nutrients as well as the isopropyl alcohol commonly used in these applications. Additionally, Makrolon® medical grades can be easily sterilized using ethylene oxide, gamma radiation, electron beam radiation or steam.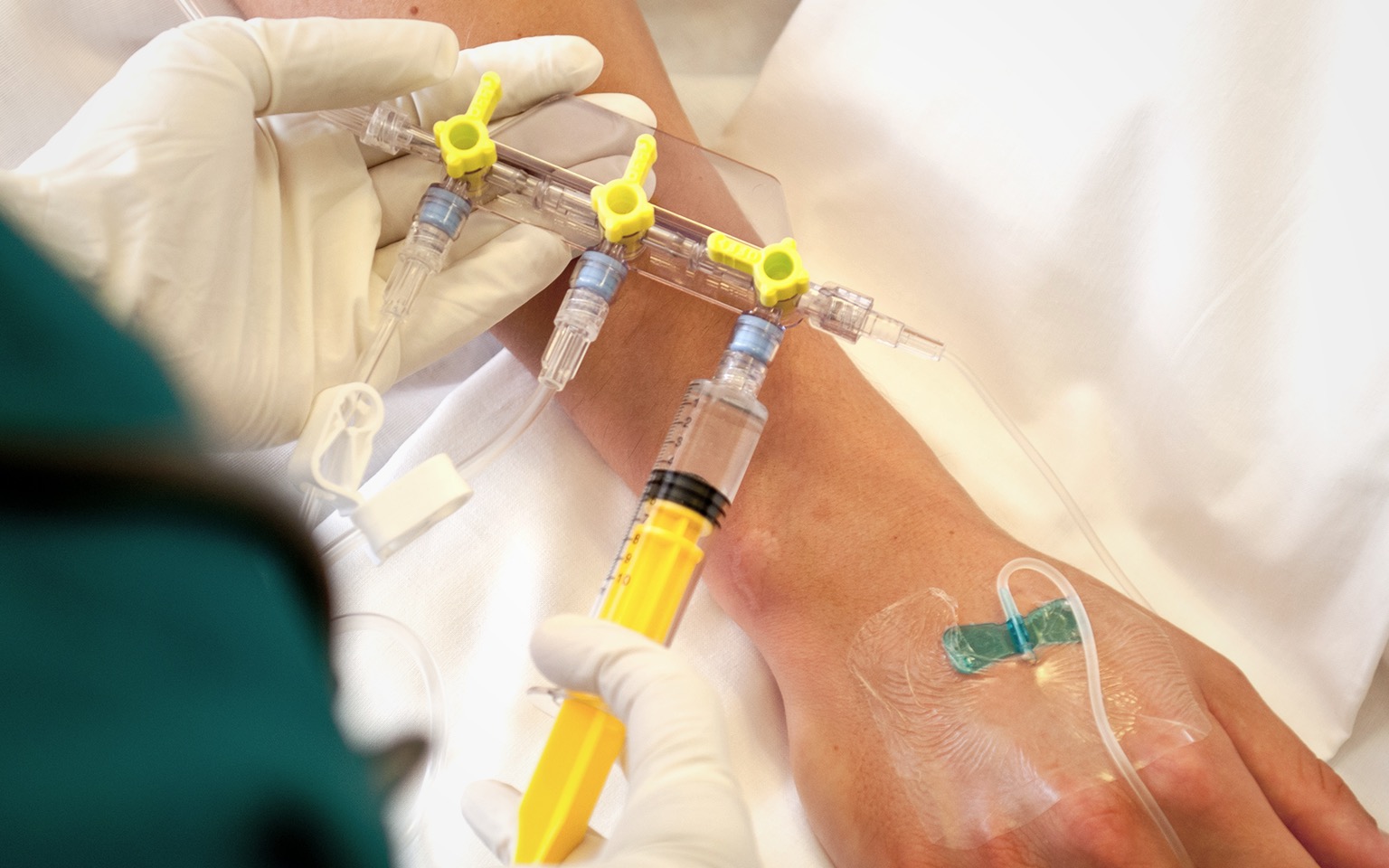 Lightweight films and foams: For practical and comfortable wearables
With the growing digitalization of healthcare and the need to perform remote patient monitoring, wearable technologies are rapidly penetrating the medical field. Smart skin patches are a good example: this cutting-edge digital application lets patients wear medical devices directly on the skin for transdermal transmission, remote monitoring or electronic stimulation. The patches are enabled by our skin-friendly Platilon® thermoplastic polyurethane films and Baymedix® films, adhesives and foams. The materials are soft to the touch, breathable, lightweight and stretchable. And they allow mass-production at low cost.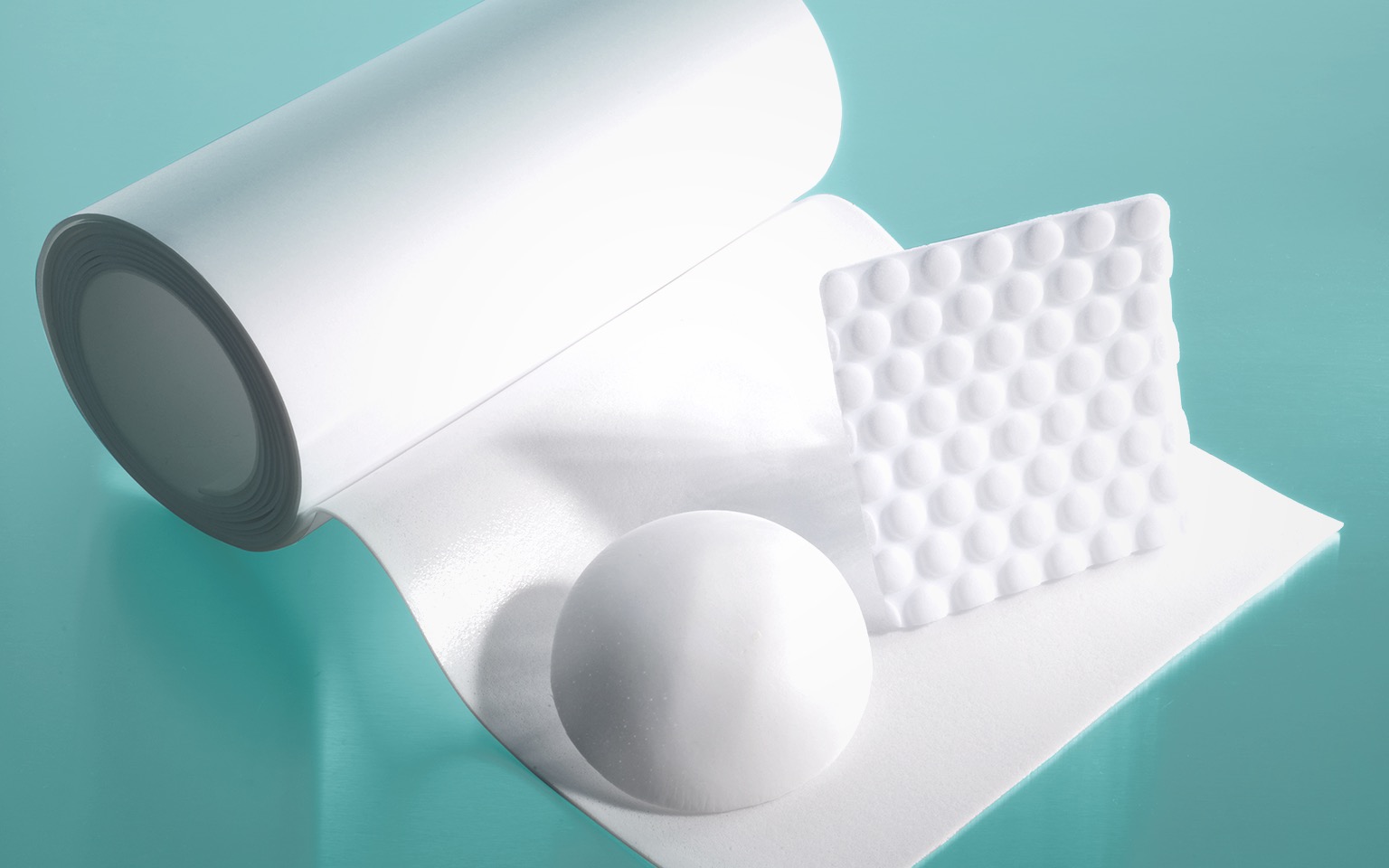 Biocompatible TPU elastomers: For tubing that gives medical devices a competitive advantage
Thin-walled flexible tubing, tubing connectors, catheters and films made with our Texin® and Desmopan® thermoplastic polyurethane elastomers are biocompatible, strong, flexible and chemical-resistant. The materials are also easy to process via injection molding or extrusion, depending on the required application. And our special Texin® grades meet the requirements of the ISO 10993, Part 1 "Biological Evaluation of Medical Devices" tests for a human tissue contact time of 30 days or less. Sterilization is easily performed using ethylene oxide, gamma radiation, electron beam radiation or steam.