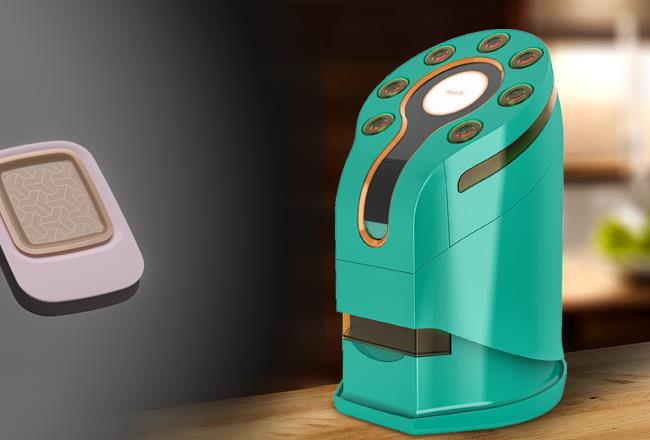 Story
Smart pill dispensing with polycarbonate housing for enhanced well-being and safety for patients
What happens when industrial design students from Shenkar College are challenged to develop design concepts for IoT (Internet of Things) devices for modern life and well-being? A number of inspiring designs emerged that show how modern living can unfold in more sustainable ways and resulted e.g.in an IoT device for enhanced safety and well-being for chronically ill patients.
Engineering plastics for more sustainable medical housings
Covestro and Shenkar College of Engineering, Design and Art investigated how smart applications may be used to positively contribute to every days life. While medical plastics are frequently used for drug delivery devices and biocompatible surfaces, their full potential related to Color Materials Finish (CMF) design, and circular design offers more. A team of Covestro experts supported the Shenkar students in exploring design opportunities with engineering plastics such as Makrolon® polycarbonate, Bayblend®, Makroblend®, Apec® - a wide variety of more sustainable and efficient materials that enable smarter living and well-being.

The students worked in teams to identify existing and new applications for the near future (2023-2033), also in the area of healthcare, especially in point of care applications. Among other smart device concepts, this collaboration yielded the development of smart pill dispenser design for enhanced safety and well-being for patients relying on regular use of medication. Based on the design concept an exhibit was developed that illustrates the smart features.
Smart pill dispenser for improved life quality
Combining material solutions for a circular economy with user friendly design, enabling comfort and well-being in day to day situations – this is what the design students were looking for.

As human lifespan lengthens, the very definition and boundaries of life are also expanding. With the prevalence of long-term and chronic diseases on the rise, smart medical technology and devices will be needed to support highly varied groups of people.

The smart pill dispenser is equipped with smart sensor technology. It makes the life of patients dependent on regular medication easier, and increases safety and well-being.

Missing a pill is a well-known, health-threatening problem among chronically ill patients. This smart pill dispenser addresses this issue and also contributes directly to SDG 3 - Good Health And Well-being.

Connected via app to a patient's pharmacy or doctor's office, it dispenses only what is needed at any given point in time and may be able to identify harmful drug interactions, for added peace of mind.
Renewable, medical polycarbonate for improved CO2 footprint
The pill dispenser model can also be made with more sustainable polycarbonates from Covestro, contributing to a reduction of the CO2 footprint on medical devices.

Our RE products are the drop-in solutions for brands seeking high quality and best-in-class environmental performance.

Our RE portfolio, belonging to the CQ "circular intelligent" product family , paves the way for a sustainable and climate-neutral circular economy, that is not just a vision for tomorrow, but is ready to use today.
Intelligent dispensing enabled through high tech medical material solutions
With the development of smart technology and Internet of Medical Things (IoMT) on the rise, healthcare and wellness devices have created new possibilities for maintaining daily health and well-being.
The smart pill dispenser provides an at-home medical service and can transfer medical information to medical professionals with accurate data . This helps patients take the correct dosage of their medicine at the correct time for improved safety and well-being.

The smart device can also provide a level of emotional comfort for patients and their families, not worrying so much about medication administration due to smart technology interaction between the smart pill dispenser and an end-user.
Polycarbonates for IoT sensor technology
IoT health and wellness devices like the smart pill dispenser are often propelled by smart sensor technology, where patient to device becomes a two way dialogue.

Thanks to an ideal combination of medical polycarbonate solutions and smart electronics the smart pill dispenser forms the interface between the healthcare device and the patient and can be equipped with varied functions.
Chemically resistant and reliable Makroblend® M525 and Makrolon®2458 for housings
Regulations in the healthcare industry are high, including for medical housing materials. Chemical-resistant housing materials such as Makroblend® M525 as a base are also safe for contact with uncompromised skin, tested according to ISO 10993-5 and ISO 10993-10. In combination with the medical polycarbonate Makrolon® 2458, it has a low viscosity and can be easily formed.
Visual alerts and signal-transparent polycarbonates and blends with smartphone connectivity
Missing a pill is a well-known problem, but no longer an issue. Bayblend® M850 XF (PC+ABS) is easy flowing and biocompatible, meeting relevant requirements of ISO10993-1. Makrolon® 2805 is transparent and fluorescent for signal alerts and can be demolded easily.
Medical polycarbonates expressing wellbeing and safety in home devices
Makrolon® 2858 is a medical grade polycarbonate which is biocompatible according to ISO 10993-1 and also demonstrates a good impact resistance. Makrolon® 6557 is a UV-stable polycarbonate and flame-resistant for hazardous environments.
Makrolon® M6011 FR embodies the next generation of flame retardancy with UL94 V-0 rating and good dimensional stability. It resists both, daily chemicals and disinfectants, with medium viscosity and impact resistance. Makrolon® 2458 is a medical-grade polycarbonate that fulfills ISO 10993-1 requirements and can easily be demolded.
For many of our healthcare customers, it is difficult to imagine what the finished products will look like and what materials will be able to create an aesthetic appearance while meeting ISO standards for medical applications. It has been a great pleasure to work with students at Shenkar College of Engineering, Design and Art to introduce them to our material solutions and develop new design concepts for smart devices for the healthcare industry