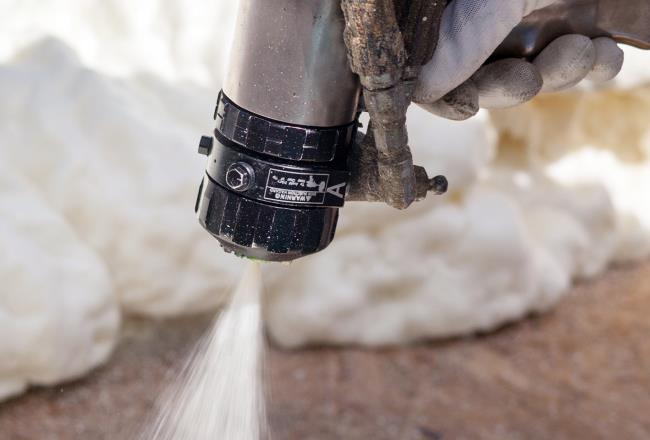 Processing technology
Sprayed foam
Polyurethane spray technology is the basis for spray polyurethane foam (SPF) as well as sprayed composite systems and spray elastomers. In all of these technologies, polyurethane (PU) components are mixed and simultaneously sprayed to achieve fast reaction times and an excellent distribution of the PU material.
Featured Brands
Polyurethane elastic systems with high impact resistance and flexibility

Polyurethanes for compression molding of composites

A variety of polyurethane elastomers for different processes

Polyisocyanates for a wide range of PU foams, coatings and adhesives

Polyisocyanates for a wide range of PU foams, coatings and adhesives
Like almost all PU technologies, the key to SPF, sprayed composite systems and spray elastomers is a chemical reaction between two liquid components – an isocyanate and a polyol – which are supplied in precise quantities and mixed at high pressure before application. For mobile technologies like SPF, this is accomplished using a proportioning device and a spray gun. Fixed manufacturing systems like spray composites rely on metering pumps and a mixhead with orifices and a mix chamber.
The foams are created with the inclusion of a blowing agent in the polyol mixture – either a chemical blowing agent such as water (which reacts with the isocyanate to generate CO2) or a physical blowing agent such as hydrofluoroolefins, which form gas bubbles in the reacting mixture that become trapped in cells inside a polymer matrix.
The reacting liquid mixture which exits the spray gun or mixhead is then applied to the desired application – either the cavity to be insulated, in the case of SPF, a surface to be reinforced with a spray elastomer, or a mold for a composite part. As with other PU technologies, depending on how the polyurethane system is formulated, the parts molded with it can be a foam or a solid. They are typically rigid or semi-rigid. The characteristics of the material – stiffness and strength for composite parts, density and insulation performance for foams – are determined by the chemistry of the reacting mixture, and by any reinforcement material in the case of composites.
We offer polyurethane systems for a variety of applications, including:
Baypreg®, e.g. for load floors and roof assemblies
Baytec®, e.g. for solid spray applications
Bayflex®, e.g. for automotive interior spray applications
Desmodur® or Mondur®, e.g. as a wood binder for wood panel production.