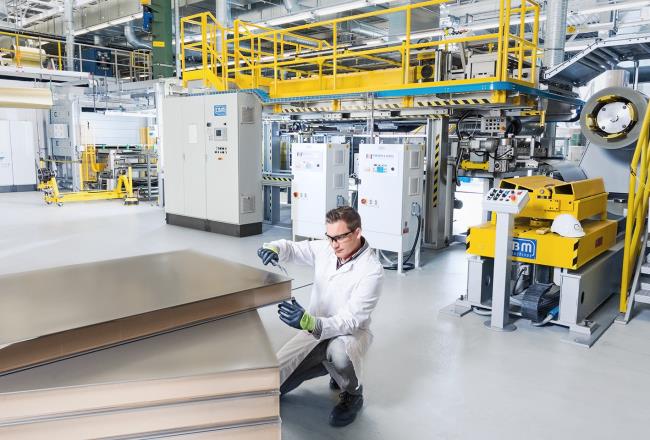 Processing technology
Continuous rigid foam: Customized to your specification
Rigid foam is produced by combining two main components – our Baymer® polyol and Desmodur® isocyanate. The components are then tempered in storage tanks and dosed via a metering unit to a mixhead. Producers can adjust properties of the final product with additives such as our Desmorapid® catalysts. Blowing agents may be added for foaming at this stage and air loading can also be used.
The continuous production of sandwich panels with a rigid PU foam core can be achieved by joining metal sheets to metal composite panels or by applying flexible facings to insulation boards in so-called double belt conveyors (DBC).
Rollable facings such as steel sheet, craft paper, aluminum foil, or coated glass fiber fleece are unwound on uncoilers. Less common solutions include solid facings like plaster or wood chip boards, which are introduced to the continuous process at an infeed station. Afterwards, the facings are tempered and an adhesion promoter is applied to the lower facing where necessary.
The liquid PU reaction mix is laid down evenly by fixed plastic rakes (FPR) or an oscillating poker (dispensing rake). The reaction mix starts foaming in the DBC, then rises and glues the facings together. After the foam hardens in the DBC, it remains a force-fit composite board or panel. If it undergoes subsequent processing by the crosscutter (flying band or disk saw), it is de-piled and moved to the packaging station. Importantly, common blowing agents used in the manufacture of PU rigid foams are the hydrocarbons n-, iso- or c-pentane as well as pentane mixtures. Since pentanes form explosive mixtures with air, an ex-proof safety setup must always be implemented when using pentane as a blowing agent for PU rigid foam.
Standard production parameters for PU rigid foam boards or panels:
Foam densities: 28 to 45 kg/m³
DBC lengths: 12 to 50 m
Production speeds: Standard-DBC up to 15 m/min; high-speed-laminators up to 60 m/min
Metering unit output: 1 to 200 kg/min
Thickness range: 10 to 240 mm
Width range: 0.50 to 1.20 m