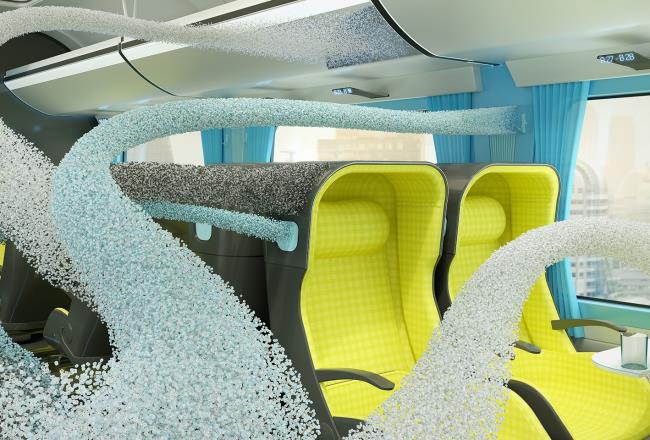 Application
Rail interior: Reinventing interiors with better materials
Thermoformed polycarbonates are particularly efficient and versatile for train interiors. They can be heated and shaped into any desired form in the mold by bending or drawing - ideal for manufacturing wall and ceiling coverings, window frames and seat backs in small to medium quantities.
Featured Brands
Key Benefits
Design freedom: Get exactly the shapes, textures and colors you want for your interiors.
Sustainable: Choose lighter, recyclable materials to save fuel, money and the environment.
Flame-retardant: Use materials that meet the most exacting fire and safety standards in all major markets.
Hard wearing: Optimize materials for impact-, scratch-, abrasion- and graffiti-resistance.
Safe: Enjoy high impact strength, high temperature resistance and excellent flame-retardance.
Our dedicated polycarbonate materials will enhance the design, comfort, resilience and safety of your train interiors. Specific applications include thermoformed walls and ceiling panels, window frames and seat backs made with the flame-retardant Bayblend® brand family, while lighting diffusers, windows and doors traditionally made of glass can be created with Makrolon® polycarbonate. This highly durable material is half the weight of comparable glass substrates, which reduces energy consumption, and the fact that is highly impact-resistant protects against vandalism too. Additionally, products made from Makrolon® and Bayblend® can be recycled at the end of their useful lives, which saves you money while you save the environment.
Rail Lighting: Easy on the eye and the environment
Our specialized polycarbonates are designed to meet the unique lighting requirements of the rail sector. There are also special flame-retardant Makrolon® polycarbonates that satisfy fire safety standards across major international markets. Furthermore, products made from Makrolon® can be recycled after use, which is lighter on the environment too.