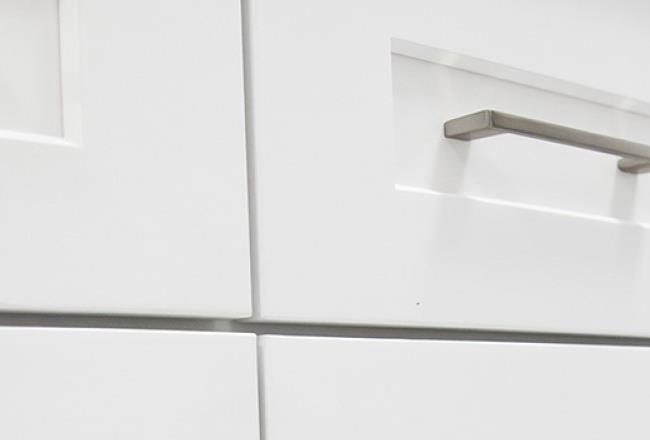 Story
Powder coatings for heat-sensitive substrates: Durable, protective, beautiful
Powder coatings can deliver beautiful aesthetics, combined with excellent protection and durability, for heat-sensitive substrates. Discover all these features below:
Beauty and protection that lasts
Whether you need a clear or colored coating, and a textured or smooth finish, powder-coating technologies are ideal for delivering a seamless finish. And with Covestro's Uralac® powder-coating technologies, you can also enjoy all these features on heat-sensitive substrates (HSS).

Our Uralac® HSS solutions can resist water, chemicals, and UV light, as well as everyday scratches and stains. And this protection is proven to last – Uralac® HSS solutions have passed a range of industry tests for durability, including NEN-EN 12720, Blue Wool Scale, and hinge hole (Ledro test) benchmarking.
Beautiful

Powder coating colors? The choice is yours
First impressions count – and that includes the right color! Unlike some UV powder coatings, the pigmentation in our coating colors is not compromised by prolonged exposure to light. So, with technologies like Uralac® Ultra and Engain, you can create almost any color you want – it really is up to you.

From smooth coating to matt finish
Your powder coating's finish has a big impact. You might need a fine matt finish that can't be attained with conventional powder coatings, or a silky smooth finish with anti-glare options.
With our Uralac® HSS solutions, you can choose from a wide variety of gloss levels – all strong and seamless, and tailored to your needs.
Looking for a textured coating? We've got you covered
More and more consumers look for the unique style of textured coatings! But finding high-quality powder finishes for textured coatings – at the right price – is not always easy.
Unlike other coating systems, Uralac® HSS solutions enable you to achieve both smooth and textured finishes. It's well suited to furniture that requires a fine finish with features like wrinkling.
The clear choice for a transparent coat
With our powder-coating technologies for HSS, it really is possible to provide a beautifully clear, transparent powder coating for wood!
Unlike conventional two-and-three-layer systems, Uralac® Ultra and Uralac® UV don't require a primer and a topcoat. They deliver a natural, varnish-like finish that brings out the wood's natural beauty in a single application – with long-lasting performance and no yellowing.

No stain, no pain with easy-to-clean coatings
Uralac® HSS solutions can help you create great anti-stain coatings for MDF. They deliver an easy-to-clean finish that is resistant to coffee, mustard, red wine, and more – as demonstrated in the industry-standard NEN-EN 12720 test.
Protective

Chemical-resistant coatings that are easy to clean
Keeping furniture and interior architecture clean can be a never-ending job – but our Uralac®-based solutions for HSS can help you create chemical-resistant coatings that are easy to clean.
In multiple applications, this binder can provide long-term chemical resistance to detergents and other cleaning products, as shown in the NEN-EN 12720 test for resistance to cold liquids.

Making a splash with water-repellent coatings
It's not just kitchens and bathrooms that suffer from moisture – for many consumers, the climate they live in is also humid. Uralac®-based solutions for HSS can help you support these consumers with water-repellent coatings.
The technology can deliver a waterproof, mold-resistant, humidity-resistant finish that prevents yellowing, peeling, or swelling in the wood. This has been demonstrated with the industry-standard hinge hole benchmarking test.
Durable

Ultra-smooth anti-scratch coatings
By enabling anti-scratch, anti-abrasion, and wear-resistant powder coatings, our powder-coating solutions for HSS help ensure that MDF and engineered wood products meet consumers' aesthetic expectations and stand the test of time.
Specifically, Uralac®-based powder coatings for HSS are well suited to heavy-use furniture, high-traffic domestic environments, high-end kitchen surfaces, and window frames made with MDF and engineered wood.

Lighting the way in UV-resistant powder coating
With a UV-resistant powder coating based on Uralac® Ultra or Uralac® UV, you can avoid discoloration and yellowing caused by exposure to daylight in furniture and internal architecture.
Uralac® Ultra technology also has proven UV resistance in a range of applications.
Gain a competitive advantage with powder-coating solutions for HSS
Design freedom Seamless finish – available textured or smooth, and in multiple glosses and colors.
Durable Resists scratches, abrasion, and UV, and complies with key industry standards.
Economical Automated, 1-step, low-temperature curing process saves time, labor, and energy.