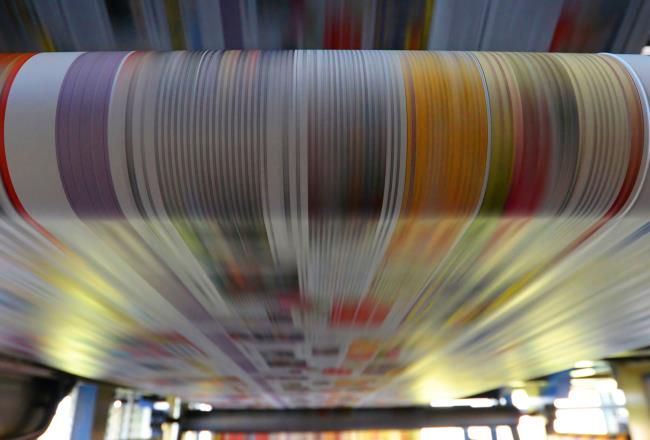 Story
Ink resin solutions
For printing & packaging
What is your ink printing challenge?
Our experience in traditional printing translates into ink resin solutions that intensify colors, sharpen details, and create higher contrast without compromising performance.
We have been at the forefront of developing ink resins in the printing sector for over 30 years, and we continue to set new trends with the newest printing techniques. Our ongoing research and development (R&D) activities produce solutions with the following technologies: waterborne ink resins, solventborne ink resins, and energy curable ultraviolet/electron beam (UV/EB) ink resins.
Ink resin solutions suitable for different substrates
Discover our full, ink resin portfolio for printing and packaging: 26 solutions covering a diverse set of properties. Resins are available for different types of substrates across various industries including food & beverage, pet food, cosmetics, and pharmaceuticals.
Our top performing ink resin solutions

AgiSyn™ 705
AgiSyn™ 705 is a tetra-functional polyester acrylate with excellent lithographic behavior and pigment wetting for inks.
AgiSyn™ 705 also exhibits good anti-misting properties and is an excellent building block to prepare pigment pastes for offset printing inks.
Its low odor and low level of potential migratable substances make it suitable for low- migration applications.
Technology: Energy curable (UV/LED/EB)
Applications: Flexible packaging

NeoCryl® BT-107-S
NeoCryl® BT-107-S is an alkali soluble acrylic copolymer dispersion for use in flexo applications.
It is a cost-effective, key-grade resin for pre-print and post-print on corrugated board.
It is alkali-soluble with high viscosity after neutralization. It also has a linear dilution curve with excellent reversibility, fast film formation, and good temperature resistance.
Technology: waterborne
Applications: paper & board

NeoCryl® A-1127
Self-crosslinking emulsion resin NeoCryl® A-1127 offers one of the best chemical & physical resistance levels on acrylics. Designed for surface printing onto polyolefins, Polyesters (PET), and Polyamide (PA), and for coating metalized films. Also used in print-receptive, heat-seal, blister, and embossing applications. It is an anionic acrylic emulsion with good adhesion on Polyethylene (PE), Oriented polypropylene (OPP), PA, PET, and Aluminum.
Technology: waterborne
Applications: flexible packaging

NeoRez® U-475
NeoRez® U-475 offers the next level of universal performance in laminating ink applications. Specific features include high opacity in white, excellent high-speed printability behavior and excellent immediate adhesion properties on a broad variety of plastic films such as OPP, PET, PE, and Oriented polyamide (OPA). It can be formulated with nitrocellulose and Polyvinyl butyral (PVB)-based pigment concentrates.
Technology: solventborne
Applications: flexo and gravure printing

NeoRez® U-431
NeoRez® U-431 is a mild solventborne urethane with high lamination bond strength, including extrusion lamination. It is an alternative for toluene containing inks in the market. NeoRez® U-431 exhibits excellent adhesion latitude onto various mainstream flexible films used for food packaging (OPP, PET, and Nylon). NeoRez® U-431 is also suitable for dispersing both organic and inorganic pigments, providing the option to formulate sole binder systems.
Technology: solventborne
Applications: gravure printing