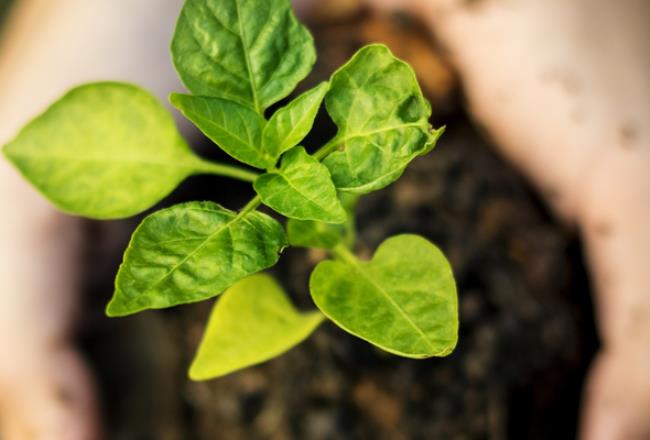 Story
Driving the transition to a circular economy in the E&E industry
The electrical and electronics industry plays a key role in the transition towards a circular economy. Makers of switches, lighting, laptops and smartphones are aiming for recyclable materials that leave a lower carbon footprint. We offer a range of material solutions to meet this growing demand.
Sustainability survey in the E&E industry
We carried out a market study to examine sustainability trends in the electrical and electronics (E/E) industry. In total, 35 companies, from international corporations to small- and medium-sized enterprises, were examined.
The companies cover a wide portion of the E&E spectrum. They range from manufacturers of energy and automation technology, electrical installations, household appliances and lighting, to providers of security technology, consumer electronics, communication technology, network equipment, and electric charging stations. They also included an international furnishing brand.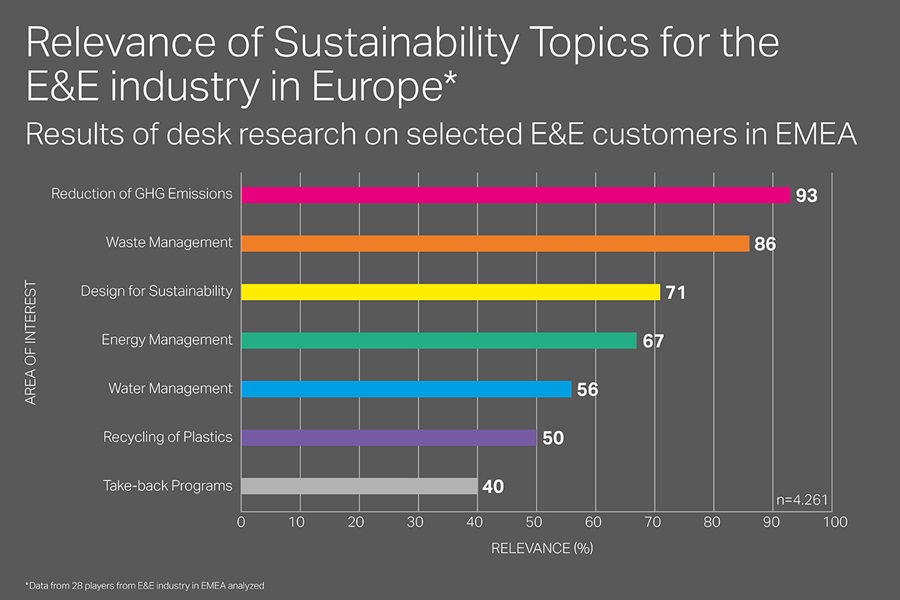 From this study, the following sustainability issues are extremely important to the E&E industry in Europe, with the first two standing out in particular:
the reduction of greenhouse gas emissions
waste management and recycling
energy management
water management
Reducing greenhouse gas emissions is a key sustainability objective for all companies. Around a quarter of those surveyed (26%) intend to produce in a climate-neutral way in the future, and three companies report that they have already achieved CO₂ neutrality in terms of direct emissions in production (Scope 1) and indirect emissions, for example in purchased electricity (Scope 2) – including, for example, a global manufacturer of healthcare technologies and household appliances.
Measures that companies are taking to reduce greenhouse gas emissions include using green electricity for production, saving energy with appropriate management systems, developing products that reduce CO₂ emissions at the customer's site, increasing the use of shipping and rail, and lighter products to reduce transport emissions during distribution.
Another very high priority for the companies we spoke with is reducing waste and improving recycling. Respondents believe this can be achieved through sustainable product design (design for sustainability) including the use of recycled materials, renewable raw materials and bio-based plastics. Further measures include the recycling of plastics, avoiding packaging, and establishing take-back programs for products, in line with a circular economy.
The study shows that we can support our customers with our engineering plastics, particularly in reducing greenhouse gas emissions, by designing components in a recycling-friendly way, reducing waste and establishing material cycles.
Renewable attributed material solution, well-suited to electronics
Polycarbonates and polycarbonate blends combine excellent service life and light weight with inherent flame retardancy, dimensional stability and varied grades of transparency, making them a logical choice for applications in the electrical and electronics industry. In addition, the products are available in partially recycled grades to contribute to a circular economy.
More sustainable polycarbonates: our holistic approach for the E&E industry
As a leading producer of polymers, our vision is to become fully circular, both in our own operations and in our consumer solutions. For the electrical and electronics industry, we follow a lifecycle assessment approach (LCA) in our recyclable plastic design, planning ahead for reuse after the useful life phase of the plastic product. In processing, we continuously improve our own energy efficiency while cutting waste.
To manufacture more sustainable polycarbonate grades, we are increasing mechanical recycling and investigating chemical recycling while transitioning the raw material base from fossil feedstocks to renewable ones. Both the increased use of recyclates and the incorporation of renewable attributed raw materials into plastics support the E&E sector in becoming more sustainable.
We offer a range of polycarbonates and polycarbonate blends that incorporate post-industrial recycled (PIR) and post-consumer recycled (PCR) content and ISCC PLUS mass-balanced grades (RE series) which offer a significantly improved lifecycle assessment and a low carbon footprint. Taking a mono-material design approach can also make solutions more easily recyclable while saving on the use of rare metals.
Our RE series of partially bio-circular grades boosts environmental sustainability even further, delivering a low-to-zero carbon footprint without affecting performance or quality. The bio-circular feedstocks used for the RE range are attributed via a mass balance approach according to the ISCC PLUS standard. Makrolon® RE polycarbonates are a drop-in solution that is tailor-made for applications that require a significantly reduced CO₂ footprint coupled with first-class properties and high transparency or bright coloring. Selected RE grades are even classed as climate-neutral* polycarbonates.
We are working closely with the electrical and electronics industry to accelerate the transition towards a circular economy. With our material solutions we can help our customers reduce greenhouse gas emissions, design products to be recyclable and build material cycles.
More sustainable drop-in solutions for a low carbon footprint in the EE industry
Switches and sockets make electrical power accessible, and thermoplastic polycarbonates are increasingly used as a material in them. For customers looking for more sustainable polycarbonate solutions, our Makrolon® RE grades with renewable attributed raw materials, certified via ISCC PLUS, are an ideal drop-in solution. Another option could be our Makrolon® 205 R50 grade which includes 50% PCR content. Makrolon® TP5020, a trial product integrating 30% PIR content and 10% GF based on preliminary data, is another grade developed for the structural parts in switches and sockets.
Electric mobility is part of the transition towards lower environmental impact in traffic. Manufacturers of EV charging stations are looking for solutions that conserve resources and use more sustainable materials in order to keep the carbon footprint of their chargers as low as possible. The low carbon footprint Makrolon® 6487 RE containing ISCC PLUS certified renewable attributed raw materials is an excellent material for EV chargers, as well as the Makrolon® 6485 GR grade made with 30% PCR recyclate.
Polycarbonates also play a prominent role in many LED light and light integration applications. Our portfolio of selected climate-neutral* polycarbonate grades reaches "from the cradle to the factory gate," including our transparent Makrolon® 2407 RE or Makrolon® 2807 RE which are ISCC PLUS certified, and offer a good option for a wide range of optical and lighting applications that require see-through materials.
*Climate-neutral is the result of an assessment of a partial product life cycle from resource extraction (cradle) to the factory gate, also referred to as cradle to gate assessment. The methodology of our Life Cycle Assessment is based on the ISO 14040 standard, critically reviewed by TÜV Rheinland on the basis of a plausibility check. The calculation considers biogenic carbon sequestration based on preliminary supply chain data and replacing electricity grid mix with renewable electricity used for the manufacturing process. No offsetting measures have been applied. Biogenic carbon uptake is taken into account in the calculation of the carbon footprint.
Collaboration along the value chain in the transition to a more circular economy
Adopting a more circular model of resource use is a massive transformation, and we can't do it alone. That's why we're seeking innovative customers and partners along the value chain to help facilitate the transition with more sustainable technology and consumer solutions.
An important aim in this process is to reduce the use of primary raw materials and enable our customers to incorporate plastics based on alternative raw materials into their own consumer solutions, while significantly reducing their Scope 3 greenhouse gas emissions and their overall environmental footprint.
While customer requirements are a vital driver, our product development also takes into account environmental certifications and seals such as EPEAT (Electronic Product Environmental Assessment Tool), Blue Angel and the UL ECV. In Europe, we are developing solutions to support the Green Deal and to help make the associated New Circular Economy Action Plan a success.
In Asia and the Americas, we are pursuing similar partnerships for a more sustainable and more circular economy. We are founding member of the Alliance to End Plastic Waste (AEPW).
To find a more circular or more climate-neutral polycarbonate material for your own application, please get in touch to discuss your requirements with our product specialists and application engineers. Together we will strive to develop material solutions for a circular economy.
Key Benefits
Reduced footprint: Recyclates and renewable raw materials lower the environmental footprint.
Comprehensive: E&E producers enjoy more sustainable polycarbonates along with expert services.
Collaborative: We work with electrical producers to close loops and develop material solutions.
Credible: Eco-labels such as EPEAT are considered in our product development.
Brand-oriented: Electrical and electronics brands can enhance their sustainability credentials.