Story
Ten times faster with powder coatings
Belgian company Kempa, manufacturer and coater of high-end kitchen furniture, recently decided to go with Covestro's Uralac® Ultra-based powder coatings.
They expected somewhat faster processing, but were happily shocked when the team achieved a 10-fold reduction. "Obviously, it depends on the type of substrate and the number of layers," says company owner Paul Maeyninckx. "But it's possible to use just three minutes of oven time with powder, rather than half an hour with paint."
Why now?
Powder coating has been available for several years, so why did Kempa wait until now before adopting the technology? "Our customers are specialist kitchen builders, and for several years, they occasionally asked if we offered powder coating," says Filip Laureyssen, Kempa's Customer Care Manager.
"In the last three years, there seems to have been a sudden increase of interest, so naturally we decided to look into the possibilities. We also believed that the technology had reached the level of sophistication where we wanted to use it."
That sudden increase of interest in powder coating was almost certainly caused by the growing awareness of its benefits. The kitchen building community was hearing more and more about the time and cost savings over liquid paints as well as its greater durability.
Powder coatings are more scratch-resistant, more humidity-resistant, and offer good chemical resistance, while at the same time providing excellent surface appearance with a range of gloss levels.

"We also found that architects were particularly interested in the product's very low carbon footprint,'' says Laureyssen. "This characteristic helps architects achieve more 'green' credentials in their proposed tenders for local and national government new builds."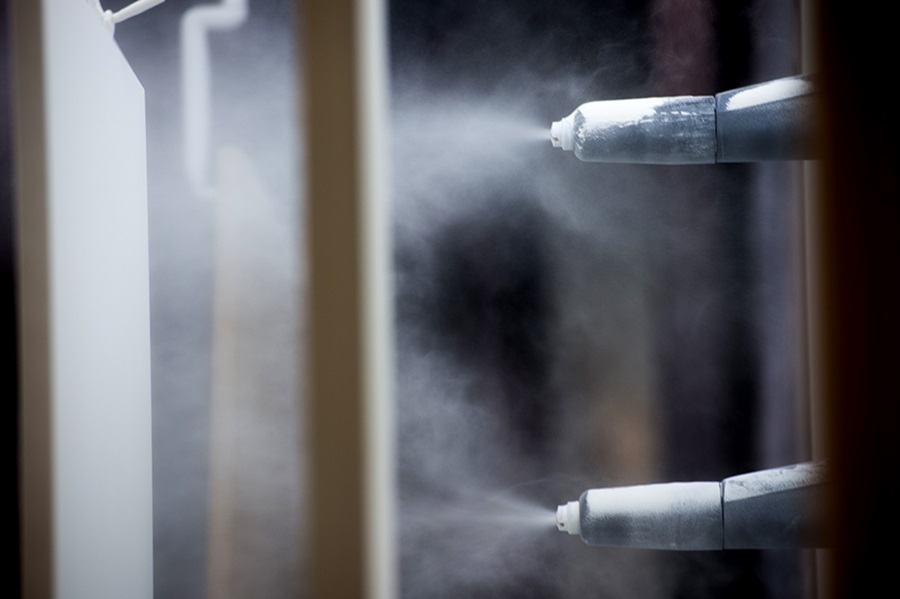 Why is powder coating so fast?
"Powder coatings are faster to process than liquid paint because there is no priming and less sanding involved," says Kempa owner Maeyninckx. "There's also a reduced curing time. So you can see why it is ten times faster – especially for single-coat processing. But make no mistake, this increased speed does not impact quality at all."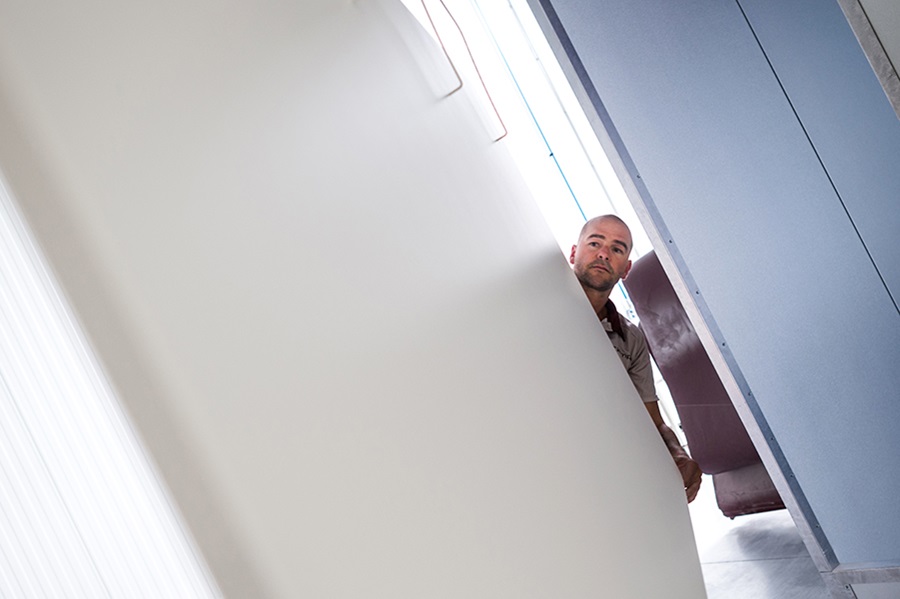 Frequently asked questions
How do we spray powder on standard 'non-conductive' MDF?
For application of the powder, moisture within the MDF is used for conductivity. A moisture content of 4-8% of total weight is sufficient to attract the powder.
Do we require special MDF for powder coating?
No special MDF is needed for powder coating – although there are differences between available qualities and types.
We advise evaluating the type of MDF you intend to use before making your products.

Further, we recommend a conditioned storage area to control the MDF's moisture content.
Is the oven I use for powder coating metal suitable for curing MDF too?
Most conventional curing ovens are convection ovens. Best results for MDF are reached with infrared radiation (IR) ovens.

With IR ovens, the MDF's surface can be heated quickly to cure the powder coating, while its core stays relatively cool.

With convection ovens, temperatures are often too high, or the MDF's core heats up too much because of the longer period needed to reach curing temperatures.