Story
Desmocap® 14 CNB
A prepolymer for hybrid epoxy-polyurethane adhesives that is blocked with a renewable blocking agent – cashew nutshell liquid
While hybrid technology is not new to the world of adhesives and sealants, only today's solutions can combine optimal properties with ease of use in formulation, production process, and final application. Desmocap® 14 CNB is a low viscosity, blocked TDI prepolymer that uses a renewable blocking agent and is used for toughening epoxy adhesives and improving physical properties. This high-performing material is especially suited for use in adhesive and coating formulations for construction and industrial applications.
Desmocap® 14 CNB Properties & Benefits
Resins in the Desmocap® portfolio improve epoxies' cure profile and physical properties in three ways:
1.
Increased hardness, tensile strength, and tear-resistance of the epoxy, i.e. increased toughness
2.
Faster green strength development for adhesive formulations
3.
Improved adhesion of epoxy adhesives through increased toughness and reduced brittleness
Unlike previous generations of tougheners, Desmocap® 14 CNB achieves these benefits without a significant effect on the viscosity of the epoxy formulation.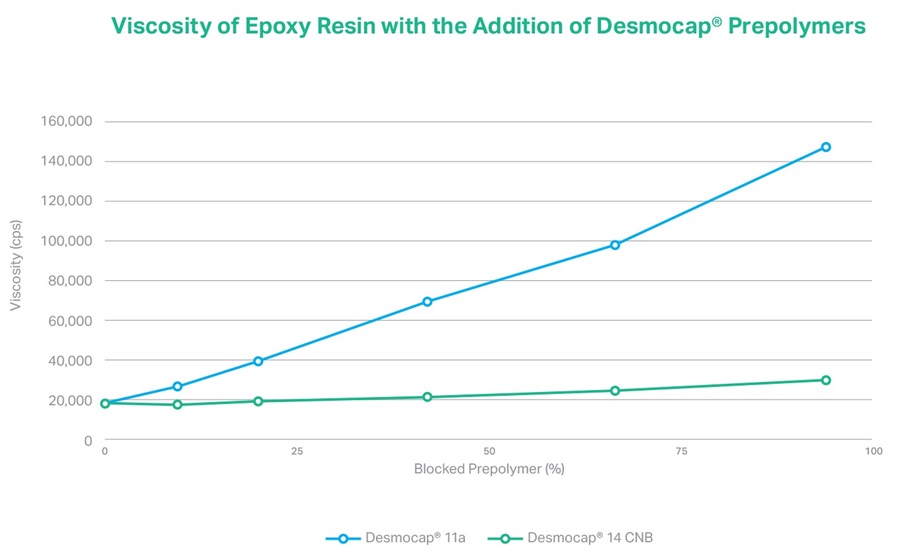 Desmocap® 14 CNB improves strength and reduces the cure time of epoxy adhesives. It provides a unique advantage in lower viscosity of both the product and formulations made with it.