Story
Concept dashboard showcases how material technologies enable design freedom
Translucent surfaces, backlighting and premium soft touch haptics are key trends in future car design. Working with Uedelhoven Studios, we developed a dashboard demonstrator unit showing that Covestro-engineered interior trim and molding solutions meet future automotive interior design needs today.
Future automotive interior trim parts: material properties are the key to design freedom
Future autonomous and rideshare vehicles will take drivers and passengers on an entirely new type of journey – one that seamlessly combines smart functionality with new non-driving related experiences and privacy solutions.
Increasingly, material technologies are enabling this rethink of the automotive interior as a multifunctional living and working space where light is an integral part of the design. Car interior design trends include backlighted, translucent trim elements, functional surfaces and plastic parts with a premium look and feel, and controls with soft touch haptics. Future interior trims and moldings will have to accommodate ambient lighting and backlighting, and also make use of new textile coated materials and synthetic leather.
Automotive OEMs and their interior trim suppliers are seeking material solutions that offer future-oriented properties, but they are not willing to compromise on the performance or quality of their interior trim parts. And any new solutions should also generate savings in processing costs.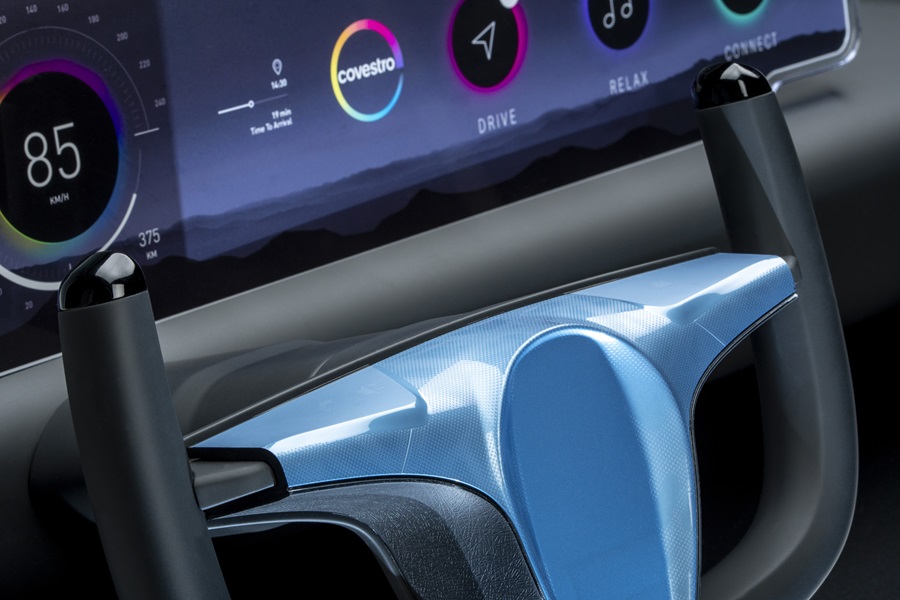 INSQIN® technology delivers a soft touch surface with the look and feel of natural leather at a lower cost, but without odor. It also opens up new design possibilities with a range of colors and dynamic transparent and translucent effects. And it does all this while reducing the overall carbon footprint of synthetic material by up to 45%.
Uedelhoven dashboard demonstrator: future trim design uses Covestro technologies
We partnered with Uedelhoven Studios, a globally recognized design and engineering company that takes a holistic approach on prototype exteriors and interiors for many well-known automotive OEM brands. Taking advantage of our own expertise in composites, with Uedelhoven we jointly developed a concept dashboard demonstrator that unites design freedom and cost-effective production in a single backlit, soft touch trim component.
The dashboard demonstrator integrates multiple innovations. INSQIN® waterborne polyurethane (PU) coatings in combination with Dispercoll® U 66 dispersion are two water-based, low-VOC solutions that have been developed specifically with future car interior needs in mind. Together they deliver translucent optical properties, coating adhesion, and deep coloring effects in dashboard covers and upholstery materials. Our DirectCoating polyurethane processing technology enables seamless trim components that integrate smart functions. Parts can be produced cost-effectively in a wide range of haptics, transparencies, and ambient lighting effects.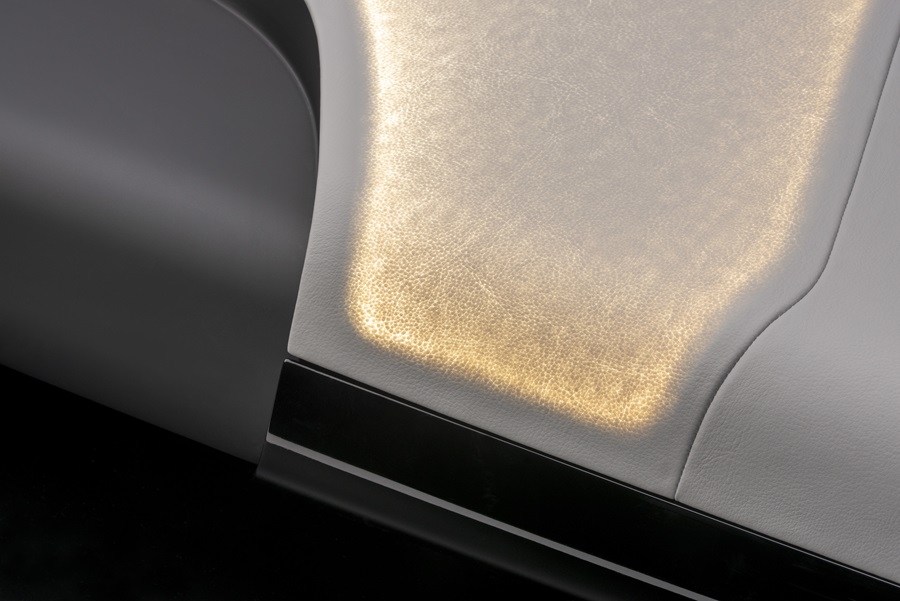 Dispercoll® U 66 hits a sweet spot for automotive trim producers, combining a translucent, water-based adhesive raw material with strong bonding that can withstand extremely hot and humid climates, ensuring a longer useful life for laminated trim parts.
INSQIN® waterborne PU coatings unite color and backlighting effects with leather-like haptics
INSQIN® technology uses water as a solvent for polyurethane textile coatings and microfiber dipping to create synthetic dashboard surfaces and seat fabrics with a high-quality, soft touch that rivals natural leather but at a lower price.
The fact there is no need to wash out any solvent after applying the coating reduces water consumption by up to 95% compared to wet-processed materials. As a vegan solution, lower CO2 emissions and reduced energy consumption of INSQIN® can reduce the overall carbon footprint of synthetic material by up to 45%, while offering odor-free, indoor air quality.
Of particular interest for car manufacturers, vehicle designers and their tier suppliers, this lightweight material offers a broad palette of bright or muted solid colors as well as dynamic backlight effects ranging from transparent to translucent, opening up a wide range of design options for innovative automotive interior designers. We can work with tier suppliers to tune the application to meet your needs precisely.
Dispercoll® U 66 adhesive raw material delivers strongly bonded translucent trim parts in all climates.
Joining trim and molding surface parts to the supporting substructure demands a long-lasting adhesive bond that can withstand extreme variations in exterior temperature and humidity levels, from dry, wintry lows to humid, tropical highs.
Dispercoll® U 66 is a drop-in water-based adhesive raw material solution with very high climactic performance retaining its strong bond even after long term storage at conditions like 70°C and 95% humidity. A trim manufacturer can achieve a longer useful life for laminated trim parts compared to traditional hotmelts, solvent-borne or other polyurethane dispersion-based lamination alternatives.
The U 66 grade is also more translucent than other waterborne PU alternatives, enabling translucent laminated surface trim materials with high aging resistance to be brought into serial production.
DirectCoating: high processing flexibility with excellent coverage on complex surfaces
For non-upholstered elements such as the steering wheel, our DirectCoating technology brings processing, control and coverage advantages over traditional coating methods.
A plastic substrate is first injected into the cavity of a mold. The resulting component is then transferred to a second, wider mold with the additional dimensions exactly matching the planned thickness of the coating layer. A reaction injection molding (RIM) mixing head then injects the near-zero VOC (volatile organic compound) coating into the cavity, yielding a precision part with integrated coating in just two steps.
The resulting trim or molding part has high resistance to chemical and light exposure and needs little or no rework, with a shorter and less expensive production process, no overspray and no separate drying.
Our Desmophen® polyols and Desmodur® polyisocyanates can be adjusted in curing reactivity to ensure fast, reliable RIM processing and PU coating characteristics and haptics ranging from soft touch to hard glass-like surfaces.
The automobile industry is always on the lookout for material solutions that can meet ever more complex design requirements while also offering easier processing and lower vehicle costs. In this dashboard demonstrator collaboration with Uedelhoven, we offer innovative material solutions that deliver haptics, optics and functionality, checking all boxes for automotive designers.
As a recognized global leader in design and engineering services, we strive to take future-driven, holistic approaches that meet tomorrow's realities. This concept dashboard impressively illustrates how material technologies enable design freedom.
Key Benefits
Design freedom: Create surfaces of any color or transparency, in soft or polished textures.
Premium: Trims and moldings rival the feel of natural leather, with higher durability.
Backlit: Backlighting and translucency enable dynamic and ambient lighting effects.
Climate-safe: Dispercoll® U 66 adhesive bond resists abrasion, hydrolysis, UV radiation.
Easier processing: Low activation temperatures and RIM technology reduce processing time and cost.