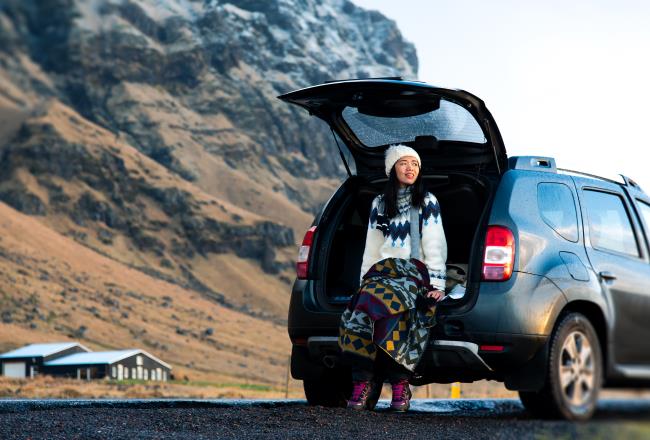 Case study
Platilon® F: slip-resistant TPU surface for car load floor
Platilon® F foamed TPU Film adds a slip-resistant surface to a PUR composite load floor panel made of Baypreg® which was manufactured by G&G Industries. This lightweight, reversible load floor panel and spare tire cover offers carpet on one side and a grippy easy-to-clean surface on the other.
Today's car and van buyers expect vehicle interiors to be durable, convenient, and above all versatile. Particularly in sports utility vehicles (SUVs), vans and trucks, durable, grippy, slip-resistant load floor covers are a must-have. In day-to-day life, these covers need to stand up to extreme wear and tear, coping with everything from pet carriers to garden supplies and even muddy sports gear.

In cars and SUVs, the load floor is often covered in either carpet or vinyl, and doubles as a spare tire cover if the extra tire is stored beneath the vehicle's cargo area.

Our customer G&G Industries, Inc. is a major supplier of high-visibility interior trim components to selected tier-one suppliers and O.E.M. automobile brands. The company was looking for a material for a reversible SUV load floor cover with carpet on one side and a good looking, easy-to-clean and slip-resistant surface on the other.

The new material solution also had to work with the existing production process, thereby maintaining process efficiencies. G&G was the first to use honeycomb composite spray molding technology in the North American car industry, and continues to develop this technology for various interior and exterior automotive components. The company is one of the leaders in this market, with a long history of 100% on-time delivery of product to their own customers; a record they proudly maintained throughout the recent supply chain challenges.
The goal of the Baypreg® panel is to provide a high strength part that is lightweight and aesthetically pleasing. Adding Platilon® F to our parts allows us to achieve this while adding new functionality for the end customer and eliminating the need for an expensive aftermarket cargo cover.
Honeycomb spray molding yields a strong, lightweight polyurethane (PUR) composite surface. Even before G&G approached us for this task, Covestro's Baypreg® PUR spray system was already a popular choice for automobile load floor surface applications using this process. The PUR is sprayed onto the honeycomb core and glass fibers, and the components are then compressed in a mold. When the spray material has set, the PUR and honeycomb molded structure is extremely rigid and lightweight. Baypreg® can be easily formed into sleek and stylish shapes and the production process itself is highly cost-effective.

The challenge here was three-fold. First, the material solution had to be suited for honeycomb spray molding, with no changes to the actual manufacturing process. Next, G&G wanted to avoid faint read-through traces of the honeycomb pattern on the non-carpeted surfaces of the load floor cover. And finally, the smooth side of this new load floor tire cover had to offer a slightly soft, impact-resistant and slip-resistant surface that would reduce sliding and shifting, and at the same time be easy to clean.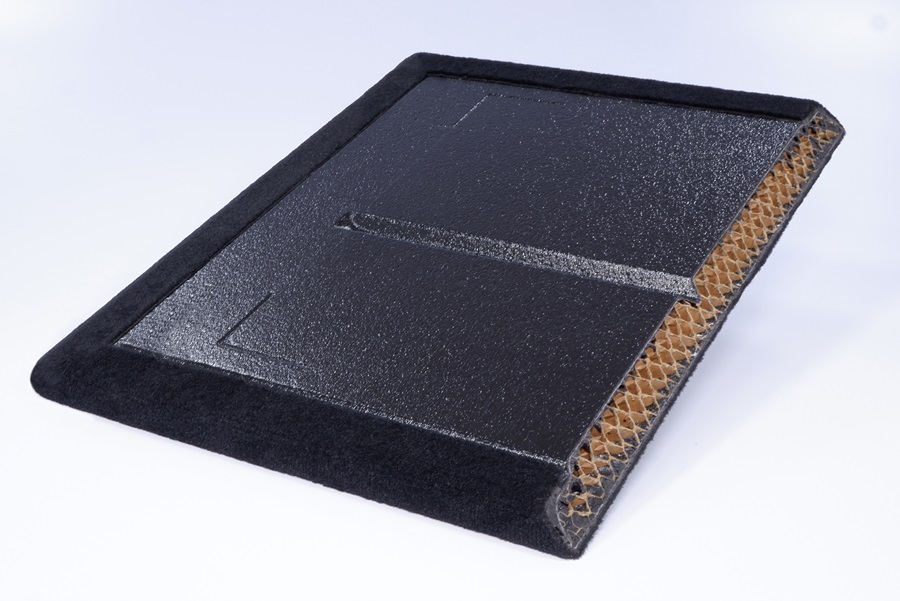 G&G combined Platilon® F with Baypreg® to create a new two-sided PUR composite load floor cover that is much more durable than carpet alone, all without changing the production process.

Platilon® F is a closed cell foamed thermoplastic polyurethane (TPU) film material which can potentially be recycled and reused. It adds both impact resistance and a grippy texture to the surface, so fragile objects placed in the back of the vehicle are less likely to break or to shift around. Platilon® F was also able to eliminate the honeycomb read-through, and offer a solid surface on one side of the component that is much easier to clean than carpet.

The inherently lightweight construction supports sustainability by lowering the vehicle's fuel consumption. Components made with the honeycomb spray foam process can be easily shaped and sized to meet the design intent of the car, van, or truck, which demands maximum versatility. Together, Platilon® F and Baypreg® can help automotive suppliers, designers and interior engineers to redefine mobility. By integrating the non-slip Platilon® F matte surface into the load floor, an aftermarket cargo cover is no longer needed, sparing the owner additional expense. And, depending on the need, you could even consider replacing the carpet completely with the non-slip Platilon® F matte surface.
By combining the Platilon® F Film with the Baypreg® PUR process, we have helped G&G create a reversible and light-weight load floor structure which has a durable non-slip surface and is more desirable to the end consumer than just a carpeted spare tire cover.
Key Benefits
Advanced composite: Platilon® F foamed TPU Film adds a slip-resistant surface to Baypreg® panels.
Lightweight: Inherently lightweight TPU and PUR composites enable better fuel economy.
Slip-resistant: Platilon® F ensures a grippy tactile surface texture that reduces load shifting.
Easy processing: Platilon® F and Baypreg® are suited to cost-effective honeycomb spray molding.
Design freedom: Spray molded load floors can be easily shaped to fit future car designs.