Case study
Heavy-duty Vulkollan® wheels enable quicker food processing
Vulkoprin, an industrial supplier of polyurethane wheels and rollers, used our Vulkollan® elastomers to create heavy-duty casters for a high-speed crate tipper from Deprez Construct. The wheels enable continuous 24/7 peak operation with heavy loads and low maintenance.
Perishable foods such as potatoes require specialized machinery to quickly unload, sort, and transport the fresh product smoothly, without any interruption. Deprez Construct is an experienced developer of installations that can handle food and bulk goods processing in lean, dynamic 24/7 operations.

Automated loading and unloading are often a bottleneck in the round-the-clock processing of delicate and perishable foods. To improve productivity and cut costs in the food supply chain, Deprez Construct developed a high-speed 'Orbiter'; a rotating crate tipper that can quickly move, rotate and empty large crates of perishable goods such as potatoes.

When it came to sourcing load wheels for the Orbiter; heavy-duty casters that could stand up to 24/7 peak operation, heavy loads and high frequency; they turned to our customer Vulkoprin. This family-owned producer of high-performance polyurethane wheels and rollers is an expert in Vulkollan® elastomer material solutions.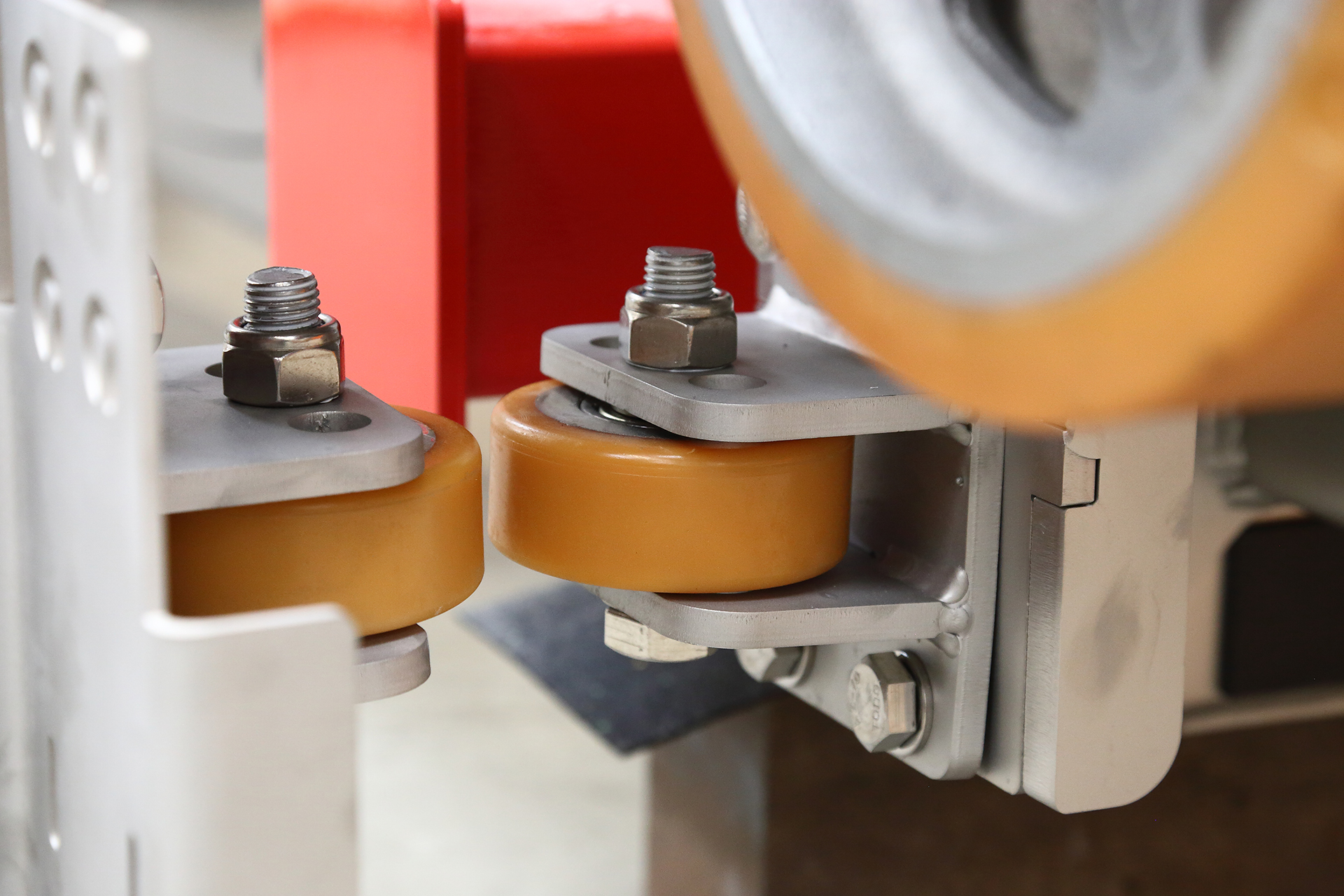 The crate tipper rotation device from Deprez Construct speeds up the automatic emptying of crates, rotating them on their own center of gravity in the smallest space possible while also using a minimum of power.

The Orbiter can be adjusted to specific products, such as potatoes. Depending on the selected product and the permissible drop height, the heavy-duty casters in the tipper rotation device roll the crate into position and empty its contents into either a fixed dosing bunker, or into an even-flow, movable transport bottom.

The fast, efficient processing of perishable goods depends on the smooth and consistent rotation of these load wheels. The technical challenge here was to provide a material solution for a high-load application that can cope with acceleration and deceleration cycles in round-the-clock operations - and outperform the alternative rubber or metal solutions that are common for industrial casters and pallet jack wheels.

The machine wheels must provide a comfortable, easy-glide roll along the metal rail of the crate tipper, along with sufficient grip during acceleration and deceleration. At the same time, they have to provide optimal shock absorption during the actual tilting and unloading, and maintain this even with a high load in the crate itself.
At Deprez, we've designed our Orbiter for complex production setups. A good grip together with the longest service-life are essential for our end customers. The wheels made of Vulkollan® from Vulkoprin are the right solution to provide the highest process robustness and reduce maintenance downtimes.
Our customer Vulkoprin is a licensed processor of Vulkollan® elastomers, offering more than 55 years of experience in the design, engineering and production of polyurethane wheels and rollers.

When Deprez Construct, an expert in modern food processing installations, needed a polyurethane-based load wheel solution tailored for their Orbiter rotating crate tipper, Vulkoprin was the logical partner to turn to. Their in-house design and engineering functions developed a customized, high-performance polyurethane wheel based on Vulkollan® elastomers.

Compared to metal or rubber alternatives, Vulkollan® elastomers provide multiple advantages. These materials offer an optimal combination of both load and speed, coupled with a high tensile strength and robust abrasion resistance. These properties delay replacement and save maintenance costs over the entire service life of the wheel, while standing up to high levels of day-to-day wear and tear.

A further advantage of Vulkollan® elastomers is their inherent heat resistance and dampening performance. This allows load wheels to handle repeated acceleration and deceleration at high frequencies and with high loads without overheating. Increased wheel thickness allows for more comfortable, smooth rolling along the metal rails. Vulkollan®-based casters are engineered for sustained operation at peak levels with high throughput, and are therefore optimally suited for load wheels for crate tippers.
For Vulkoprin, it is essential to get the best material to meet our customers' challenges. Vulkollan® elastomers allow us to provide solutions for logistic applications with high throughput. The high performance and reliability of Vulkollan® make it perfect for tailored solutions for our customers.
Key Benefits
High damping: Vulkollan® wheels offer a low compression set for strong damping and high grip.
Stable and rigid: Vulkollan® elastomers enable smooth rolling thanks to high material stiffness.
Low heat build-up: Minimal heat build-up enables high-frequency acceleration and deceleration.
Wear resistant: Load wheels made with Vulkollan® offer very high resistance to wear and tear.
Low-maintenance: High abrasion resistance reduces wheel replacement and extends service life.