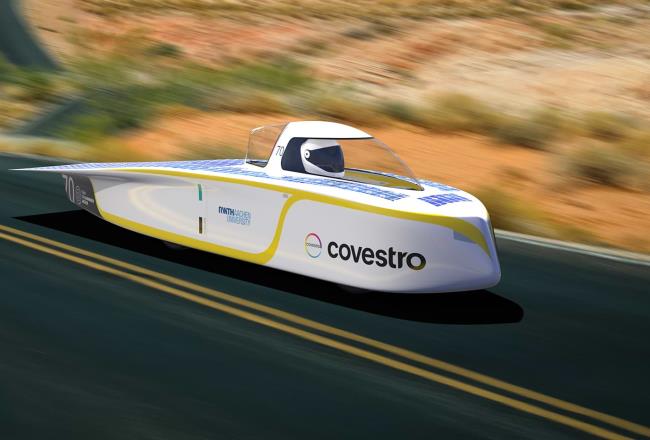 Case study
Desmodur® CQ makes bio-based clearcoat competitive
As one of the largest coating manufacturers worldwide, PPG Industries Europe Sàrl is constantly looking for innovative solutions aimed at achieving the highest quality standards while respecting the environment. With a long and fruitful business relationship, PPG and Covestro are once again collaborating on a very ambitious project: inventing a high-performance refinish clearcoat based on renewable materials.
Covestro is once again sponsoring the
Sonnenwagen
project, focusing on testing a bio-based clearcoat under the harshest conditions. Developed by students of the German RWTH Aachen University, Sonnenwagen is a solar-powered car that competed in the 2017 World Solar Challenge and is battling the "toughest solar race on earth" yet again as it takes on the 2019 World Solar Challenge. This race covers more than 3,000 km across Australia, and aims to promote research on solar-powered cars.
Our long-time partner
PPG
contributed their expertise to the project by developing a new bio-based clearcoat using our raw materials. This advanced solution needed to withstand extreme conditions during the race, including extremely high temperatures, UV radiation and air dust content.
The isocyanate hardener Desmodur® CQ N 7300 from Covestro was chosen as a key component of the clearcoat. 70 percent of the hardener's carbon content is sourced from biomass instead of fossil fuels, which reduces the carbon footprint of the clearcoat hardener by around 30 percent – without any compromise in performance or quality. "In times of growing electro mobility, we want to succeed in establishing CQ-friendly alternatives to traditionally used materials," says Alban d'Épenoux, Marketing Director at PPG Refinish EMEA. The carbon-fiber body of the solar car was coated with the novel, bio-based refinish clearcoat in a five-day application process at the PPG Training Center in Hilden, Germany. The outcome was excellent, as Dirk Czub, Technical Training Manager at PPG, sums up: "With Desmodur® CQ, we are using a bio-based hardener in our clearcoat. In terms of both the application process and the required capabilities, this hardener delivers a high performance that does not differ from conventional solutions on the market!" Markus Mechtel, Marketing Manager Auto OEM is also convinced of Sonnenwagen's success. "Our expertise in raw materials and PPG's expertise in refinish paint are a winning combination to support Team Sonnenwagen in making the Sonnenwagen as sustainable as possible".
Why Desmodur® CQ N 7300 was the right solution for the Sonnenwagen
High renewable content: 70% of the carbon content of Desmodur® CQ N 7300 is sourced from biomass.
Low carbon footprint: Around 30% reduction in carbon footprint.
100% performance:  Same outstanding performance as fossil-based alternatives.
Ease of application:  Same application process as conventional market solutions.