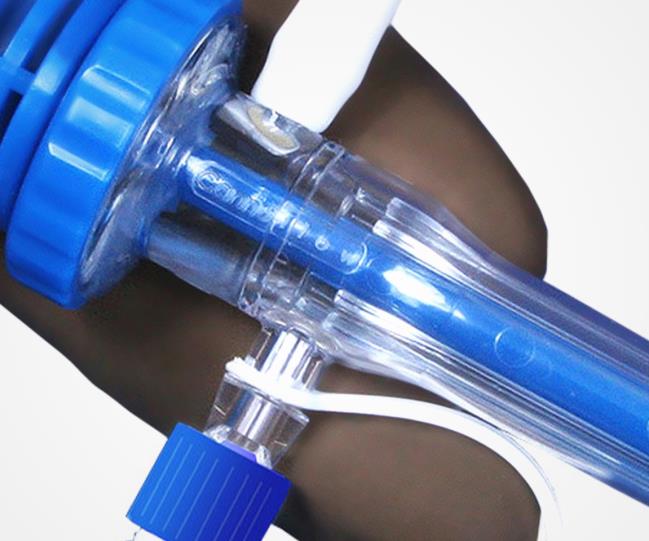 Case study
Biocompatible Makrolon® is ideal for clear access cannula
Cannuflow needed a plastic with specific properties for its new EntreVu® EX product, a cannula used in arthroscopic hip or shoulder surgery. They settled on Makrolon® Rx1452 medical grade polycarbonate, because it has the biocompatibility, durability and excellent transparency they were looking for.
Soft tissue fluid retention is a common problem during arthroscopic surgery. In this situation, medical professionals need a device that will wick away irrigation fluid that might cause painful swelling and post-surgical complications. To bring such a device to the surgeon's table, Cannuflow, Inc. needed to find a plastic material with the right qualities for its new EntreVu® EX product.
EntreVu® EX needed a clear arthroscopic access cannula body that would allow for the effective visualization of sutures and surgical knots. The selected material was required to provide glass-like transparency as well as be completely biocompatible and easily moldable.
Cannuflow selected Makrolon® Rx1452 polycarbonate for its EntreVu® EX, which helps wick away irrigation fluid during surgery. Cannuflow's decision was ultimately based on the material's moldability and clarity. The latter property ensures that the cannula does not obstruct the surgeon's vision during a procedure. Importantly, the material also meets biocompatibility requirements as specified in the FDA-modified ISO 10993, Part 1, tests. The standards rating applies to select tints and colors and is USP Class VI compliant.
Why Makrolon® Rx1452 was the right solution for Cannuflow's EntreVu® EX cannula
Biocompatible: Meet medical device standards as specified in the FDA-modified ISO 10993-1.
Transparent: Exceptional transparency ensures minimal visual obstruction during surgery.
Design flexibility: Makrolon® Rx1452 works with difficult-to-fill molds and parts with shallow drafts.
Extremely durable: Properties include high strength and toughness.
Ease of molding: The easily moldable material allowed the production a two-layer cannula.