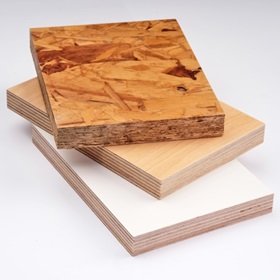 ImFuse®: Making the most of our fastest powder-coating chemistry
By combining a radical fast-curing, low-bake binder with a hot-press curing technique, our ImFuse® solution makes powder coating even faster, cleaner, and more efficient – especially on flat heat-sensitive substrates. Find out more below:

A radical hot-press curing process
Powder coating is well known for being a thorough coating technology that's often cleaner, more sustainable, and more efficient than other coating processes. Our ImFuse® chemistry and process goes a step further by also offering improved smoothness with a high-speed process.
Unlike conventional powder-coating technologies, ImFuse® uses a hot press for instant heat transfer, speeding up both flow and curing without putting the substrate under stress. Combined with our radical patented fast- and low-bake chemistry, this opens new doors for powder coating on heat-sensitive substrates.
In a short-cycle press operating between 130°C-150°C, the cycle time can be under 1 minute. And in a continuous double-belt press, this time can be reduced even further. This makes ImFuse® one of the quickest powder-coating options for heat-sensitive substrates (HSS) currently available on the market. In fact, it can be 3-10 times faster than typical alternatives!

What's more, the gentle pressure used enables thinner coating layers, improving efficiency and material usage. It also makes the process more sustainable, decreasing its carbon footprint by up to 80% compared with spray-coated solvent- and water-based systems.
Opening new decor possibilities – especially for flat substrates
Thanks to its hot-press curing process, ImFuse® opens a wide range of new decorative possibilities. It's especially suited to wood coatings and coatings on other heat-sensitive substrates (HSS) – such as flat furniture, pre-finished boards and panels, and flooring.
In particular, varying the mold surface of the press enables manufacturers to produce different textures. This opens opportunities to differentiate products through 3D effects – such as wood grain or leather look – or tailored gloss levels – from dead matte to high gloss.
And all these finishes and haptic possibilities can be delivered on multiple substrate types – from MDF, particle board, and HDF, to real wood and beyond. This includes porous substrates like oriented strand board that are typically difficult to coat with liquids. In this way, ImFuse® offers manufacturers new levels of design freedom.
Key Benefits
Simple: Simple, low-pressure process
Very fast: Fast, low-temperature curing: <1 minute at 130-150°C
Efficient: Press process reduces steps – decreasing packaging, transport, and finishing time
High-quality: Produces flexible, easy-to-clean finishes that are scratch- and chemical-resistant
Design freedom: Suitable for a wide range of substrates – from MDF to real wood
More sustainable: Carbon footprint up to 80% lower than with solvent- or water-based coating systems