Case study
Non-GMO bio-based midsole for durable VAUDE hiking shoes
We partnered with VAUDE, the German outdoor gear and footwear manufacturer, to create a bio-based foam midsole for their new Lavik Eco outdoor trail shoe. We sourced non-GMO feedstock for durable Desmopan® CQ EC TPU foams that meet the brand's Green Shape criteria with no sacrifice in performance.
VAUDE
is a family-owned producer of outdoor gear, apparel and sports equipment based in southern Germany. With the new Lavik Eco, the brand is introducing its first outdoor shoe made mainly from bio-based and recycled materials. All materials have been carefully selected for their environmental credentials coupled with optimal performance in outdoor conditions.
Green Shape is the VAUDE label for functional and environmentally friendly products made from sustainable materials. For the consumer, it signals the brand's emphasis on more eco-friendly alternatives to petroleum-based materials, the increased use of recycled and natural fibers such as hemp and organic cotton, and the use of bio-based plastics from fully non-GMO (genetically modified organism) sources.
Back in 2018, the company began using our Desmopan® CQ EC range of bio-based thermoplastic polyurethanes (TPU) on its TRK Skarvan hiking boots. In these more sustainable shoes, our Desmopan® CQ EC bioplastic TPU solution provides toe cap protection against rocks on the forefoot and added rear stability through the heel counter.
After this successful bio-based TPU compound project with us, VAUDE wanted to expand their use of bio-based plastics, and apply bio-based TPU to a midsole in hiker footwear; an application which requires both hard and soft elements. This initiative is an essential step in realizing the company's vision of having 90% of VAUDE products be made from 50% bio-based or recycled materials by 2024. Looking further into the future, this will set the stage for a possible complete elimination of fossil resources from VAUDE products.
The development of our first bio-based midsole was a big project for VAUDE, and we are very satisfied with our partnership in material development with Covestro. We share a vision on using more materials from renewable resources and communicate regularly about the sustainability of our feedstocks.
The midsole is a critical element in a hiking boot, providing both a comfortable softness and firm support for the wearer while offering excellent damping characteristics. TPU is a long-lasting, supportive material that is often found in the midsoles of active footwear such as mountaineering boots. However, non-GMO feedstock was not common in TPU foams that could provide the range of hardness and softness required for a midsole, along with the required abrasion protection.
Our challenge was to identify a more eco-friendly raw material supplier who could ensure a chemical feedstock with a biomass share over 50%, none of which was derived from GMO sources, in line with the Green Shape standards set out by VAUDE. At the same time, this bio-based raw material for the Desmopan® CQ EC range had to fulfill the footwear brand's quality standards for hiking shoes. This meant providing the hardness and softness properties of a midsole for an outdoor shoe that's geared for travel, multi-activity and hiking use.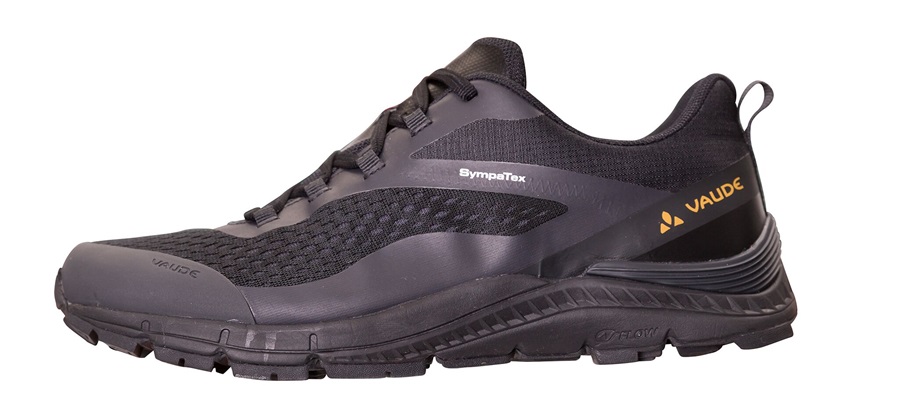 Together with Vaude, Covestro identified and tested a start-up raw material supplier, Metabolic Explorer, which is able to supply bio-based 1,3 PDO (propanediol), a building block in the production of polymers derived from palm oil. We thoroughly vetted the supplier to verify the non-GMO nature of the chemical feedstock, while also considering the social aspects that are important both to VAUDE and to us in our transition to a more circular economy. A good hike should not come with a bad conscience.
With the non-GMO raw materials from Metabolic Explorer, the entire bio-based feedstock in the Desmopan® CQ EC 33000 series is now sourced from a non-GMO stream. This provides the same status to the VAUDE midsole component, which features a 53% bio-based plastics foam blend.
The midsole in the VAUDE Lavik Eco sustainable shoe is an example of the supply chain working together to create a new, more sustainable grade of raw materials. The result is the first outdoor sport shoe where all components contain more than 50% bio-based or recycled materials.
For the midsole application and beyond, the Desmopan® CQ EC range of biobased TPU shows strong abrasion resistance and flexibility across a wide temperature span along with high elasticity over a range of hardness grades. The series offers waterproof grades, excellent oil, grease and solvent resiliency, and stands up well to weathering and high-energy radiation. Compared to fossil-based TPU, the CQ EC series can reduce the carbon footprint by more than 20% with no compromise in quality or performance.
Desmopan® CQ EC products can also be offered with Bluesign® approval which verifies that a product was manufactured with responsible use of resources and the lowest possible impact on people and the environment.
Working with VAUDE to develop a bio-based midsole enabled us to further lessen the climate impact of Desmopan® CQ EC 33000, ensuring that all bio-based feedstock in this series originates from a non-GMO stream. It's a great example of collaboration across the value chain for a more circular economy.
Key Benefits
Non-GMO bio-based: Desmopan® CQ EC 33000 TPU offers non-GMO bio-based chemical feedstock.
Low-carbon: CQ EC range reduces the carbon footprint by more than 20% compared to fossil TPU.
Highly durable: Desmopan® CQ EC TPUs resist abrasion, oils, solvents and weathering.
Drop-in: Bio-based feedstocks work in existing processing systems with no new investment.
Collaborative: New bio-based chemical feedstock grades can be created with value chain partners.