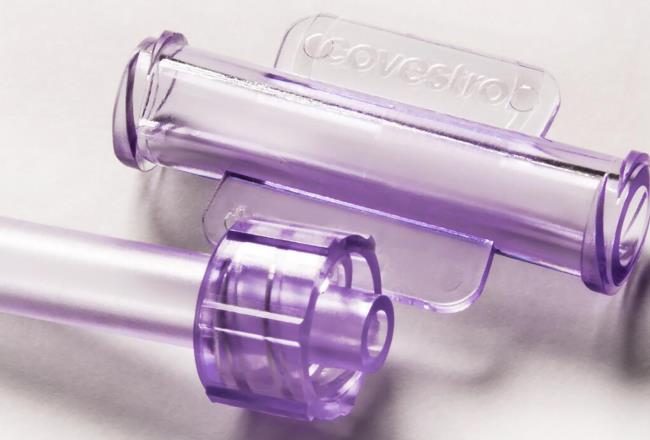 Story
Makrolon® Rx3440 for better performing IV connectors
Introducing a new innovative material to meet the demands of delivering life-enhancing medications
Improved medical Makrolon polycarbonate was developed with increased oncology drug resistance to address attacks from solvents – requiring minimal validation and requalification.
Build a competitive advantage into your design
When a patient needs life-saving medical treatment, everything must work as designed, right down to the plastic used in luers, stopcocks and other IV connectors. However, not all materials are created equal. Inferior materials often cannot withstand cleaning agents, nor can they tolerate aggressive solvents found in oncology drugs and other treatments. The result: cracking and damage to critical components.

Makrolon® Rx3440 polycarbonate, a medical polycarbonate from Covestro, offers superior durability and chemical resistance to help prevent cracking so that health care professionals can more safely deliver oncology and other drugs to patients.
Compared with other transparent resins used for IV access components, comprehensive lab testing has shown that Makrolon® Rx3440 polycarbonate provides best-in-class chemical and oncology drug resistance. This material also demonstrates the best retention of stress to provide more reliable IV connections.
A Covestro-designed testing apparatus was instrumental in the development of Makrolon® Rx3440 polycarbonate and is available to test the chemical resistance of customers' luer connectors. The novel apparatus provides:
Immersion under real-life loading

Adjustable force, allowing accelerated testing
Contact us
"We've leveraged our knowledge of this highly regulated market to formulate a material that serves an important need, yet requires minimal validation and requalification by OEMs. Importantly, we're also able to provide customer support every step of the way from design and material selection to final approval."
Key Benefits
Biocompatible according to ISO 10993-1 and USP Class IV standards
Greater structural integrity to allow for thin-walled designs
Toughness to resist mishandling
Dimensional stability in shipping and storage