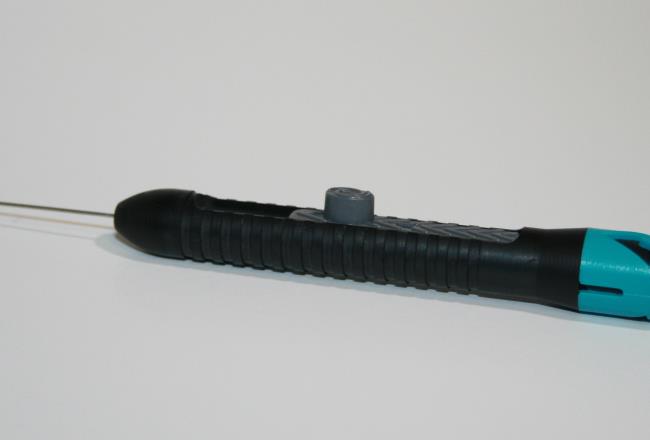 Case study
Vitreoretinal surgical device utilizes biocompatible Makrolon®
Vitreoretinal surgery requires specialized devices to protect eye health, and the materials used in such surgical devices must be reliable and meet regulatory requirements. For this reason, Vortex Surgical Inc. turned to Covestro to find the right material for a component of its Internal Delivery Device (IDD).
This disposable ophthalmic surgical device from Vortex Surgical is designed to address the limitations of current solutions on the market. It can be used in a variety of ophthalmic procedures such as retinal detachments, macular holes and viscodissection of membranes. The IDD is used to inject fluids under or in between the membranes at the posterior of the eye.
The polycarbonate grade utilized by Vortex Surgical is an excellent material for medical applications like the IDD device, due to its proven safety and functional profile.
Ergonomics are critical in retinal surgery, and the IDD design enables surgeons to have smooth control of the distal tip position while directing the flow of fluids against the underside of the eye's membrane and away from the retina to dissect the membrane from the retina.
Vortex Surgical needed a material for the threaded female luer adaptor, which is in the fluid path of the instrument. Since this component is considered an indirect patient contact material, the selected material had to be biocompatible.
Covestro has a long history of providing healthcare customers with innovative materials and technical expertise for a range of applications. It's very rewarding to help customers, like Vortex Surgical, fill a need in the market.
Vortex Surgical selected our robust and dependable Makrolon® 2558 polycarbonate, which is injection molded to form a threaded female luer adaptor for the IDD. The material satisfies major biocompatibility requirements, including ISO 10993-1 and is easily molded.
Covestro provided us with a report of the ISO 10993 testing that supported the registration of the product.
Why Makrolon® 2558 polycarbonate was the right solution for the Vortex Surgical IDD
Specialized Biocompatible according to ISO 10993-1 test requirements and suitable for medical devices.
Ease of use Medium viscosity material with
Easy to bond Features the ability to bond to cyanoacrylate adhesives.
Good hydrolysis resistance The material is not easily damaged by hydrolysis.