Story
Introducing a new portfolio of low friction polycarbonates
Covestro developed a new portfolio of low friction polycarbonates for medical applications, such as drug delivery devices. Low friction Makrolon® delivers smoother dosage of pharmaceuticals to your drug delivery device, while improving control and reliability for the patient or healthcare professional. Due to the low friction coefficient, the polycarbonate is suitable for sliding applications and makes the medical devices easy to handle for patients or healthcare professionals.
Enhanced life cycle through reduced wear and tear
These high-tech resins enable friction and wear reduction resulting in lower deployment forces in sliding plastics parts moving over other materials. This extends the life cycle of the drug delivery device and can also offers potential for cost savings. Dimensional stability, biocompatibility, colorability and global availability complete the offer of these resins. If you are also looking for a resin that helps you reduce noise and/or squeaks in the internal mechanisms of your device, these products enable you to achieve just that.
Low friction resins help reduce dosage administration force in drug delivery devices to make delivery of pharmaceuticals easier for patients and healthcare professionals: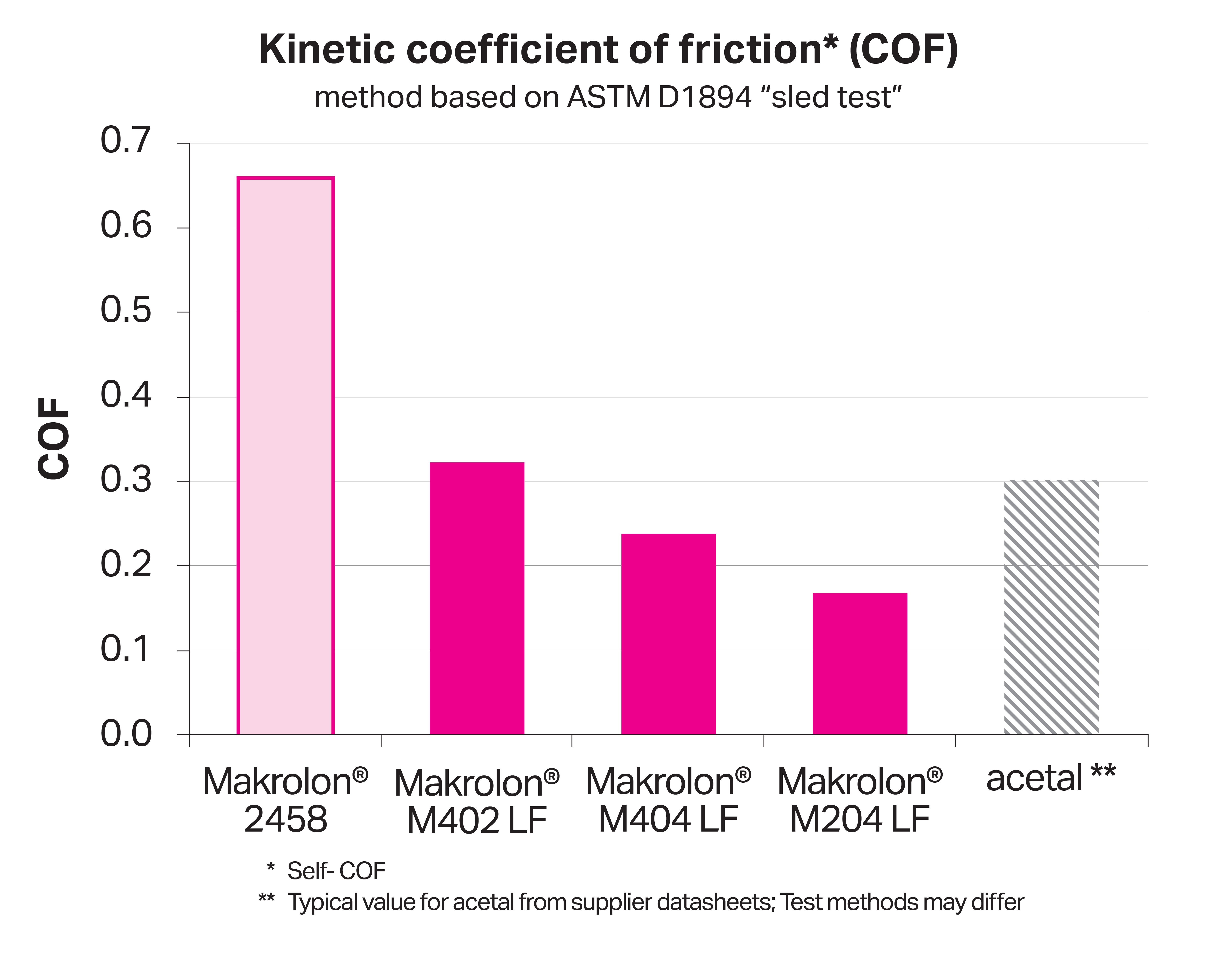 An exciting new product portfolio for drug delivery applications. Makrolon® LF resins help your device bring ease of dosage administration while improving its lifecycle, reliability and reducing its overall production costs.
Key Benefits
Friction and wear reduction: Help in reducing wear and friction rates of plastics parts moving over surfaces made of plastics or other materials.
Flowability and dimensional stability: Low viscosity resins that allow better flow, mold filling and mold release. Retains shape even when exposed to heat and humidity.
Biocompatibility: Resins comply with ISO-10993 regulation.
Cost reduction: Reduce injection molding cycle times, consolidate parts design and avoid secondary additivation.
Colorability: Wide range of opaque colors via the Covestro Color Center.