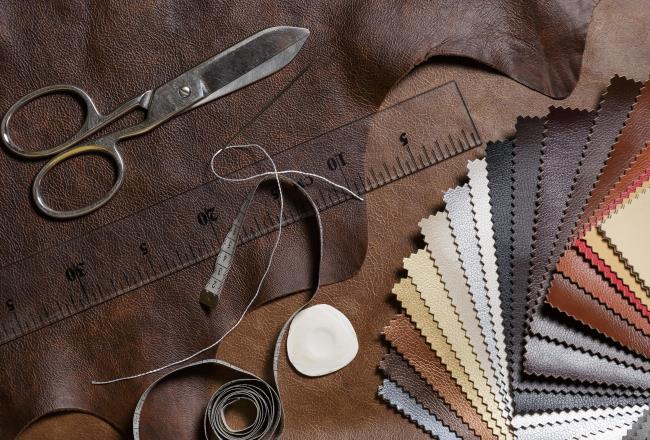 Story
The new leather is synthetic leather: durable, recyclable Desmopan® TPU
People love natural leather, but have concerns about its environmental impact. Desmopan® TPU synthetic leather offers an attractive, recyclable, vegan alternative to animal-derived material. It comes in a range of grains and colors, with the feel of leather but using no animal raw materials.
Natural leather is a popular material, but the demand for alternatives is growing
In applications from high-end furniture to premium car seat upholstery, natural leather is a durable, upscale choice of material. Its grained texture, luxurious look and supple haptics are key drivers of its popularity with consumers. The wide range of colors and textures also help make leather popular with manufacturers. However, as environmental consciousness grows, people are becoming more aware of the environmental trade-offs in the manufacturing of leather.
Taking the raw material, which is animal skin, and processing it into leather involves a series of chemical treatments and dye procedures which are both energy and water intensive, and often involve hazardous chemicals. These concerns are driving the growing demand for fabric material alternatives to genuine leather.
Desmopan® TPU offers an attractive synthetic alternative to natural leather
Thermoplastic polyurethane (TPU) is a plastic with many convenient properties, including durability and elasticity in a wide temperature range along with resistance to oil, grease, and abrasion. Our Desmopan® brand TPU-based synthetic leather offers a practical alternative to animal-based materials, and supports a vegan lifestyle.
This completely non-animal material is extruded in multiple PU layers and embossed with a leather like grain pattern to suit the application. The material is then combined with a thin layer of light-weight foam backing, in expanded TPU (ETPU) processing, yielding a part with surface texture and haptics that are hard to tell from real leather. Yet this high-performance innovation is completely synthetic, involves no animal-based raw materials, and sidesteps the environmental impact of natural leather processing.
Versatile, recyclable and hard to tell the difference: TPU has the edge on natural leather
Another decisive advantage of our durable multi-layered synthetic leather is that it can be recycled mechanically, closing the material loop at the end of the consumer use phase. The limitless range of colors, textures and grains make Desmopan® TPU synthetic leather an interesting alternative material choice for parts that otherwise are made of natural leathers.
From shoe uppers in formal and athletic footwear, to the soft touch skin on consumer electronics and or the upholstery on an iPad case, the haptics of our synthetic leather are difficult to distinguish from natural leather. This polyurethane innovation enables manufacturers to support the vegan lifestyle by offering parts with a high-end leather like touch and feel without the environmental impact of an animal-derived material. Our ETPU synthetic leather is another example of putting our circular intelligence to work for you.
Multi-layered extruded TPU leather is an excellent alternative to natural leather, and is welcomed by consumers who are growing more conscious of the severe environmental implications of the animal-based leather manufacturing processes.
Key Benefits
Non-animal: Desmopan® TPU synthetic leather is vegan-suitable with no animal raw materials.
Haptics of leather: TPU leather offers a touch and feel that is hard to distinguish from natural leather.
Recyclable: At the end of its use phase, PU-based leather can be mechanically recycled.
Tough and durable: Flexible thermoplastic polyurethane is resistant to oil, grease and abrasion.
Design freedom: Synthetic TPU leather offers an unlimited choice of colors and surface grains.