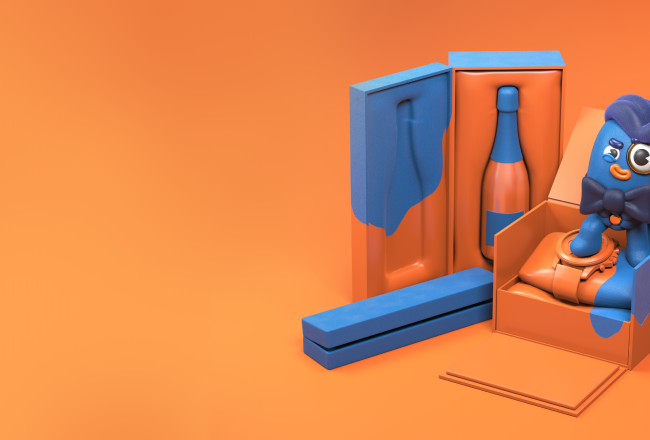 Story
Meet Skins® Vel-Veeto
Vel-Veeto: "If you want to take your product a bit up-market, I'm your man. Check out these fancy boxes with a real velvet feel. Your product is sold before they've even opened the package!"
Skins® Vel-Veeto has a proven track record of delivering that high-quality velvet feel. In fact, he's the longest established printable velvet on the market. With excellent color depth, he makes the most exclusive packaging designs look even more stunning.
Skins® Vel-Veeto Expertise
Use Skins® Vel-Veeto on luxury products such as jewelry, watch or ring boxes, packaging for wines and whiskeys, and stylish stationery items. Whatever the substrate, Skins® Vel-Veeto matte varnish velvet coating will elevate your brand.
"I will help you bring class and style to your product by adding the real feel of velvet to your packaging. Your customers will fall in love with your product before they've even opened the package!"
Easy to start, consistent, high quality, velvet feel
Skins® Vel-Veeto is easy to start on the press and you can use him with standard equipment. He's applied in thin layers and high-speed processing is possible.
Print performance
High transparency and low reflectivity enhance color depth, text and image visibility. It gives off very low light reflectivity, which means colors remain true from different angles, like on different height shelves in retail – ideal for packaging luxury products such as jewelry, watches or whiskies.
Skins® Vel-Veeto can be printed on multiple substrates, like paper, PE, BOPP, aluminum and PET and colors can be given different gloss levels by overprinting.
Of course, he can be recyclable, and his waterborne formulation makes him FDA/FCC/Swiss Ordinance compliant. He can also work with UV and solvent-based ink systems, all without any yellowing or foaming.
Formulation
As Vel-Veeto has a simple starting formulation, it's a more stable varnish coating. That simple formulation also means it has a broad range of applications, like on flexible films, rigid material, paper and board. Using multiple printing techniques, including flexo and gravure.
Technical specifications