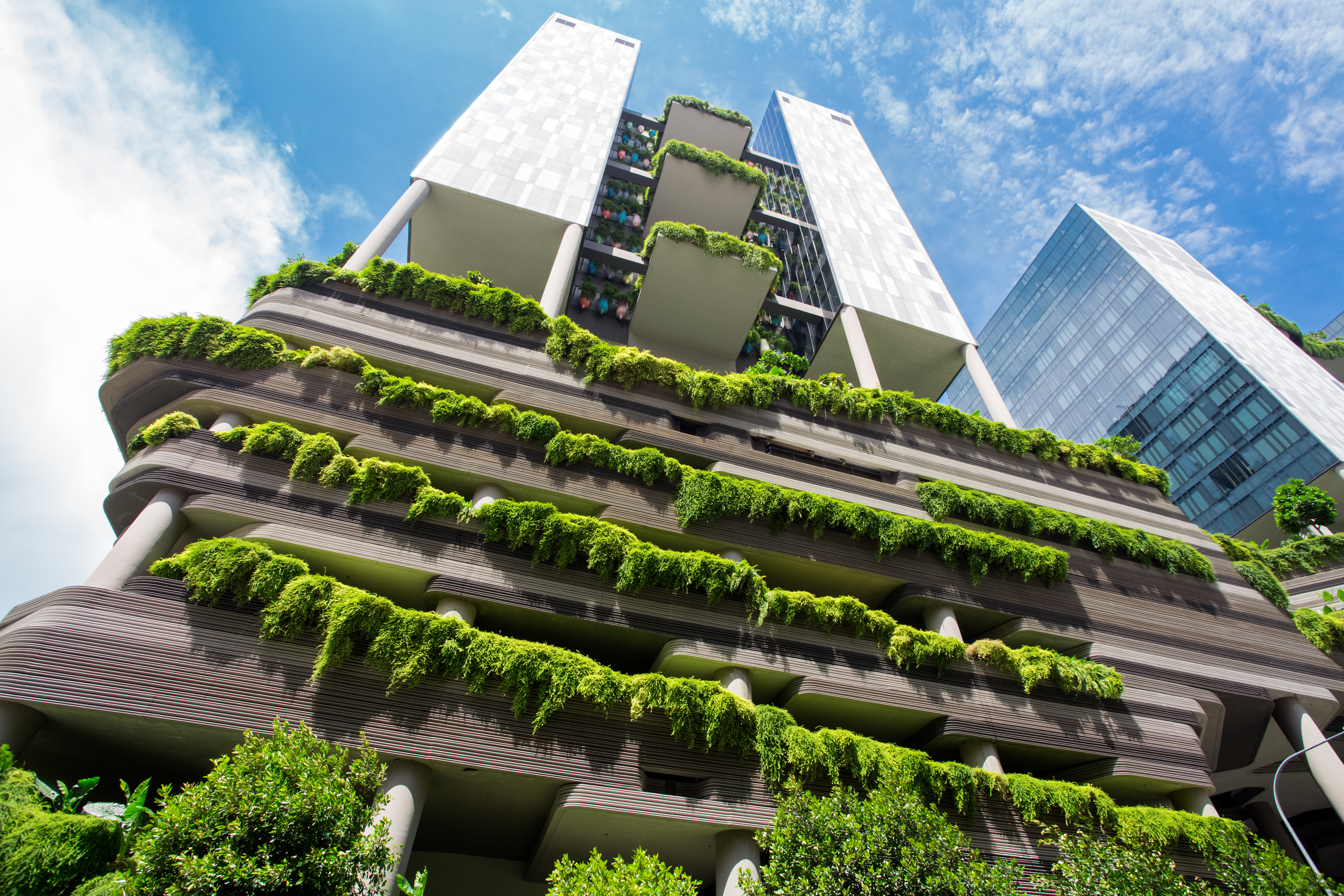 Story
Moving towards net zero embodied carbon: more sustainable buildings 2030
We recently hosted a workshop with construction experts, re-imagining how to design, build and operate buildings to reduce their carbon footprint over the lifecycle by 2030. Solutions like PU/PIR insulation material with ISCC certified renewable content can even be applied today.
The upfront carbon challenge: the share of embodied carbon in buildings is rising
Buildings are responsible for 39% of global carbon emissions. Over a quarter of these emissions are embodied in the raw materials and in the construction process itself, before a building even opens its doors. Taking a broad life cycle view, gains in energy efficiency from better thermal insulation and efficient heating, for example, are already reducing greenhouse gas or GHG emissions in the operating phase. Meanwhile, the share of embodied carbon is growing as proportion of overall carbon footprint.

The trend is especially stark for the "renovation wave" in Europe, where up to 80% of the buildings in use in 2050 already exist today, where more than a third of buildings are 50 years or older, and where 97% of the building stock will need renovation to meet carbon reduction targets. Embodied carbon, including the building materials, will make up 50% of the life cycle emissions footprint for new construction and renovations between now and 2050. This threatens to consume a large part of the remaining carbon budget.

To envision how to resolve this upfront carbon dilemma, we invited 30 architects, planners and construction experts to conduct a thought experiment in our workshop "The Path to Net Zero Embodied Carbon". Here, a series of lively interactive sessions facilitated by Eigenland® consultants helped pinpoint the next steps for reducing the carbon footprint in the building and construction industry.

To get a 360-degree view, the workshop examined the issue from four different perspectives:
• Embodied carbon - reducing CO2 during the entire life cycle of a building
• Upfront carbon - lowering emissions in building material production and the construction process before the use phase
• Use phase embodied carbon - cutting the CO2 stored during a building's operational life
• End-of-life carbon - reducing emissions from the deconstruction and reuse of building materials

For each perspective, we presented a range of theses about the status of the building industry in 2030. Participants could intuitively rate their agreement or disagreement with the statements on five-point color code scale. From this we mapped out a realistic scenario for 2030, and then prioritized the next steps for taking on the carbon emission challenge by then. We also discussed how our own climate neutral* MDI raw materials for rigid PU/PIR foam insulation can play a role in the low carbon transition.
Perspective 1 – Embodied carbon: Moving towards a holistic life cycle approach
Over the last 30 years, the building industry has prioritized energy savings, and these efforts will intensify in the coming years. This means that as operating efficiency grows, the focus will naturally shift to the carbon footprint stored in the building itself.

In the Embodied Carbon topic session, participants agreed that digital models will play an important role in defining the CO2 footprint of the materials used, and simplify the selection of materials that embody less carbon. Low-carbon technologies and materials will also become a more active consideration in investment decision-making.

The construction industry still falls short in planning and building according to circular principles and in taking a life cycle assessment (LCA) approach to the design of buildings. Achieving net zero embodied carbon by 2050 is an aim that is in line with the Paris agreement goal of limiting the temperature rise to 1.5°C. The biggest challenge here is making the existing progress towards the goal visible and fact-based.

Establishing waste and material cycles, repurposing raw materials before building demolition begins, and even maintaining portions of existing buildings are all useful practices in reaching the net zero goal. Integrating locally available sustainable energy sources like wind or sun will also contribute to achieving a net-zero carbon footprint.
Perspective 2 - Upfront carbon: Mindset shift to reduce CO2 in material production and construction
The expression upfront carbon means the CO2 emissions triggered by the sourcing and processing of the raw materials, as well as what's emitted during the actual construction process. Participants do see some positive indicators of growing sustainability by the year 2030. The industry is already making an effort to source materials with a low CO2 footprint, whether they are organic or recycling-based. And likewise, CO2 classification systems for buildings will lead to new design concepts.
What are still likely to be missing in 2030 are extremely detailed, widely accessible, interlinked databases of materials, their properties and their carbon footprints. Participants see filling this gap as critical, and argue that building material databases and building information modeling (BIM) systems should employ artificial intelligence (AI) to analyze the material mix and optimize planning during construction. These databases should also reflect regional differences in materials and architectural styles, and encourage building methods that minimize environmental impacts.

Overall, the challenge for embodied carbon is to achieve a mindset shift, incorporating upfront carbon into a holistic life cycle philosophy. Decisions made in the design and construction phase will have a knock-on effect on the carbon emission footprint over the entire life of a building.
Perspective 3 - Use phase embodied carbon: Enhance efficiency and circularity during operation
Owners and operators are typically the customers for new construction and renovations. Workshop participants believe that the industry will therefore naturally tend to optimize design to suit these clients, which means achieving the lowest possible running costs and CO2 footprint for the operation and maintenance phase.

Recent advances in heating technology, building insulation, and overall energy efficiency have reduced CO2 emissions and increased sustainability during the use phase. But by 2030, participants expect the industry to embody less carbon thanks to improved practices including the increased use and reuse of modular, detachable and recyclable building components.

For the use phase, participants see the biggest short-term win in increasing circularity and conserving resources. Logistics for handling construction waste recycling should be established, enabling further use of the building fabric. Introducing a resource passport would boost material transparency, enabling more effective, detailed Environmental Product Declarations (EPDs). Creating energy efficiency incentives, capturing and reading energy consumption digitally will contribute to a more sustainable use phase. Integrating more renewable energy sources directly into building elements can also help lower environmental impact in the short term.
Perspective 4 - End-of-life carbon: Build for deconstruction, standardize low carbon building codes
The end-of-life stage of a building offers huge potential for reducing the CO2 footprint. Workshop participants noted that there is already a lot of experimentation and testing of circular solutions for deconstruction. On-site recycling of old materials already takes place in some areas, particularly in road construction. Metal materials are often recycled. The exchange of building parts is already possible.

Unfortunately, sustainable practices at the end of a building's life are the exception, not the rule. Demolition/tear-down and new building almost always take priority over recycling and reuse. There is an urgent need to shift to more recycling and reuse of materials, basic knowledge sharing, and for buildings where disassembly is baked into the design from day one. Recycled materials from other industries should be also included in the service catalog as building materials A CO2 tax and introduction of a demolition permit could also incentivize low carbon deconstruction practices.

The end-of-life solution is to build more simply and flexibly up front, with deconstruction as part of the original plan. Prefabricated building modules can be planned for dismantling and separation of their materials according to type. In parallel, adapting building and planning regulations to accommodate climate protection measures should be a high priority, while also simplifying them and standardizing them across regions. Participants in the workshop agreed they have a role to play in this transformation, with a responsibility to discuss, visualize and create "lighthouse" projects as an inspiration for wider change.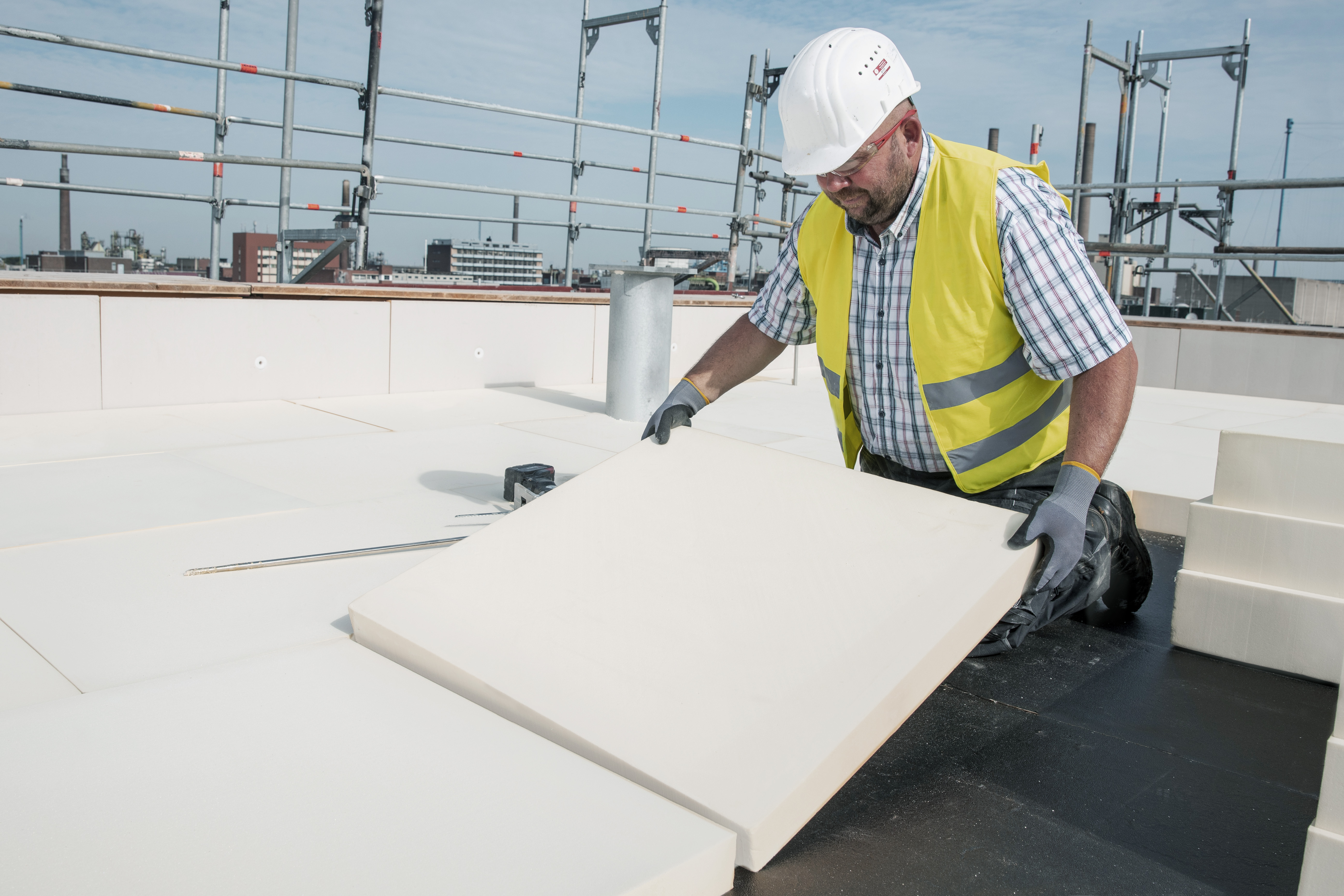 Where to find: low embodied carbon PUR/PIR insulation based on climate neutral Desmodur® CQ MS
Construction experts are looking for solutions that can be applied in working life right now, so during the workshop we announced both short term and long-term circular economy initiatives for PU rigid foam products. Effective immediately, our climate neutral* bio-circular MDI – Desmodur® CQ MS – enables PUR/PIR insulation with low embodied carbon, with the bio-waste based content attributed using an ISCC PLUS certified mass balance approach. These more sustainable PUR/PIR materials insulate just as effectively but with a lower impact on the environment, and they are available now. Desmodur® CQ MS is already available for PU/PIR insulation manufacturers in many regions, including Europe. Ask the insulation manufacturer of your preference or contact Covestro directly for more information.

The term bio-circular refers to waste and residues of biological origin from agriculture, forestry and related industries, such as used cooking oil. Certified Circular MDI means that compared to regular Desmodur® MDI, carbon emissions are reduced by up to 100% based on a cradle-to-gate life cycle analysis. These figures are based on TÜV-certified LCA methodology according to ISO 14040:2006 and ISO 14044:2006.

Combining renewable bio circular content with reduced embodied carbon in insulation material supports industry sustainability targets including the World Green Building Council (WGBC) Whole Life Cycle Carbon Vision. In parallel, long term initiatives for more sustainable polyurethane foam include bio aniline renewable raw materials and the circular chemical recycling of rigid foam.

Our Path to Net Zero Embodied Carbon workshop enabled a serious discussion about the next steps in improving the sustainability of the building and construction industry. Initiatives like this, and our own efforts to create more sustainable materials fit neatly into our corporate aim of achieving operational climate neutrality by 2035. This goal covers both our own activities (scope 1 emissions) and the materials and energy that we source from suppliers (scope 2 emissions). The goal keeps us in line with the Paris climate agreement, and by 2030, we intend to already achieve a 60% reduction in CO2 emissions.
PU insulation has always helped reduce carbon emissions during the use phase. As buildings become more efficient, emissions from material manufacturing make up a higher share. Our climate neutral* Desmodur® CQ MS offers the superior insulation properties of PU, but with very low embodied carbon.
Key Benefits
Low embodied carbon: Desmodur® CQ MS enables sustainable PU insulation with a lower carbon footprint.
Renewable content: Bio-circular content is attributed via the ISCC PLUS mass balance approach.
High performance: Climate neutral* MDI offers the thermal insulation performance of polyurethane.
Resource saving: PUR/PIR insulation saves up to 100 times more energy than is used to make it.
Strong and durable: Rigid foam is low-maintenance and resists weather, chemicals and UV light.
* Global Warming Potential (cradle-to-gate) based on TÜV certified LCA methodology of ISO 14040:2006/ISO 14044:2006 Environmental management; input data includes industry average data and Covestro specific data using bio-circular feedstocks via mass balance approach