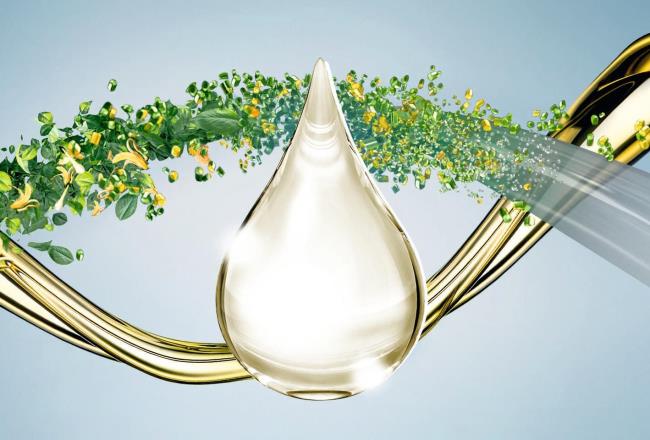 Story
On the way to circular economy with more sustainable specialty films
In line with our vision to become fully circular, we expanded our specialty films portfolio by films partly consisting of bio-based content or partly recycled raw materials as well as ISCC PLUS certified films where recycled and renewable feedstock has been attributed via mass balance approach.
Alternative feedstock for more circularity
Specialty films are valued as a versatile material in applications ranging from automotive, consumer electronics or textiles to medical or ID documents. This means that identifying a more sustainable raw material base for films contributes to more circular materials that help to reduce the carbon footprint.
Following Covestro's vision to become fully circular, we have developed a range of Makrofol® Polycarbonate (PC) and Platilon® Thermoplastic Polyurethane (TPU) Films with a significant(1) share of alternative raw materials. These products identify with the 'CQ' in their name, highlighting their contribution to circular economy. The abbreviation 'CQ' is two-fold. While the 'C' stands for circularity, the 'Q' refers to the intelligence quotient. Together, C and Q underline how essential thought-leading, innovative solutions can drive circularity forward. Products carrying the CQ suffix in their name or description are produced using partly alternative raw materials– such as feedstocks from waste, biomass, and/or captures CO2 – and/or renewable energy. These material solutions can be from segregated or mass-balanced feedstocks. By activating multiple circular production pathways, we enable our customers and partners to increase their use of renewable resources, and lower their overall environmental impact.
(1) Our CQ materials consist of at least 25% alternative, non-fossil raw materials.
Partly bio-based films – for a reduced carbon footprint
With our partly bio-based CQ EC Polycarbonate Films we offer our customers an alternative to the traditional fossil-based Makrofol® grades. More than 50% of this material's carbon content is sourced from plant-based biomass. When compared to standard films made from petrochemicals, a portion of the fossil-based primary products used have been replaced with plant-based raw materials. Reducing the use of raw materials based on fossil resources slashes the film's carbon footprint by approximately 20% (evaluation by mass calculation (2)).
Similar to the conventional Makrofol® grades, the partly bio-based polycarbonate films offer excellent mechanical properties and impact strength, high abrasion resistance and surface hardness, and good optical properties. It can be used in a variety of applications such as automotive interior parts, electronic housing, decorative control panels, overlay and signage, and many more. Makrofol® CQ EC can be processed by a variety of technologies, including printing, thermoforming, high-pressure forming (HPF), coating (hardcoat, adhesive), cutting and lamination.
In the area of TPU Films, our customers can also choose a partly bio-based variant. The Platilon® grades of our CQ EC family contain up to 25 % renewable resources. The partly bio-based TPU hotmelt films can be used for seam sealing in sports and outdoor equipment like kites and tents or in outer wear, just to name a few applications. It is suited for lamination or component welding.
Both these materials enable our customers to benefit from a more sustainable alternative to standard films that exhibits comparable or even better properties while at the same time helps reducing the carbon footprint of the final product.
(2) according to internal calculations, by m2 the reduction is less due to density compensation, assuming same film thickness in use (process verified by external party)
Bio-circular attributed Polycarbonate (PC) Films – a drop-in solution
Mass balance is playing a fundamental role in making the transition to a circular economy happen. Our Makrofol® CQ MB products are ISCC PLUS certified and promote the circular economy – conserving natural resources. They have an attributed share of renewable or biobased feedstock of up to 72%(3) according to ISCC PLUS.
Less fossil raw materials are needed because they are partly replaced by renewable ones made with bio-waste and residues. These raw materials are attributed via mass balance to our CQ MB products. Our alternative film materials offer the same quality and performance properties as their conventional fossil-based counterparts. As a drop-in solution they can be implemented quickly and allow the combination of standard and mass balanced grades in the same application.
A certification according to ISCC PLUS means that process and material flow are audited according to the third-party International Sustainability & Carbon Certification (ISCC) PLUS standard. This ensures that feedstock quantities and flows are systematically traceable, and can then be attributed to specific products using a mass balance approach that is certified by an independent global standard.
(3) depending on product and thickness
We continue to innovate throughout different segments and applications, to increase circularity and realize our vision of becoming a fully circular company.
Partly mechanically recycled white Polycarbonate Film – a circular solution for ID documents
Makrofol® ID CQ RC is the latest innovation in our more sustainable films portfolio. This white PC Film for the ID document application leverages partly recycled PC content(4), while offering properties, quality and performance similar to standard Makrofol® ID white PC Film. The new Makrofol® ID CQ RC grade can help support ID document manufacturers to align their product portfolio towards circular economy.
(4) Partly mechanically recycled white PC film contains 30% PC based recycled content.
Key benefits
Low-carbon: Alternative raw materials reduce the carbon footprint.
Drop-in: Mass-balanced films are a drop-in solution.
Downloads
Makrofol® CQ MB – Mass balanced PC Films for Mobility and Consumer & Industrial solutions

Makrofol® – CQ MB – Mass balanced PC Films for Mobility and Consumer & Industrial solutions

Makrofol® ID CQ RC – Partly mechanically recycled PC films for ID document applications

Makrofol® CQ EC – Partly bio-based PC Films