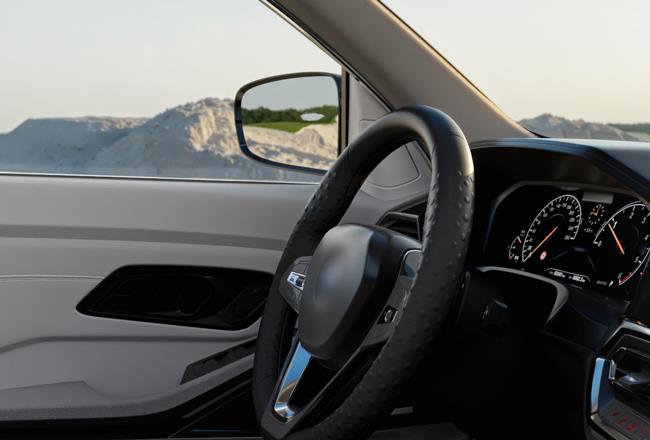 Story
Versatile polyurethane foams: paving the way for more sustainable materials in cars
Polyurethane (PU) foam is an indispensable material in car seats, instrument panels, load floors, headliners and acoustic applications. We are making PU more sustainable by attributing alternative feedstock to our products today, while working towards full recyclability of PU foam from end-of-life vehicles (ELVs) tomorrow.
Polyurethane: the indispensable material for auto interiors
Buyers of new cars expect their vehicle to exude quality, and want to touch and feel that quality with their own senses. That's why automobile manufacturers consider polyurethane (PU) the indispensable material for car seats, armrests and instrument panels.

PU foams can be tailored from soft to rigid, yet stand up to everyday wear and tear. The material dampens noise and vibrations, while also insulating thermally and providing added comfort and convenience to passengers.

Furthermore, PU allows to be processed into complex part geometries while also providing very good adhesion to other materials during the manufacturing. These qualities make PU foam the ideal go-to automotive seat foam material, and the solution for everything from seat cushions, headliners, load floors, acoustic applications and even novel EV battery solutions. This wide range of applications means that PU foams have an important role to play as OEMs gear up to become carbon neutral, in line with their own sustainability goals.
Reducing carbon footprint, expanding recycled content: facing the sustainability challenge in steps
Transforming the automotive sector into a fully circular economy while reducing greenhouse gas emissions and environmental impact is a massive challenge. Taking incremental steps is the most realistic way to achieve this vision.

Today, it's already possible to cut the automotive industry carbon footprint by attributing alternative feedstocks like biomass and bio-waste residues to our products. Covestro already offers a range of certified up to carbon-neutral raw materials for PU foam as drop-in solutions today.

Down the road, the challenge is to grow the share of recycled materials in new cars – and ensure the recyclability of the PU going into them. For example to make cars more sustainable, in the future raw materials could be derived from post-consumer packaging waste, and all of the PU foam in car seats and other PU-based components could be recycled at the end of a vehicle's life cycle.
Alternative attributed feedstocks enable more sustainable PU foams today
Covestro is a pioneer in replacing fossil feedstocks with alternative feedstocks. Using biomass and bio-circular attributed feedstocks in automotive PU seat foam and other PU interior components immediately reduces the carbon footprint of PU foams for OEMs and their suppliers.

When introducing more sustainable materials into the chemical process that results in PU foam, these bio-attributed feedstocks must be tracked systematically. ISCC+ (International Sustainability and Carbon Certification) mass balance is the methodology for tracing these feedstocks through the chemical processes and across multiple partners in the supply chain.

ISCC+ mass balance certification also means that the more sustainable feedstocks can be allocated to specific products by ensuring that uniform standards are applied along the value chain. This in turn enables OEMs to put the ISCC+ label on specific PU foam components, and take the certified reduction in CO2 emissions along with the sustainable share.

In the near future, feedstocks based on end-of-life plastic waste will be able to be attributed to PU-based products.
Our vision for the future: full PU recycling for end-of-life vehicles
Covestro intends to make PU foam fully recyclable in the automotive sector and beyond. We're investing heavily in technologies like chemolysis, smart pyrolysis and enzymatic recycling so that high-value PU molecules can be recovered in ELV recycling and re-used in a closed loop.

We've achieved positive results with several technologies successfully scaled up to pilot stage. We look forward to the future when PU foam from end-of-life vehicles (ELVs) can be recycled and reused at industrial scale.

Driven by the recycling demands of the automotive industry, we aim to have end-of-life plastic waste feedstocks that cover the full product portfolio with open-loop solutions as of 2025, and closed loop PU foam solutions for ELV recycling of polyurethane within the next decade.

When it comes to achieving greater sustainability for PU foams in the automotive industry, Covestro is on it!
While the auto industry pursues circular solutions, technical progress often takes small steps. At Covestro, we proactively introduce bio-attributed feedstock to the market, aiming to reduce the carbon footprint. Additionally, we are actively working towards closed-loop recycling solutions for all polyurethane materials.
Key benefits
Versatile: PU foam can be adapted from soft to rigid for many car interior applications.
Durable: Polyurethane foams are inherently resistant to wear and tear and abrasion.
Lower carbon: Alternative feedstocks enable PU foams with much lower CO₂ emissions.
Attributable: ISCC+ certification allows CO₂ reductions to be attributed to your components.
Drop-in solution: Ensures consistent high product quality and no need for re-approval.
Recyclable: Polyurethane foams can be recycled and reused in new PU products.