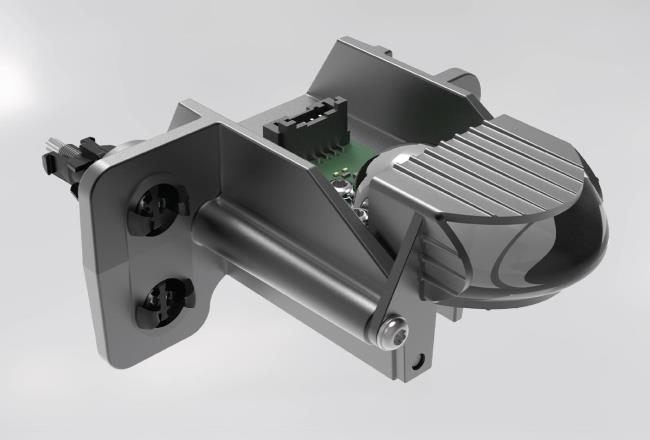 Story
Lighting module with integral heatsink and adjustment system embodies innovative engineering.
At K 2022, Covestro reveals a groundbreaking heatsink adjuster module that offers multiple benefits for auto headlamp designers and engineers. The concept is depicted in both a high-beam and fog-lamp configuration to showcase different manufacturing processes.
Pioneering design and processes, proven polycarbonates and technical know-how all bring innovation to light
Modularity … miniaturization … reduced weight and cost … Covestro combines all these and more in an automotive lighting technology and design concept. This innovative LED light module features an integral adjustment aiming system and heatsink.
The hero material in this application is Makrolon® TC polycarbonate, which is used to form the heatsink bracket — at a weight that is up to 49 percent lighter than cast aluminum. This thermally conductive Makrolon® TC grade can be joined by other specialty lighting materials from Covestro's polycarbonates portfolio, including Makrolon® DS, to form the reflector, and Makrolon® LED, to form the collimator lens.
Functional integration is achieved by designing the heatsink bracket to operate with a fastener and adjuster solution designed to work specifically with Makrolon® TC polycarbonate. This integrated adjuster system allows the LED module to be aimed accurately and precisely. Without altering the heatsink design, the module can accommodate other optical configurations by changing reflector designs or the number of LEDs used. Custom module dimensions and shapes are possible for unique packaging configurations.
The slim, space-saving design is just what designers have been looking for, enabling them to achieve a less noticeable, low-profile headlamp style while still mitigating heat management challenges.
This new heatsink adjuster module is a game changer. It can be used in disparate lamp types and form factors, which we believe will help pave the way to new styling trends coming to mass production in the automotive market.
Breaking the mold: A novel process translates into greater design efficiency and freedom
Covestro continues to pioneer the use of in-mold electronics (IME) coupled with the heat management that Makrolon® TC polycarbonate provides. Latest developments involve assessing low-pressure molding as a way to attach the LED module directly onto the thermally conductive heatsink without fundamentally changing the heatsink adjuster module design. By reducing the number of parts and process steps, IME can contribute to other important advantages, including enhancing heat management and design freedom.
Innovation … at your fingertips
The heatsink adjuster module is just one example of the many ways that Covestro polycarbonate and technical expertise come together to drive automotive ingenuity. Hop in and join us on the journey to what's next!
Key Benefits
Heat management Design maintains LED-case temperature within 2-3 degrees C of cast aluminum
Modularity and miniaturization Plug-and-play module features a slim, compact design
Freedom of design Optical design can be altered by changing the reflector or LED-module
Weight reduction Makrolon® TC polycarbonate heatsink can be nearly 50 percent lighter than if it had been formed from cast aluminum
Cost reduction Makrolon® TC polycarbonate has been shown to save approximately 20 percent compared with a cast aluminum heatsink
Sustainability Eliminating aluminum to use fewer material types makes it easier to separate materials at the end of the product life cycle