Story
Heat-resistant coating for high-speed production of mono material stand-up pouches
Achieving recyclability in multi material laminate flexible packaging is a challenge. Mono-PE packaging is a more sustainable solution as it is more easy to recycle. BOPE (biaxially oriented polyethylene) mono material solution combines easy recyclability with good optics and stiffness but can shrink and stick during high-speed form fill seal packaging line. In collaboration with leading chemical manufacturer SABIC, Covestro has developed a proof-of-concept heat-resistant coating for use on mono-PE stand-up pouches made with BOPE that offers a broader sealing temperature window thus high-speed packaging and easy recyclability.
Reducing packaging waste: a top priority for packaged goods brands
Packaging waste is a growing issue globally. Driven by the public concern from consumers, governments and industry associations are introducing regulations designed to limit or prevent waste from disposable packaging, and to lower its impact on the environment.
Facing this dual pressure from consumers and from more stringent regulations, packaged goods brands and their producers – particularly food companies – are looking for more circular approaches to flexible packaging, ones that still deliver product quality and high convenience, but with easier recycling. Recyclability is no longer simply a 'nice to have', but an essential part of any brand's approach to packaging.
Achieving recyclability in multi-layer flexible packaging is a challenge
When it comes to pouches, multi-material laminate structure delivers quality and performance, since each material provides a specific functionality. Yet, when the time for recycling comes, the separation of the individual layers of polymers is often too expensive or technologically impractical.
For flexible packaging, manufacturers are now turning to more simple mono-material solutions. BOPE (biaxially oriented polyethylene) film can be the core of a solution where all of the layers are created from PE polymer grades. This enables flexible packaging solutions to be recycled in a single stream.
However, BOPE mono material film is more sensitive to heat than e.g. BOPET. Shrinkage and wrinkles can occur during the heat seal (FFS) process as the processing window is more narrow.
Tried and tested: high-performance mono material BOPE lamination film with heat-resistant coating
Collaborating with SABIC, one of the global leaders in polymers for packaging films, we have developed and tested a new heat-resistant coating resin technology for biaxially oriented polyethylene (BOPE) films, engineered specifically for flexible food packaging used for stand-up pouches.
This new heat-resistant-coating- for mono PE pouches with BOPE has several benefits. It prevents heat seal bars from sticking during the sealing process especially in the gusset sealing area. Next to this it enables a broader sealing temperature window.
And due to its reduction of wrinkling / shrinkage the coating prevents dimensional changes of the package, and improves aesthetics by avoiding wrinkling of the seal.
This innovation enables brands, retailers, film producers and others in the value chain to create new high-performance yet recyclable mono material packaging structures. At the same time, the heat-resistant coating resin technology supports the drive to achieve a circular economy for flexible packaging in Europe.
In SABIC, we found an expert partner. This close collaboration will enable us to accelerate the engineering and testing process of our new heat-resistant coating for BOPE with clear benefits for the product quality, the customer, and the planet.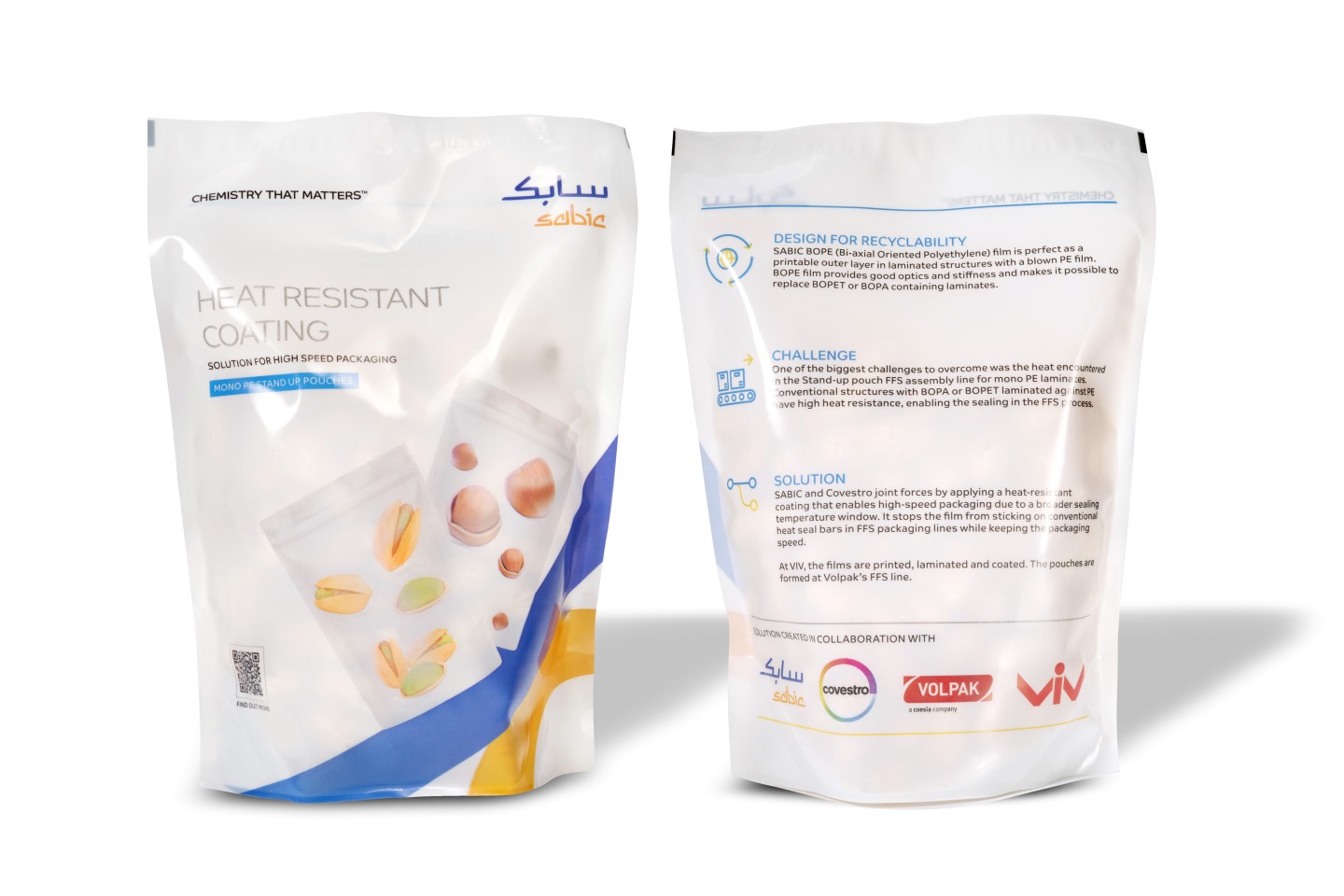 Key Benefits
Design for recyclability: Packaging with multi- layers made from the same polymer family are easier to recycle.
Heat-resistant: Coating stands up to heat and prevents wrinkling.
Non-stick: The coating resin solution enables heat sealing with BOPE films with no sticking.
Reliable partner: We are seeking value chain partners to co-develop circular solutions with.
Fast manufacturing: Coating enebling fast manufacturing process on FFS lines