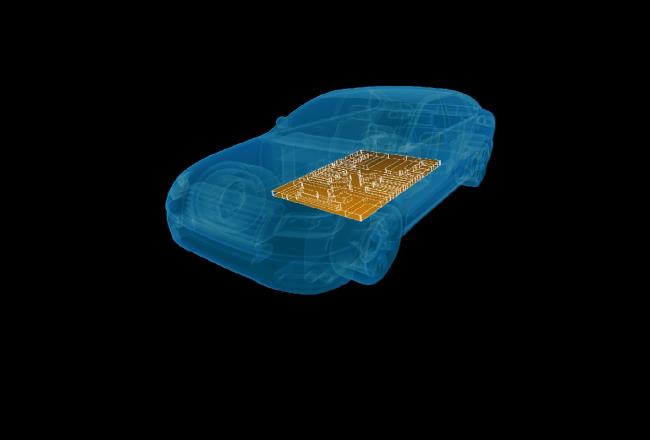 Story
Polyurethane materials & adhesives boost crash safety and power in EV batteries
Electric vehicles are growing in popularity, but are hampered by concerns about range, recharging time and especially a fear of battery fire during an accident. Using polyurethane-based materials, adhesives and pultrusion technology, we created a new battery pack concept with a focus on crash safety.
Innovative materials are the key to overcoming electric vehicle pain points
The number of electric vehicles (EVs) on the road is expected to surge in the next few years, driven by CO₂ emission reduction targets, government regulations, and wide anxiety about climate change. Yet many consumers still have reservations about battery-powered cars and plug-in hybrids, including the driving range and their slow recharge cycles, but particularly fears about battery safety in the event of a crash. To accelerate the shift away from the internal combustion engine, automobile manufacturers, motor component suppliers, and electric vehicle battery makers need innovative materials that can address these pain points.
A new EV battery pack concept from Covestro meets the challenge head on. It couples our Baydur® PUL pultrusion technology for strong, crash-safe housing with the use of Desmodur® and Desmophen® in heat conductive gap fillers and adhesives that act as thermal interface materials (TIMs) to enhance battery performance.
Pultrusion technology for cost-efficient composite battery housing
Car manufacturers need modular, lightweight and strong battery frames that can pack many lithium ion battery cells into a limited space, yet also remain extremely strong and rigid compared to traditional materials.
We used the well-established pultrusion process to create composite frame parts from durable polyurethane resin and glass or carbon fibers. Continuous fibers are pulled through a tempered pultrusion die while liquid polyurethane is injected. The material is then shaped and hardened before being cut into the desired shapes and sizes. This yields a strong, lightweight battery housing in a single, cost-effective manufacturing process.
Adhesives and gap fillers based on Desmodur® and Desmophen® enable higher thermal conductivity, resulting in batteries that are safer and more powerful.
Covestro solutions outperform benchmark materials in multiple crash test simulations
We tested a range of battery housing designs that used pultruded polyurethane in the bottom plate, struts, and frame. Our Baydur® PUL solution outperformed a benchmark pack of current materials in two key simulations - a crash test based on a Chinese standard, and a side-pole crash test based on NCAP requirements. The simulation measured energy absorption and deformation, and results showed very low likelihood of damage to the battery cells with the Covestro design. Also, in three UNECE R100 tests evaluating mechanical integrity, mechanical shock and vibration, the Covestro battery design produced excellent results.
Thermal interface materials for higher battery speed and lower recharge time
Within the battery housing, the purpose of gap fillers and adhesive materials is to improve the heat transfer from the battery cells to the cooling devices. Better heat transfer means a higher performing battery cell. TIMs integrating our Desmodur® and Desmophen® polyurethane products are much lighter and more heat conductive than conventional aluminum oxide-based metals, giving the electric vehicle more power and faster charging. They also isolate overheated cells from each other, lowering the risk of fire.
This innovative battery pack not only delivers on crash safety, significantly outperforming benchmark materials in crash tests, but is also lightweight and modular.
Key Benefits
Strong and rigid Pack significantly outperforms benchmark housing materials in crash testing.
Lightweight Polyurethane-based materials are lighter than aluminum oxide casing metals.
Increased safety Less likelihood of battery deformation during a crash.
Cost-efficient Pultrusion is an established manufacturing process for durable composite parts.
Modular Pultruded panels can be used in modular way in large and small battery packs.