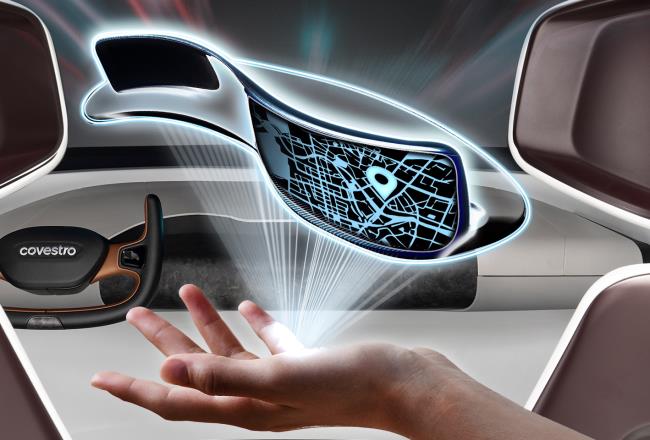 Story
Polycarbonates give designers a free hand in creating future in-car displays
Seamless multifunctional displays will be a core feature in cars of the future, integrating touchscreen, controls and ambient lighting in complex 3D forms. Polycarbonate materials and films from Covestro give automotive designers and engineers the freedom to follow their inspiration.
From basic transportation to a multi-purpose space
Autonomous, electric and rideshare vehicles of the future will be far more than a means of getting from A to B. Depending on the situation, car interiors may be used as mobile office, meeting space or even a family room. Seamless curved displays, personalized lighting and individual touch surfaces will all find expressive new forms, along with reimagined flooring and new materials. Beneath these surfaces, a new range of components and functions will await discovery by the passenger.
Dawn of a new automotive design era
As the transition to autonomous vehicles begins, car designers have the chance to completely re-envision the automotive interior as a pod for productiveness or for relaxation. Polycarbonate materials, printed films and production technologies will help translate these visions of versatility into actual reality. We've created a premium interior concept display to show how a variety of components and functions can be incorporated within highly complex 3D forms.
Design freedom: form, function, color and finish
Our polycarbonate materials and films bring imaginative new car interior concepts to life. With Makrolon® Ai polycarbonate, large forms can be manufactured easily in a single part, and the material can accommodate a wide variety of underlying display technologies and components. Designers enjoy a wide choice of colors and decorative effects. In addition, all colors can be further tailored to match specific display functions.
Polycarbonate provides an inherent toughness that can withstand head impact, and its viscosity can be tailored to suit the geometry of the part. On the surface, Makrofol® film ensures durability, scratch resistance and the flexible use of graphics.
High optical quality without compromise
Regardless of vehicle class, future passengers will routinely expect a crystal clear in-car display with no distortion. Our transparent, thin polycarbonate material delivers optical purity and high resolution coupled with an extremely durable surface. Injection compression molding (ICM) yields a uniform, flush surface on a large part while minimizing birefringence and internal stress.
Durable and scratch-resistant surfaces
In addition to enabling huge flexibility in color choice, film insert molding (FIM/IMD) technology gives Makrofol® film a surface finish on a 3D form that is nearly impervious to scratches and abrasion in everyday use, while resisting chemicals and the effects of long-term weathering.
Cost-effective design freedom for every class of automobile
From entry level to top-tier premium car interiors, polycarbonate materials and films from Covestro give designers and engineers virtually endless options for easy customization. Polycarbonates unite innovative form and exceptional durability with high optical quality and finish. They're a cost-effective solution for automotive interior designers who are on the lookout for materials that can live up to their imaginations.
"Plastics and technologies will play a key role in designing the automotive cockpit of the future. Our comprehensive concept offers material solutions for functionality, comfort and design, while at the same time responding to the automotive industry's demands for brand differentiation, improved efficiency, and light-weight design."
Key Benefits
Optical quality Thin, transparent polycarbonate gives a crystal clear, visually soothing display
Color by function Polycarbonates can be customized to link colors with specific display functions
Scratch resistance FIM/IMD technologies yield a decorative yet strong, scratch resistant surface
Lower birefringence ICM enables large parts that integrate multiple functions with low birefringence
Suits all categories Polycarbonates offer cost-effective performance from entry level up to premium
Custom viscosity Viscosity can be custom-tailored to fit the design and geometry of the display
Weatherproof Makrofol® film couples optical quality with weatherproof chemical resistance