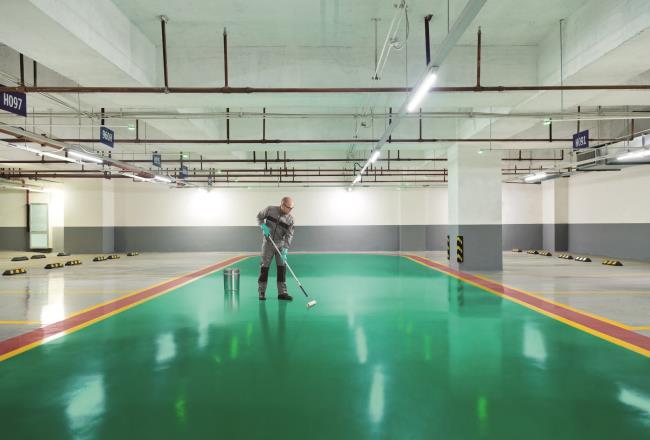 Story
Pasquick® for construction coating projects
Construction coating projects often cause significant downtime on site, costing time and money. Our highly efficient and versatile Pasquick® technology gives contractors more flexibility and allows a faster return to operations.
24 hours coatings job possible in just 6
In public spaces, logistic center floors and many other building types it is essential to keep renovating times as short as possible to minimize loss of profit and inconvenience for residents. Pasquick® offers the ideal solution for this challenge. Pasquick® technology cures up to eight times faster than conventional floor coating systems and is ideal both for interior and exterior applications. This makes it a unique solution in the market for construction coatings. Thanks to the rapid curing properties of Pasquick® and the possibility to reduce the number of coating layers, both public and commercial building owners can profit from lower overall costs for coating projects.
The inventive Pasquick® technology combines fast return to service, aesthetics and durability
With coatings based on Pasquick® technology floor coating projects can be done in just one day which avoids unnecessary profit losses. Pasquick® features a significantly reduced curing time. It is helping contractors to meet tight project deadlines. It offers an easy application for professional users and can be easily applied by hand by professional users with their standard working equipment. A sufficient pot life reduces time pressure and minimizes the failure potential for projects.
"Concrete floor coatings based on Pasquick® technology enable contractors to finish coating projects very quickly with minimal construction site downtime."
High level of protection in line with VOC regulation
A building's floor surfaces have to endure a great deal — sunlight, chemical and physical stresses. The long-term field-proven Pasquick® coating systems provide concrete substrates a lightfast and easy to clean resistant protective coating that preserves the beauty of the floor space. Above all, Pasquick® is in line with relevant VOC regulation, such as the European "Decopaint" Directive (2004/42/EC).
Discover the versatile Pasquick® toolbox
Our versatile Pasquick® toolbox allows the formulation of high performance floor coatings with a broad range of properties. Variation of essential components like Desmophen® NH 1420, Desmophen® NH 2850 XP, Desmodur® N 3900 or Desmodur® E 2863 XP allows the adjustment of properties such as elongation or walk-on time. Typical applications are in public, commercial and industrial sector – suitable for both interior and exterior.
Key Benefits
Faster curing Up to eight times faster than conventional floor coating systems
Easy application Can be easily applied by hand by professional users with standard equipment
Sufficient pot life This reduces time pressure & minimizes failure potential for projects
High level of protection Proven technology with lightfast and easy to clean resistant protective properties