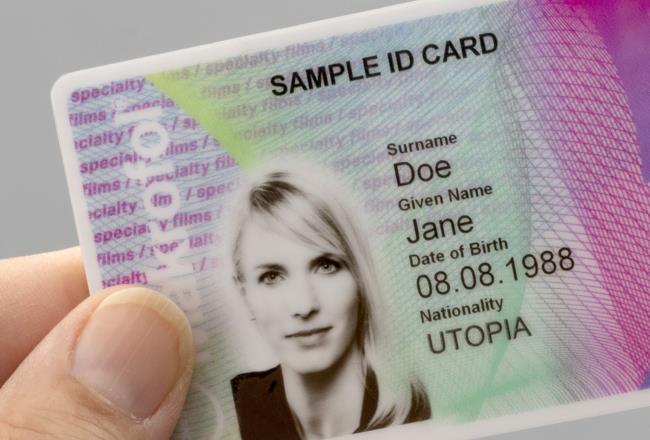 Story
Advantages of Polycarbonate films - Enabling Secure ID (Identification Documents) with Makrofol® ID Polycarbonate Films
Polycarbonate card bodies offer a high level of security as they are made up of multiple film layers and inseparably bonded together using high temperature and pressure creating a "monolithic block". This makes it nearly impossible for counterfeiters to tamper with the card without damage and leaving tamper evidence. ID cards made with Makrofol® ID offer high resistance against document counterfeiting and alteration.
National ID
With the growing trend in adoption of electronic chip in national ID cards, polycarbonate substrate material is an ideal choice to protect the citizen ID cards' physical personalized data and the digital data incorporated within the smartcard chip (ie. biometrics data, encrypted keys and avenues to communicate with governmental systems electronically).
National ID cards leveraging Makrofol® ID polycarbonate films can help to enable enhanced and layered security with an average card durability of 10 years, which is becoming the standard in the industry for core government identification programs.
Driver license
Polycarbonate driver licenses offer many advantages from providing a more secure form of identification document to increasing the durability of the driver license itself. This can also help issuing authorities minimize the re-issuance of additional cards during the program validity period due to the durability of the cards which in turn can provide a better citizen experience.
Border crossing cards
Border crossing cards are best positioned for frequent travelers entering and exiting their home countries across air, sea and guarded land borders which require durable identification cards to withstand the rigors of heavy use.
More and more identification programs are taking advantage of polycarbonate cards which can enable the latest security features during the card construction stage and also during the card personalization process for layered security.
The laser engraving on polycarbonate substrate can personalize both static and variable personalized data combined with differentiated security features which are unique for each citizen and traveler.
Inlays for ID cards and passports
More and more identification cards and passport data pages are incorporated with electronic chips today. Governments need to protect their investment beyond the physical document including the electronic chip and the digital contents residing within such as biometrics data, encrypted keys and applets to interface with government systems (border control, e-government, etc).
Covestro has decades of experience developing Makrofol® ID and Platilon® films to enable highly tamper-resistant identification documents. We are continuously bringing innovation to the market and supporting the industry to make identification documents more secure
Key Benefits
Highly secure and durable: Polycarbonate layers are inseparably bonded without adhesives during lamination
Customizable: Tailored security solutions according to specific ID document requirements
Highly forgery-resistant with tamper evidence: High image contrast with increased laser reactivity enabling forensic data set after personalization with Makrofol® ID superlaser
Easy to process: Compatible with security printing, easy to laminate, and suitable for a broad range of operating temperatures
Brochures
Film solutions for ID documents / Makrofol® ID, Platilon® ID

Polycarbonate Superlaser / Makrofol® ID

Polycarbonate Clear Window / Makrofol® ID

Passport solutions Rethinking the passport / Makrofol® ID, Platilon® ID

BMT Issue 3/2019 - Article "Security Concepts for Passports and Identification Documents"

Makrofol ID low fluorescence

Makrofol® ID O.V.M – Optical Variable Material for clear windows

Makrofol® ID - A comparison of industry card substrate materials